Hello hog traders!
Hog futures fell again last week. Front month April was market under pressure from fund selling and cash weakness due to virus containment efforts. The story remains the same, US pork supplies are record large with needed export demand which has been there, but the Chinese economy falling off a cliff has created a difficult dynamic. The Chinese situation is improving with less cases reported outside of Wuhan, but the spread of the concern to the rest of the globe has yet to capitulate. April futures are likely to test the 57 gap at some point before rallying. We remain confident in bull spreads.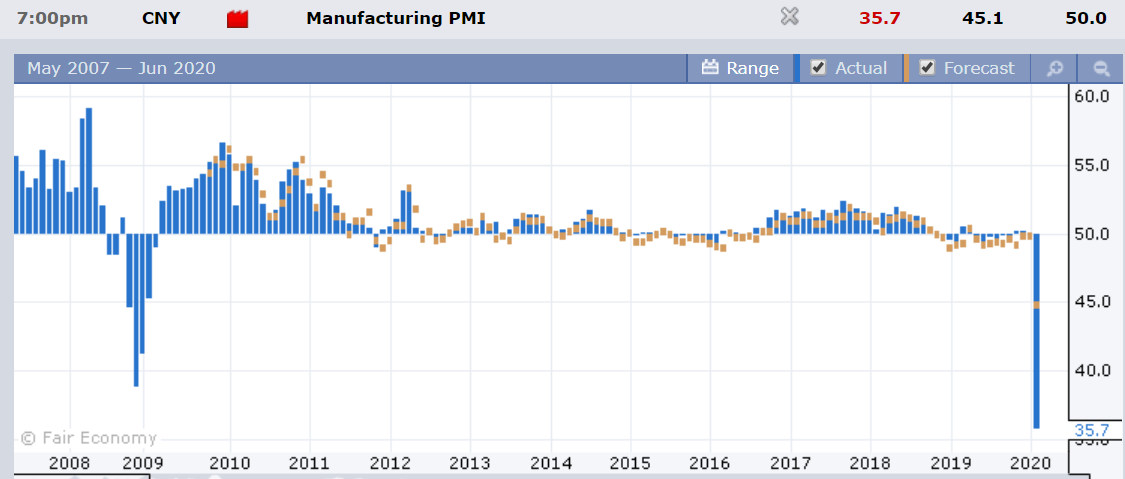 CURRENT POSITIONS
LONG 2 UNITS OF JUNE HOGS
SHORT 1 UNIT OF AUG HOGS
SHORT 1 UNIT OF OCT HOGS
LOOKING INTO NEXT WEEK
In our product market analysis last week, we stated our belief that the product market had stabilized and would trade in a range around last Friday's (2/21's) close. Unfortunately, at that time, the Coronavirus news wasn't as foreboding as it ultimately has become. We believe that the worst of the bad news in the pork product market will be behind us by this time next week, but time will tell.
The bellies are in a trading range of between $65 and $75 cwt. Sub 65 would be in the cards if the virus
Hams have had a nice run up in price as Lent begins. Our sources tell us that the ham market has topped out and is going lower next week. We anticipate the ham price to lose $3 -$5 cwt.
Our retail contacts tell us the loin and butt market is in good shape for the next two weeks, but beyond that, it will be a struggle to maintain their current price levels and clear the retail channels. Retail prices are particularly sensitive to the weekly Federally Inspected Slaughters, (FIS). If these weekly slaughters stay above 2,575,000 head, then retail prices will probably go to new lows.
The USDA Interior Iowa Southern Minnesota Hog weights went up .3 lbs. coming in at 285.6 versus 285.3 a week ago and 285.7 a year ago. This is telling us the producer cannot afford to get behind on his marketing.
The various ports overseas are still backed up with ships waiting to be unloaded or diverted to other countries. The spread of the Coronavirus is further hampering the unloading of container ships.
With the backup of product described above, we cannot see the product market going very high anytime soon. We believe prices will consolidate at or below the levels they closed at on Friday (see the chart above). Given this, the packers will be in no hurry to go out and pay higher money to capture their weekly slaughters. It is our opinion that they are more inclined to reduce their kills rather than chase the hog market higher just to sell the surplus product lower.
The ASF story in China still exists but the sharp drop-off in economic conditions is an obvious outset. When things begin to normalize, early summer contracts should be a good buy. Prices will likely move before that happens.

HOW WE TRADE THIS
The weekly slaughter numbers are seasonally starting to go down. However, this week some reliable sources shared that at least one major packer has cut their weekly kills for the time being. This was done in an effort to get some of the backlog of shipments, both here and overseas, cleaned up.  This backlog has the potential to back everything up, even clear back to the hogs on the farm.
For the reason stated above, we like the LHJ/LHV spreads.
We also like doing LHM/LHV spreads under 10.00. This is a seasonal tightening of hog numbers trade. We will continue to monitor the weekly slaughters to see when this looks like it is legitimately going to start, as opposed to artificially decreasing because the packers have cut their slaughter schedules.
It is only March, so we have to once again caution our readers to trade conservatively. We do believe there is a silver lining in all this. Once the Coronavirus effects begin to subside, it is our opinion that the product market, both pork and beef, will snap back. This, in turn, will drive live prices higher. This will take time, and there can be some additional rough spots still ahead. For this reason, we encourage our readers to continue to be patient and trade cautiously, and you will ultimately be rewarded.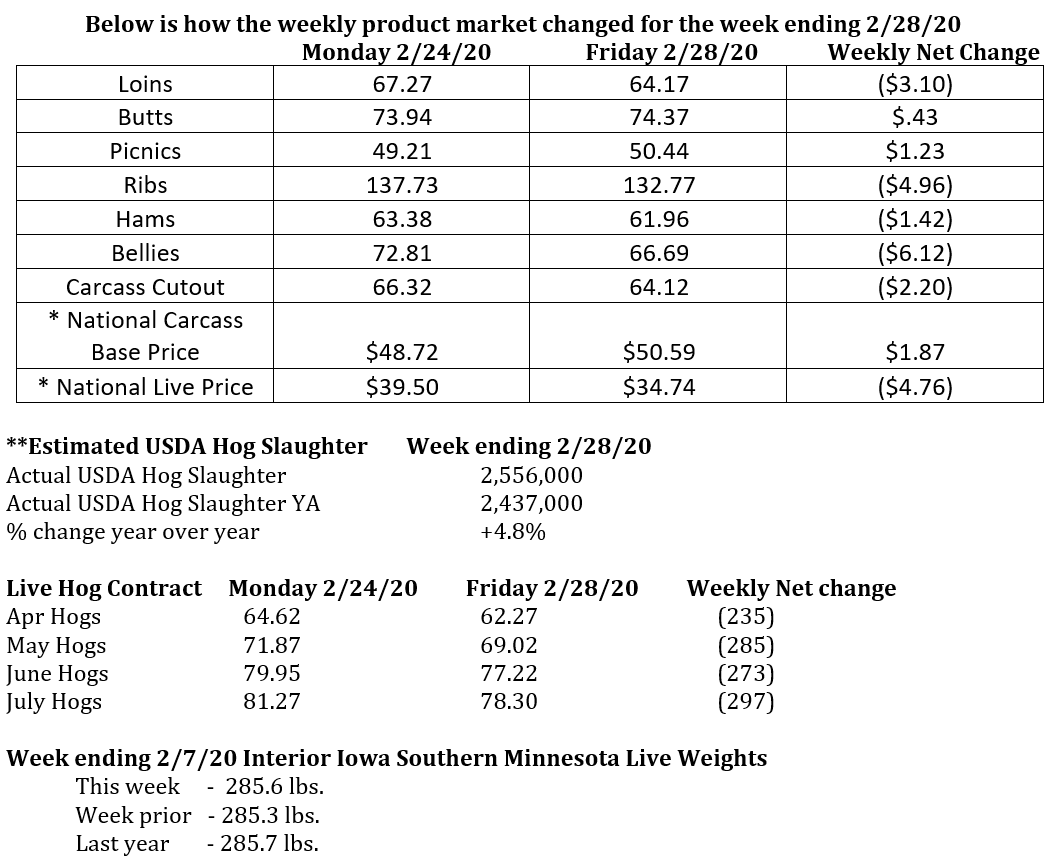 Subscribe to The Swine Times
The Swine Times - The Swine Times newsletter is designed to help participants in the pork complex understand and trade the futures markets. Our intention is to fundamentally inform and trade based off the information we have.
Risk Disclosure
This material is conveyed as a solicitation for entering into a derivatives transaction.
This material has been prepared by a Daniels Trading broker who provides research market commentary and trade recommendations as part of his or her solicitation for accounts and solicitation for trades; however, Daniels Trading does not maintain a research department as defined in CFTC Rule 1.71. Daniels Trading, its principals, brokers and employees may trade in derivatives for their own accounts or for the accounts of others. Due to various factors (such as risk tolerance, margin requirements, trading objectives, short term vs. long term strategies, technical vs. fundamental market analysis, and other factors) such trading may result in the initiation or liquidation of positions that are different from or contrary to the opinions and recommendations contained therein.
Past performance is not necessarily indicative of future performance. The risk of loss in trading futures contracts or commodity options can be substantial, and therefore investors should understand the risks involved in taking leveraged positions and must assume responsibility for the risks associated with such investments and for their results.
Trade recommendations and profit/loss calculations may not include commissions and fees. Please consult your broker for details based on your trading arrangement and commission setup.
You should carefully consider whether such trading is suitable for you in light of your circumstances and financial resources. You should read the "risk disclosure" webpage accessed at www.DanielsTrading.com at the bottom of the homepage. Daniels Trading is not affiliated with nor does it endorse any third-party trading system, newsletter or other similar service. Daniels Trading does not guarantee or verify any performance claims made by such systems or service.