Hello hog traders
Hog futures held a tight range in the expiring while the rest of the futures curve was under pressure, especially in April from a continued weak cash market. The CME's Lean Hog Index was down $1.80 for the week at $56.70, closing at the lowest levels since September. The story remains the same, the driver is different given the virus scare. The US hog supply is record large, while US domestic demand has slowed amid still historically strong US pork prices. The export rate remains strong but has not yet reached levels that are offsetting the larger supply. Throw in the coronavirus and you have a deflationary setting.
This will have to change at some point,China is struggling with severe pork shortages due to ASF while facing massive inflation. Food supply dislocations have been exacerbated as the coronavirus has limited human movements and food transportation within the country. US exports to China are holding at a record, which will continue but an increase in demand is difficult as Chinese logistics are a mess right now. The Phase 1 Trade Agreement is in effect, and traders are hopeful that this stimulates additional US pork export demand. We will look to buy June- Oct spreads this week.  June and July futures should be owned by anyone who believes the summer action of 2019 will be repeated.
CURRENT POSITIONS
LONG 2 UNITS OF APRIL HOGS
SHORT 2 UNITS OF AUGUST HOGS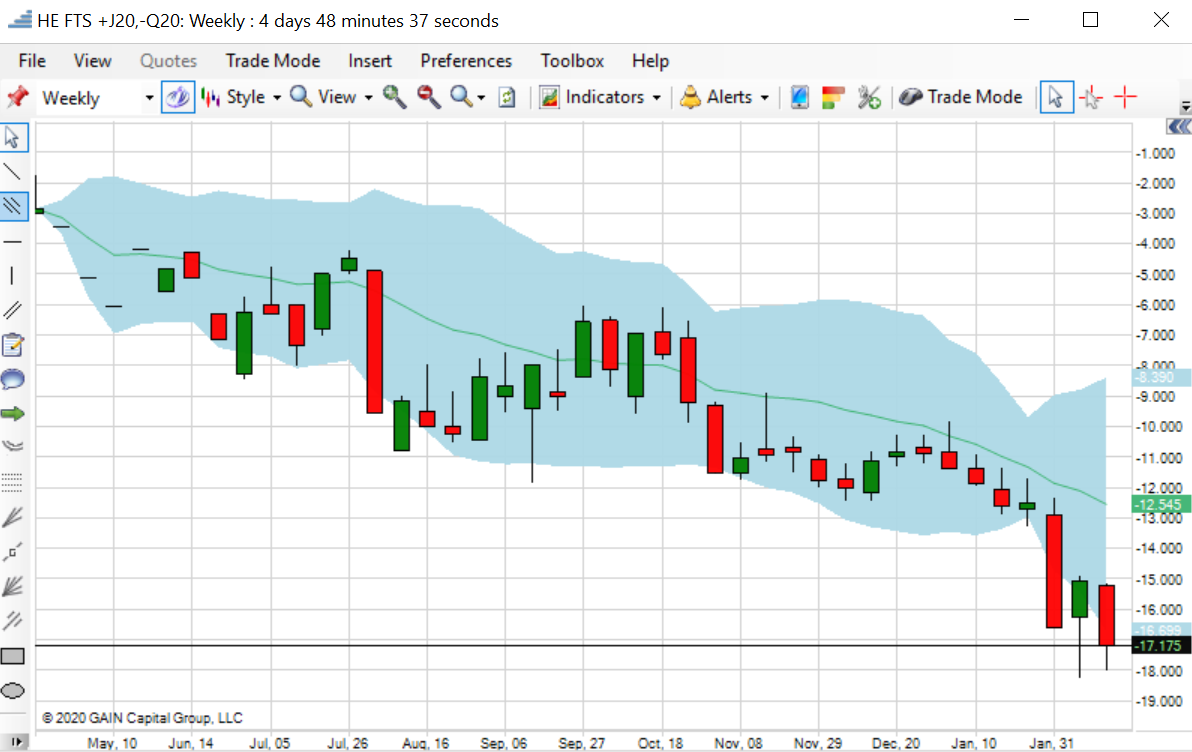 LOOKING INTO NEXT WEEK:
The product market can't get off the mat. Other than picnics, the entire cutout was lower.
Bellies took the biggest drop by losing over $8.00 for the week, closing for the first time in a long time below $70.00. As of this writing, we do not believe this decrease is finished just yet.There is an outside chance the belly market could go below $65.
The ham price is in the process of bottoming, and we should see that happen this next week. We are fast approaching the Easter Holiday, and the processor/export interest will be picking up because of this approaching holiday.
As we said in last week's newsletter, we believe the loins and butts will continue to struggle for at least the next week. However, we have heard from sources that the interest on the loins and butts next week has picked up. We believe the bottom is getting close on these two retail cuts.  If you are playing the 2019 game card, then it will still be a few more weeks until the cutout bottoms.
In what is our first bullish green shoot in a while, USDA Iowa Southern Minnesota Hog weights went down 1.4 lbs. This is the week to week change that we have been anticipating. We need to see this magnitude of weight loss every week for several weeks to convince the buyers they need to get in gear and take advantage of these low prices.  This would indicate that the producers are current in their marketing, and that numbers of surplus hogs may be drawing to an end. Keep an eye on this each day.
If these slaughters do not come down, the product, live hog and futures market will all continue to be on the defensive. In this surplus pork environment, along with the Coronavirus outbreak, these markets are, and will continue to be, weak and volatile. We feel much of the bearish news is priced in.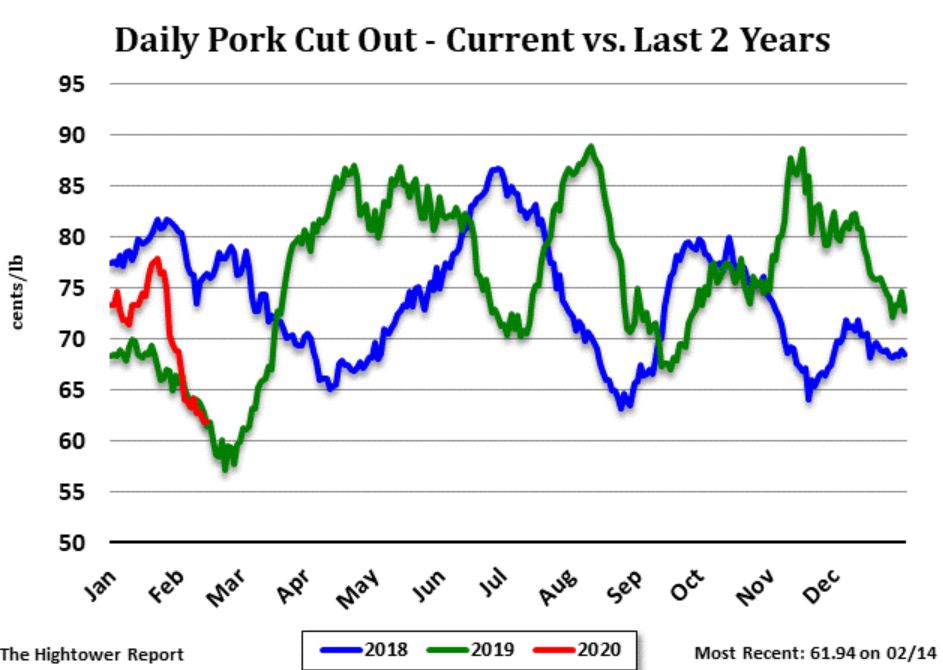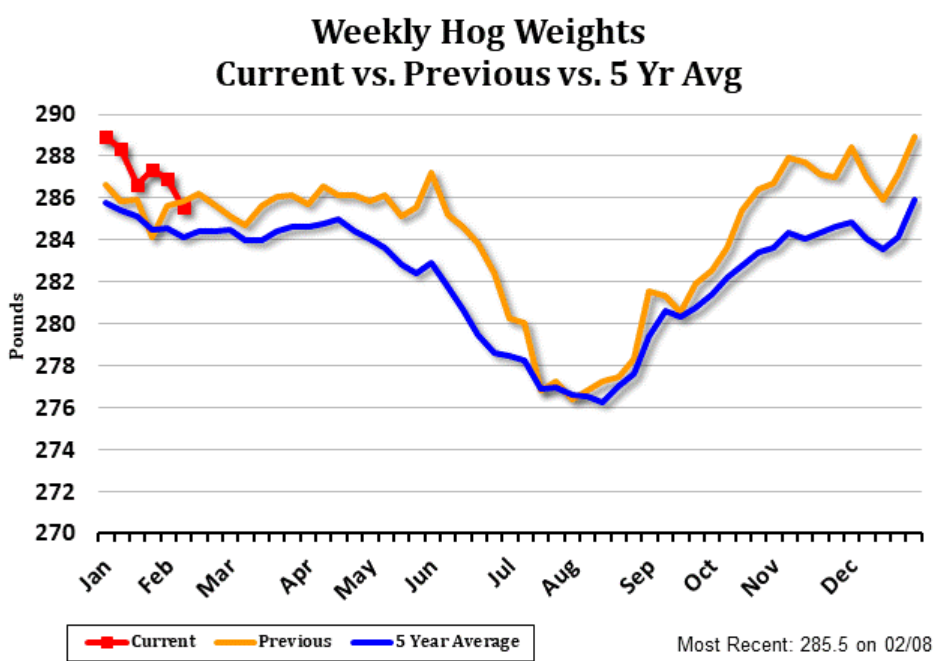 HOW WE TRADE THIS:
We hate to sound repetitious, but we are still bearish and will remain bearish until the fundamentals prove otherwise. We believe you can catch a "bull" spike on a price correction, but over the long term, the hog market is a bear market.
We believe you can go short and sell April hogs above $68.00, then be momentarily bullish and buy them below $62.00. The April hogs for now seem to be in a trading range.  Treat them accordingly.
We are still bearish the deferred hogs, particularly the October contract. We recommend selling them cautiously above $70.00. It is a long time between now and October.
We may look at buying June vs Oct hogs this week, ideally below 10.00. Our strategy would be to buy the bull spreads and dump the long leg on a rally.  June and July hogs have value here but we feel the August and Oct's are the contracts to sell.
Subscribe to The Swine Times
The Swine Times - The Swine Times newsletter is designed to help participants in the pork complex understand and trade the futures markets. Our intention is to fundamentally inform and trade based off the information we have.
Risk Disclosure
THIS MATERIAL IS CONVEYED AS A SOLICITATION FOR ENTERING INTO A DERIVATIVES TRANSACTION.
THIS MATERIAL HAS BEEN PREPARED BY A DANIELS TRADING BROKER WHO PROVIDES RESEARCH MARKET COMMENTARY AND TRADE RECOMMENDATIONS AS PART OF HIS OR HER SOLICITATION FOR ACCOUNTS AND SOLICITATION FOR TRADES; HOWEVER, DANIELS TRADING DOES NOT MAINTAIN A RESEARCH DEPARTMENT AS DEFINED IN CFTC RULE 1.71. DANIELS TRADING, ITS PRINCIPALS, BROKERS AND EMPLOYEES MAY TRADE IN DERIVATIVES FOR THEIR OWN ACCOUNTS OR FOR THE ACCOUNTS OF OTHERS. DUE TO VARIOUS FACTORS (SUCH AS RISK TOLERANCE, MARGIN REQUIREMENTS, TRADING OBJECTIVES, SHORT TERM VS. LONG TERM STRATEGIES, TECHNICAL VS. FUNDAMENTAL MARKET ANALYSIS, AND OTHER FACTORS) SUCH TRADING MAY RESULT IN THE INITIATION OR LIQUIDATION OF POSITIONS THAT ARE DIFFERENT FROM OR CONTRARY TO THE OPINIONS AND RECOMMENDATIONS CONTAINED THEREIN.
PAST PERFORMANCE IS NOT NECESSARILY INDICATIVE OF FUTURE PERFORMANCE. THE RISK OF LOSS IN TRADING FUTURES CONTRACTS OR COMMODITY OPTIONS CAN BE SUBSTANTIAL, AND THEREFORE INVESTORS SHOULD UNDERSTAND THE RISKS INVOLVED IN TAKING LEVERAGED POSITIONS AND MUST ASSUME RESPONSIBILITY FOR THE RISKS ASSOCIATED WITH SUCH INVESTMENTS AND FOR THEIR RESULTS.
TRADE RECOMMENDATIONS AND PROFIT/LOSS CALCULATIONS MAY NOT INCLUDE COMMISSIONS AND FEES. PLEASE CONSULT YOUR BROKER FOR DETAILS BASED ON YOUR TRADING ARRANGEMENT AND COMMISSION SETUP.
YOU SHOULD CAREFULLY CONSIDER WHETHER SUCH TRADING IS SUITABLE FOR YOU IN LIGHT OF YOUR CIRCUMSTANCES AND FINANCIAL RESOURCES. YOU SHOULD READ THE "RISK DISCLOSURE" WEBPAGE ACCESSED AT WWW.DANIELSTRADING.COM AT THE BOTTOM OF THE HOMEPAGE. DANIELS TRADING IS NOT AFFILIATED WITH NOR DOES IT ENDORSE ANY TRADING SYSTEM, NEWSLETTER OR OTHER SIMILAR SERVICE. DANIELS TRADING DOES NOT GUARANTEE OR VERIFY ANY PERFORMANCE CLAIMS MADE BY SUCH SYSTEMS OR SERVICE.
GLOBAL ASSET ADVISORS, LLC ("GAA") (DBA: DANIELS TRADING, TOP THIRD AG MARKETING AND FUTURES ONLINE) IS AN INTRODUCING BROKER TO GAIN CAPITAL GROUP, LLC (GCG) A FUTURES COMMISSION MERCHANT AND RETAIL FOREIGN EXCHANGE DEALER. GAA AND GCG ARE WHOLLY OWNED SUBSIDIARIES OF STONEX GROUP INC. (NASDAQ:SNEX) THE ULTIMATE PARENT COMPANY.