Hello hog traders!
Coronavirus is the theme in the market right now. China is at the center of the threat to commodity markets once again due to travel constrictions in nearly a dozen metro areas. There have been 41 killed as of the time I am writing about this. That is really all I know and all I think the market cares about. Liquidation was the theme on Friday, from the back of the curve as algos sold with future Chinese demand in mind. There is more to go as far as fund selling, but we think it provides an opportunity.
As you all well know, we do not own a crystal ball at the Swine Times. This Coronavirus could end us all, or it might be an overblown story we forget about in two months. I could point toward 20 times humanity was threatened in the last 5 years alone. Shoot, in the last three weeks people online had the planet buried from wild fires, to WW3 with Iran, and now a world pandemic. China has to eat, bottom line. Over the short run, operating that way may be un-profitable but over the long run we should see good value for summer hog contracts. As of right now its "risk off", which means suction to the downside for global growth markets. Summer pig contracts would fall in that category. We think this is a good opportunity to buy some. The biggest problem this summer will be export capacity. Will get into that more as seasonal demand picks up.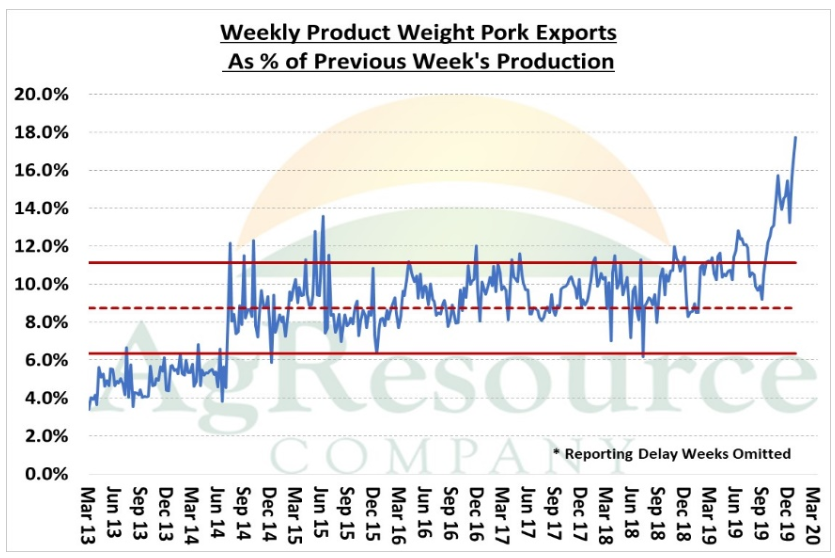 We have not adjusted our positions much, the front of the curve is the place to be in our opinion. Exports are on fire, last week the US sold close to 98 MMT, a 7 year high going back to when the data set was collected. China took it nearly 1/3rd of the record total. Supply is there due to slaughter rates up 9% week over week but that was absorbed.  Weights are coming down and we think the numbers are going to continue to tighten. In September, export demand represented 10% of US exports. Last week that number hit 17%. This will keep bull spreads working, especially when the macro story gets week. Feb should perform vs the defer-reds early in the week. But the scare from Coronavirus could be what pushes hogs into the gap at 62.50, which is why we're cautious to be outright long. This is not an official recommendation but it might be a good idea to just have some orders camp out down there.
FRONT MONTH HOGS- DAILY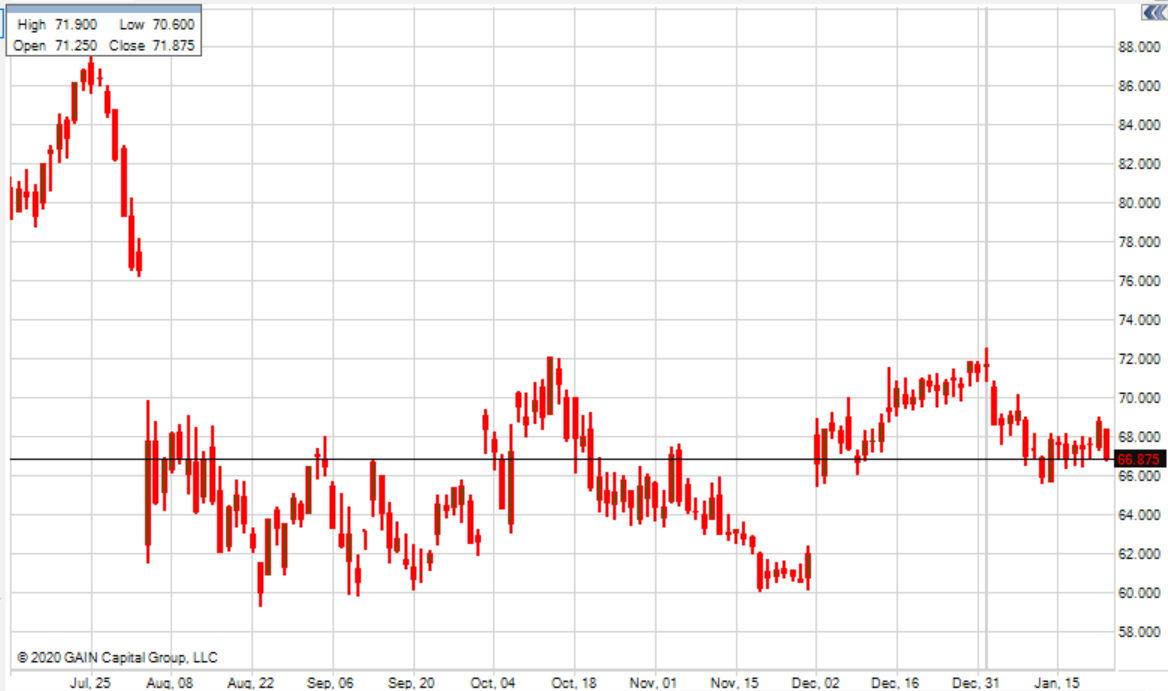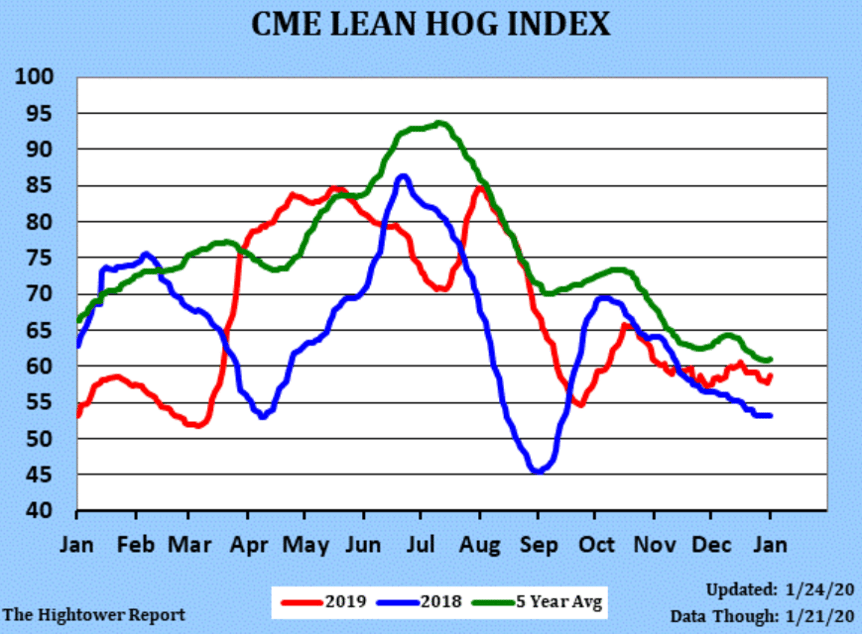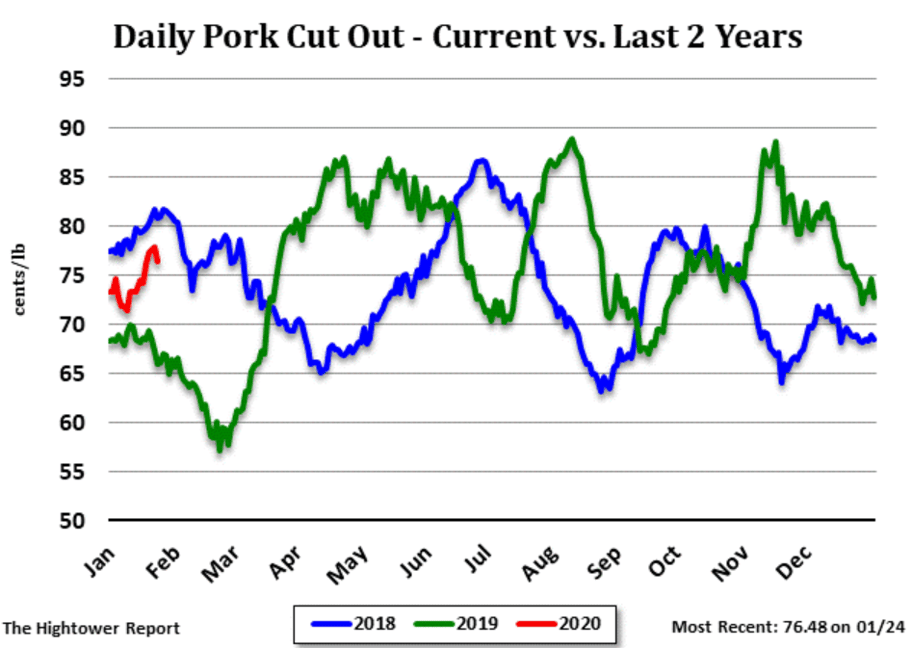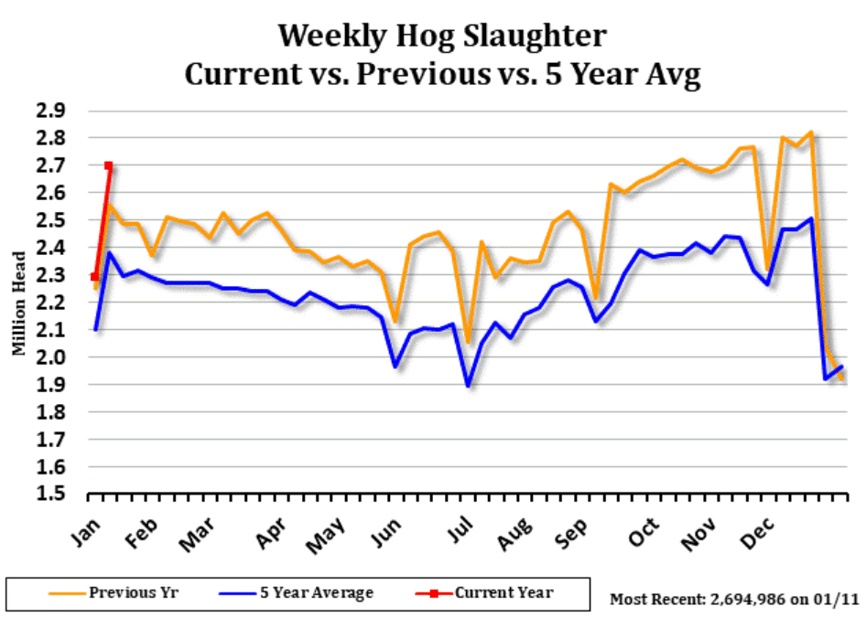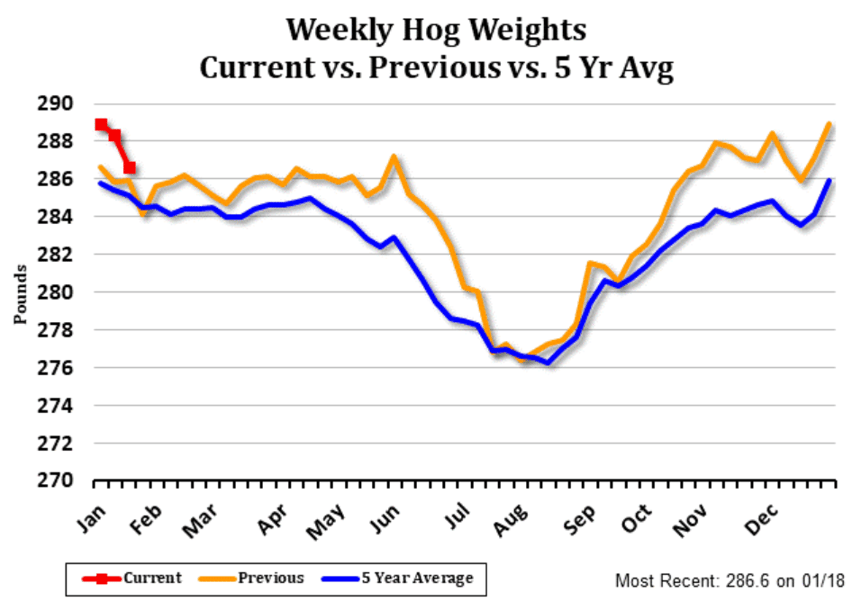 Looking into next week:
The retail cuts did not bottom this past week, as you can see by the price data on the loins and butts below. We look for this to continue into next week. Loins are struggling to get feature space because of lower beef prices. Butts have seen a pull back in Korean export demand and will lose money until they can reach a price that is attractive to export buyers.
The belly market continued to increase in price, as processors look to secure fresh bellies to fill their commitments. While we did see a pull back on the USDA composite price on Friday, we look for the bellies to go to $120 to possibly $125 before finding any resistance.
Hams are going to lose money next week, because the export demand seems to have been filled for the time being. As a result we look for the ham price to lose $3-$7 cwt. next week.
The USDA Interior Iowa Southern Minnesota Hog weights came in at 286.6 down by 1.7 lbs. Last week. This is a good sign, and indicates that the producers market hog inventory is current.
Once again as long as the weekly slaughters stay above 2,600,000 prices will continue to be in a defensive posture. Next week we are estimating the weekly slaughter to be over 2,700,00 head. It is our opinion this will keep pressure on the product market, while at the same time could push cash hog prices higher. We'll have to wait and see.
How we trade this:
We have recommended doing LHG/LHJ  forward spreads before at $7.00, but this trade has  been difficult to stay in. Now that the market hogs are current, we believe as the cash market goes up and narrows the basis to the February futures a bull or forward spread will work.  We like putting this spread with the February hogs at $7.00 over the April hogs. We also are advising to exit this spread at $5.00 to $5.50.
Again we are recommending patience with the market. The recent outbreak of corona virus is definitely going to be a factor on importing goods into mainland China. We do not know, as of this writing, what the affect may be or to what degree it will impact trade, all we know it that it will. It is our opinion that this unknown cannot be viewed any other way, than it will be bearish to pork prices. People in China will not be going out to restaurants or where they may be infected with the virus. Not to mention this will certainly curtail activities during Chinese New Year. Be sure and keep this in mind when analyzing risk.
When we get sharp rallies, it is our opinion that the best thing to do is just lightly sell the deferred hogs, LHJ's or LHQ's. Do it lightly and let time work for you. We like this strategy simply because we believe that it is the trade that lines up with the "facts on the ground". Which are, there have been, and will continue to be, too many hogs for the industry to process and maintain current price levels. The front end of the curve trades closer to the index and a lot of  "China "optimism is built into the back of the curve.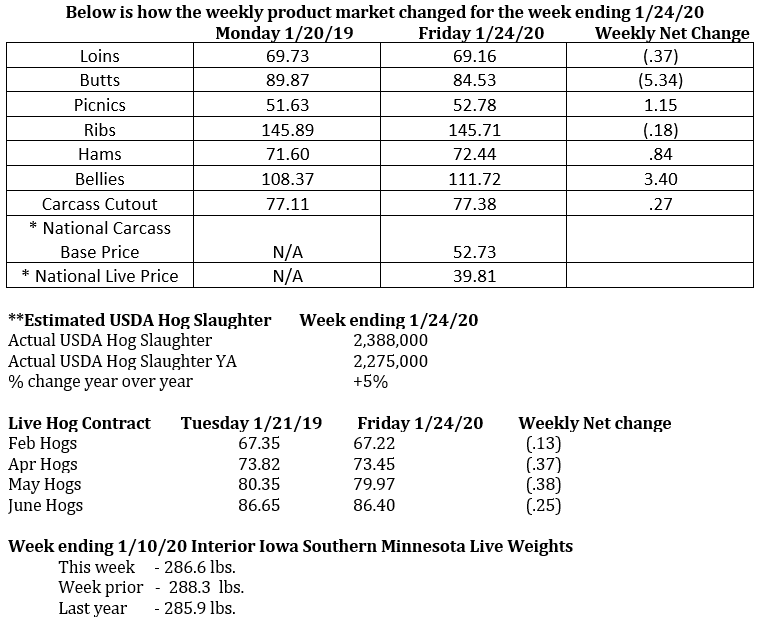 Subscribe to The Swine Times
The Swine Times - The Swine Times newsletter is designed to help participants in the pork complex understand and trade the futures markets. Our intention is to fundamentally inform and trade based off the information we have.
Risk Disclosure
This material is conveyed as a solicitation for entering into a derivatives transaction.
This material has been prepared by a Daniels Trading broker who provides research market commentary and trade recommendations as part of his or her solicitation for accounts and solicitation for trades; however, Daniels Trading does not maintain a research department as defined in CFTC Rule 1.71. Daniels Trading, its principals, brokers and employees may trade in derivatives for their own accounts or for the accounts of others. Due to various factors (such as risk tolerance, margin requirements, trading objectives, short term vs. long term strategies, technical vs. fundamental market analysis, and other factors) such trading may result in the initiation or liquidation of positions that are different from or contrary to the opinions and recommendations contained therein.
Past performance is not necessarily indicative of future performance. The risk of loss in trading futures contracts or commodity options can be substantial, and therefore investors should understand the risks involved in taking leveraged positions and must assume responsibility for the risks associated with such investments and for their results.
Trade recommendations and profit/loss calculations may not include commissions and fees. Please consult your broker for details based on your trading arrangement and commission setup.
You should carefully consider whether such trading is suitable for you in light of your circumstances and financial resources. You should read the "risk disclosure" webpage accessed at www.DanielsTrading.com at the bottom of the homepage. Daniels Trading is not affiliated with nor does it endorse any third-party trading system, newsletter or other similar service. Daniels Trading does not guarantee or verify any performance claims made by such systems or service.