Hello hog traders!
Apologies on my brevity, I was jammed up in Kansas City weather all weekend. Kansas City is known for a lot of wonderful things, a good airport experience is not one of them.
Regardless, it was another week of two way trading with new lows being made. With China prices nearly 50$ per head above US imports, its obvious Chinese buying will underpin the front of the curve. But the buying only comes with so much promise given the production numbers. The good news is weights are lower, and production has finally fallen below 2.5 million. Spec premium is basically nil right now, summer hogs can easily rally given the ability for funds to add length.
Looking into next week:
The retail cuts (loins, butts and ribs) are in a price bottoming mode. We are probably stuck at these price levels for the next couple of weeks. We doubt we will see them get much cheaper.
The problem that exists in regard to the retail cuts being unable to appreciate in price is this-the pork market is currently burdened with an over supply of hogs/weight. Until these numbers (i.e. the weekly slaughters) come down, the industry has just too much pork to move through the usual channels.
The above scenario points to the fact that the industry must get the surplus pork out of the country. And the industry is doing this, as you can see by the export data to Japan, Mexico, and China. The problem here is that from a logistical standpoint, the system is very close to being maxed out. The cold storage capacity, loading capacity, freight capacity and ability to load more containers at ports this side of the ocean are at or near capacity. This is not to mention that the ports and shipping infrastructure overseas are limited in how much product they can handle as well. Unless product is moved out in a timely fashion, the system gets backed up, and there in the problem lies.
Hams have gone about as high as they are going to for the time being. Our projection is that the ham price next will lose $5-$7.
Bellies are in good shape, and the Swine Times is predicting that they will move higher in price next week. We'll call the bellies $5-$10 higher.
The USDA Interior Iowa Southern Minnesota Hog weights did come down by .6 lbs. last week, as they seasonally should. We look for this to continue. Hopefully, we will also start to see the hog numbers decrease as they seasonally should. Time will tell.
How we trade this:
The February hogs are still at too wide of a premium to the cash market to recommend being long right outright. If hog numbers start to tighten and packers have to start paying up for hogs to cover their needs, then we would recommend owning them. If we hear of that happening, we will send our readers a bulletin notifying them of the change.
Longer term, we should see upside in deferred futures. We don't think it's a stretch to anticipate last summer's highs. But producers would be smart to think about hedging off some risk at the back end of next year. Aug and Oct put strategies are the most hands off way to hedge the herd back there. Into the close the Aug futures closed 86.50. Right now an 86.00 put is 6.60, far too expensive in our opinion. We think trying to get that 86 put for under 4.00 would make a lot of sense. That's an 82.00 floor, up through the summer. If this rosy time between the US and China would fall apart or ASF would hit in the US, you are covered.
At the front of the curve, we are doing our best to practice patience with the market. When we get sharp rallies, it is our opinion that the best thing to do is just lightly sell the deferred hogs, the LHJ's or LHQ's.  Do it lightly and let time work for you. We like this strategy simply because we believe that it is the trade that lines up with the "facts on the ground". The fact is there have been, and will continue to be, too many hogs for the industry to process and maintain current price levels.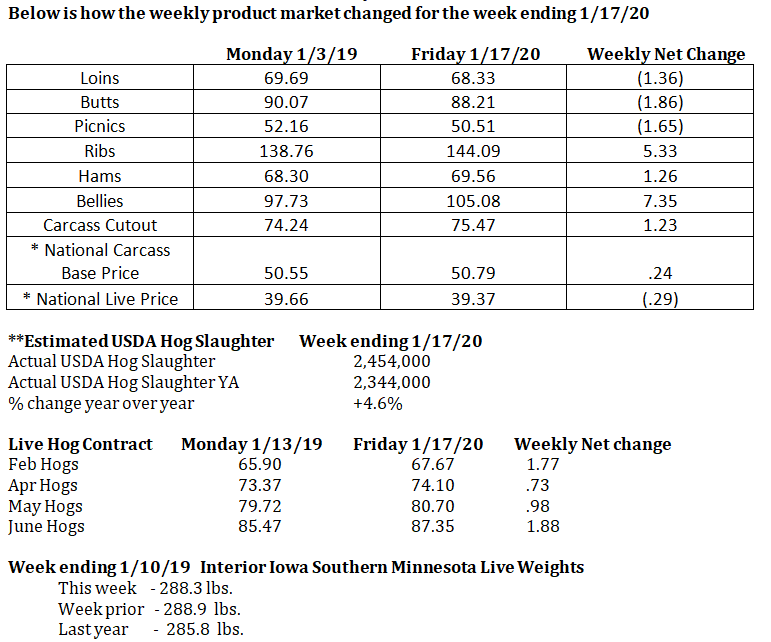 Subscribe to The Swine Times
The Swine Times - The Swine Times newsletter is designed to help participants in the pork complex understand and trade the futures markets. Our intention is to fundamentally inform and trade based off the information we have.
Risk Disclosure
This material is conveyed as a solicitation for entering into a derivatives transaction.
This material has been prepared by a Daniels Trading broker who provides research market commentary and trade recommendations as part of his or her solicitation for accounts and solicitation for trades; however, Daniels Trading does not maintain a research department as defined in CFTC Rule 1.71. Daniels Trading, its principals, brokers and employees may trade in derivatives for their own accounts or for the accounts of others. Due to various factors (such as risk tolerance, margin requirements, trading objectives, short term vs. long term strategies, technical vs. fundamental market analysis, and other factors) such trading may result in the initiation or liquidation of positions that are different from or contrary to the opinions and recommendations contained therein.
Past performance is not necessarily indicative of future performance. The risk of loss in trading futures contracts or commodity options can be substantial, and therefore investors should understand the risks involved in taking leveraged positions and must assume responsibility for the risks associated with such investments and for their results.
Trade recommendations and profit/loss calculations may not include commissions and fees. Please consult your broker for details based on your trading arrangement and commission setup.
You should carefully consider whether such trading is suitable for you in light of your circumstances and financial resources. You should read the "risk disclosure" webpage accessed at www.DanielsTrading.com at the bottom of the homepage. Daniels Trading is not affiliated with nor does it endorse any third-party trading system, newsletter or other similar service. Daniels Trading does not guarantee or verify any performance claims made by such systems or service.