Hello hog traders
We start this week with a holiday in the rear view and a new month ahead.  December did not move much last week, moving toward 60 early in the week but never breaking it. Dec hogs expire in less than two weeks, with cash holding a couple dollar discount to the futures. Cash is more than 10.00 discounted to Feb futures which will take over top step next week.
Pork prices in China have fallen quite a bit in the last month as reserves meet the market.  More US exports will be needed but right now the short term demand is not enough to offset massive production numbers that continue to run 5-10% above last year. This will remain a story through the end of the calendar year, the quarterly hogs and pigs report at the end of this month has the potential to be an apex event, in our opinion.
We will focus on owning the Feb contract as we think there will be buying in the near term. We do want you to be prepared for one wrinkle, look for us to short Feb cattle against a hog purchase.  The spread is nearly 60 dollars wide, cattle is double what a hog costs. That is untenable in our opinion.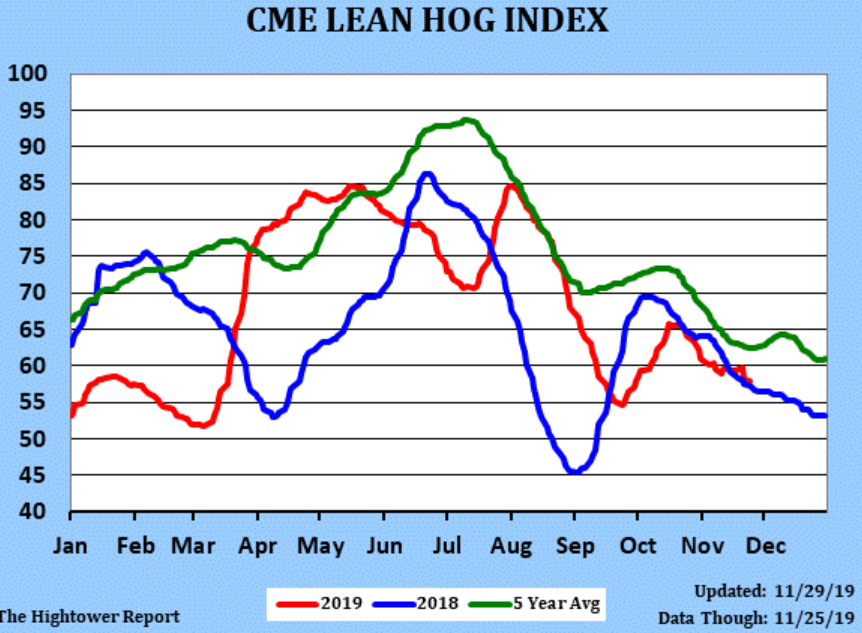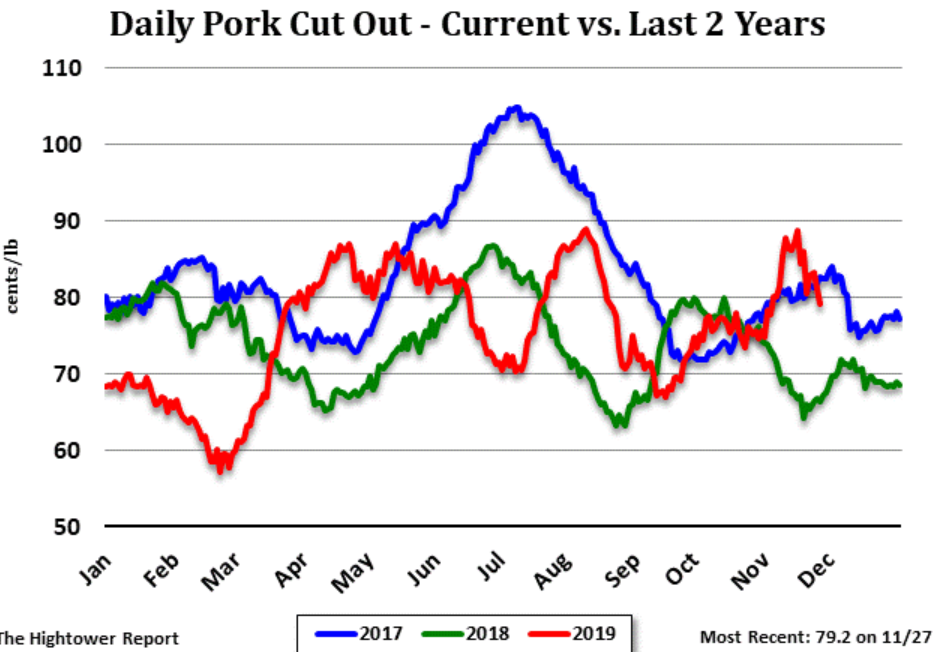 CURRENT POSITIONS
LONG 1 UNIT OF FEB HOGS
SHORT 1 UNIT OF DEC HOGS
Looking into next week:
Bellies are likely seeing seasonal lows right now as they consolidate around 100. We would not be shocked to see prices run to 125 by the end of next week.
Loins and butts have turned the corner and will get the benefit of post Thanksgiving promotion. They will support the cutout in the coming weeks, but wont follow thru on rallies closer to Christmas
Packer margins continue to be good and the industry is filling all of the available shackle space it has. Margins and China demand will drive this trend but the slaughter will stay high as well.
There is no evidence of supply tightness coming, but those we speak to on the packer side have a feeling something is on the horizon that will challenge them. If supply becomes an issue, fund money will jump back in.  We are sure of that.
We think owning Feb hogs on break will be a good idea, as will buying Feb against April. We have not butterflied April vs June yet, but we will look to do so on rallies.
How we trade this:
This week we will look to buy Dec under 61 and sell it over 63. Based off what we know about slaughter this week, we think the Dec will stay around 62.  Be ready for recommendations.
If we feel we can identify a coming slaughter decrease, we will look to buy Feb.
We like buying Feb outright on breaks below 64.50 and selling above 68.
We remain bullish on the G-J spread.  We should have probably taken profit on the rally to 5.80 last week but we think a breakout is coming, we are more confident as we get closer to the new year. Buy breaks to 7.00.
Again, we will look at buying Feb vs Feb cattle if the spread gets over 60.  We were on holiday Friday, we would have recommended a sale early morning but could not get to the screen in time.
Call or email if you have individual questions.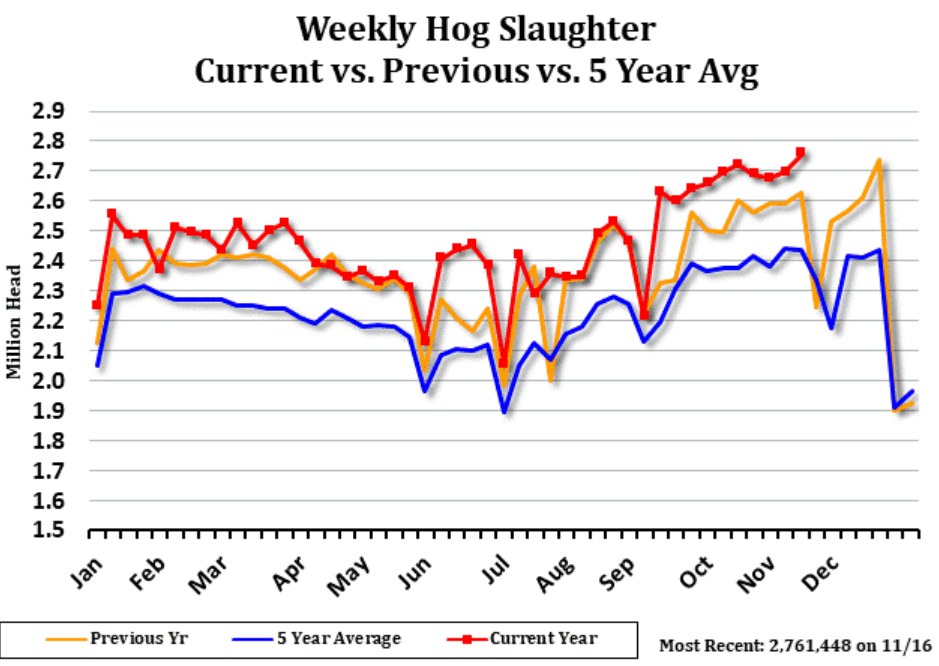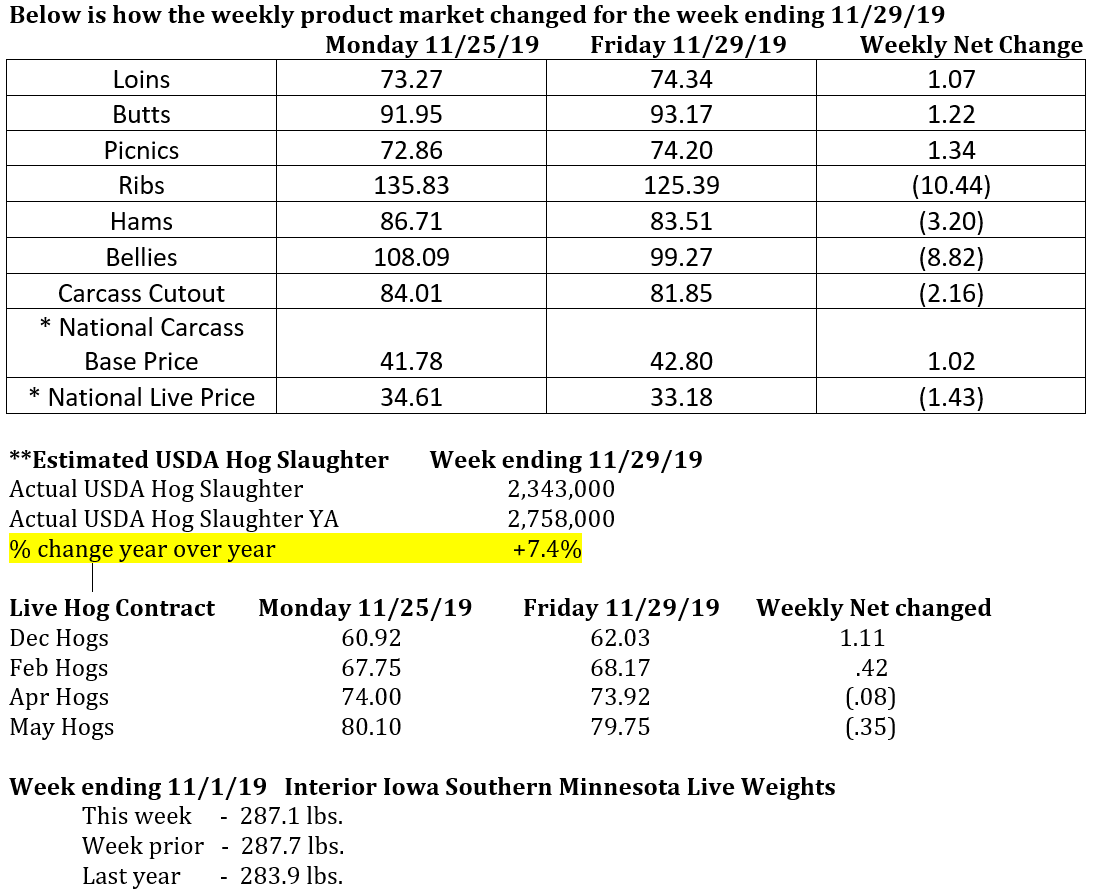 Subscribe to The Swine Times
The Swine Times - The Swine Times newsletter is designed to help participants in the pork complex understand and trade the futures markets. Our intention is to fundamentally inform and trade based off the information we have.
Risk Disclosure
The StoneX Group Inc. group of companies provides financial services worldwide through its subsidiaries, including physical commodities, securities, exchange-traded and over-the-counter derivatives, risk management, global payments and foreign exchange products in accordance with applicable law in the jurisdictions where services are provided. References to over-the-counter ("OTC") products or swaps are made on behalf of StoneX Markets LLC ("SXM"), a member of the National Futures Association ("NFA") and provisionally registered with the U.S. Commodity Futures Trading Commission ("CFTC") as a swap dealer. SXM's products are designed only for individuals or firms who qualify under CFTC rules as an 'Eligible Contract Participant' ("ECP") and who have been accepted as customers of SXM. StoneX Financial Inc. ("SFI") is a member of FINRA/NFA/SIPC and registered with the MSRB. SFI does business as Daniels Trading/Top Third/Futures Online. SFI is registered with the U.S. Securities and Exchange Commission ("SEC") as a Broker-Dealer and with the CFTC as a Futures Commission Merchant and Commodity Trading Adviser. References to securities trading are made on behalf of the BD Division of SFI and are intended only for an audience of institutional clients as defined by FINRA Rule 4512(c). References to exchange-traded futures and options are made on behalf of the FCM Division of SFI.
Trading swaps and over-the-counter derivatives, exchange-traded derivatives and options and securities involves substantial risk and is not suitable for all investors. The information herein is not a recommendation to trade nor investment research or an offer to buy or sell any derivative or security. It does not take into account your particular investment objectives, financial situation or needs and does not create a binding obligation on any of the StoneX group of companies to enter into any transaction with you. You are advised to perform an independent investigation of any transaction to determine whether any transaction is suitable for you. No part of this material may be copied, photocopied or duplicated in any form by any means or redistributed without the prior written consent of StoneX Group Inc.