Good morning friends
This is an example of example of the morning newsletter I write daily for my clients.  If you would like to follow along, you can do so by clicking here.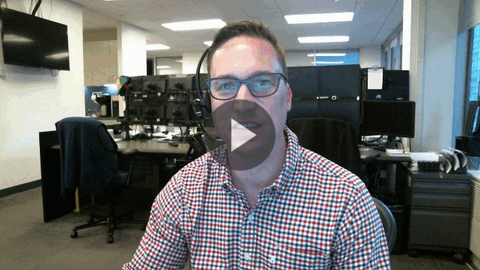 The first was from the Chinese Ag Ministry announcing that they have agreed to phase 1 deal. Im not sure the intention of this wording, it sounds both encouraging but also cautious as if they want to ensure the US is operating in good faith.  Here is the quote "according to phase 1 of the agreement with the US, China will increase purchase of US farm goods and the US will create favorable conditions for it.  The goal is to stop the trade war, remove all tariffs. We hope the two sides can reach an agreement ASAP and and make progress on canceling tariffs." 
The ag ministry also commented on hogs, "Hog production is expected to bottom out by the end of 20198 and return to normal levels in 2020.  Pig inventories at large scale farms have bottomed out and production and sales of pig feed have picked up". This is bullish feed grains, and may place higher expectations on what Chinese bean purchases will look like next year.  Keep in mind, there is no know vaccine to ASF right now.  Im not sure what their safe guards will be, but they need to be better that what they are now. I am skeptical of any huge increases given they still have the virus running rampant across Asia. Regardless, if true it takes some headwind out of the 2020 markets, if not the worst is probably priced in in my opinion.
The second comment came from the USDA. Many were expecting it, but it was announced by the USDA just before the close yesterday.
It raises the stakes on what will already be a highly leveraged event. ND is a top 5 bean producing state. Bean yields fell 1 bpa in the November WASDE report. President Trump stated that he is unlikely to sign a trade deal with China until he meets with Chinese President Xi at the APEC Forum in Chile, which is scheduled for mid-November.  So within a couple of days, we will get November WASDE on the 8th with a meeting between Trump and Xi taking place sometime between the 11th and 17ths (probably closer to the 17th, I would imagine). The question is, does phase 1 get signed there.
WHEAT
Sound the alarm, KC wheat has made a new 3 month high .  There is some talk that CHina will be in the market for 50-80 million bushels of HRW. Also, weather has been dry in Texas and into Kansas, wheat plantings are under way there. There is no hope for a big corn rally without a move higher in KC wheat. The problems with Spring wheat harvest combined with tight SRW stocks and the now lack of moisture in KC wheat regions has shorts moving aside. A move above 450 KC wheat is in the cards, but I would be looking to start slowly hedging July wheat at those prices as we would likely see something like 480 in the July 20 contract. Global prices are on the come, but they remain well below where they were a year ago when Egypt was paying 230-240 per MT for wheat. Yesterday they paid 210, the US is not even in consideration for that business anymore.
COTTON
Speaking of 3 month highs, the cotton markets are climbing the ladder to reach the highs from Sunday night.  Cotton continues to show that the US-China truce may actually be happening, as prices have lifted nearly 3 cents in the last week.  Now, weather could have a lot to do with it as well. Conditions in Texas are sketchy at best. The one area in Texas that does not need rain is the Texas panhandle, and that's the only area that has gotten in in the last month.  Prices are approaching the bollinger band high near 65.50-66, I would be moving product there. Spec funds may be actually long at that point and delivery will be upon us.  Dont get bullish above those levels, even if we would lose 1 million bales of production carryout is still going to be north of 6 million, nearly 1.5 million above last year.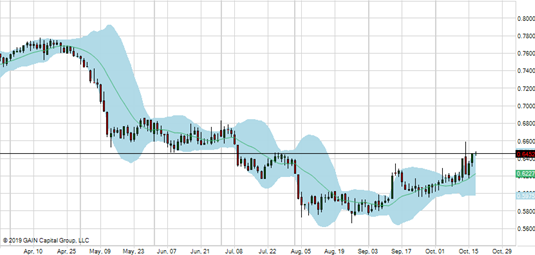 WEATHER
US weather forecasts look largely favorable for harvest after a wet couple of days in the mid-west. A tropical storm is brewing the gulf and is expected to pull a lot of moisture toward the east coast.  The models show very dry but very cool conditions as we head into November.  At this point, the threat of frost is largely gone but there is still immature corn and beans in the fields, this will likely end the growing season for most.  Harvest should proceed on pace over the next few weeks. The mid-west corn basis in on fire right now due to the fact producers remain well behind. It will be interesting to watch as producers move the harvest forward. Cotton harvest should have no problems.
 
South American weather forecasts are to remain mostly dry with only chances of scattered storms into November. Its really early for any worries in Argentina. The Brazilian situation remains fluid, some areas in the South are getting them but they are largely being missed. I am hearing some talk that second crop corn may be abandoned for a full season bean in the north? I'm not sure if that's true or not, but early bean plantings are not going nearly as well as they were in the last few years.  I watch coffee prices for some indication of concern, right now there appears to be little in that market. Which tells me bean premium has yet to be priced in either.
Subscribe to This Week In Grain
This Week In Grain - This Week in Grain (T.W.I.G.) is a weekly grain and oilseed commentary newsletter designed to keep grain market participants on the cutting edge, so they can hedge or speculate with more confidence and precision.
Risk Disclosure
This material is conveyed as a solicitation for entering into a derivatives transaction.
This material has been prepared by a Daniels Trading broker who provides research market commentary and trade recommendations as part of his or her solicitation for accounts and solicitation for trades; however, Daniels Trading does not maintain a research department as defined in CFTC Rule 1.71. Daniels Trading, its principals, brokers and employees may trade in derivatives for their own accounts or for the accounts of others. Due to various factors (such as risk tolerance, margin requirements, trading objectives, short term vs. long term strategies, technical vs. fundamental market analysis, and other factors) such trading may result in the initiation or liquidation of positions that are different from or contrary to the opinions and recommendations contained therein.
Past performance is not necessarily indicative of future performance. The risk of loss in trading futures contracts or commodity options can be substantial, and therefore investors should understand the risks involved in taking leveraged positions and must assume responsibility for the risks associated with such investments and for their results.
Trade recommendations and profit/loss calculations may not include commissions and fees. Please consult your broker for details based on your trading arrangement and commission setup.
You should carefully consider whether such trading is suitable for you in light of your circumstances and financial resources. You should read the "risk disclosure" webpage accessed at www.DanielsTrading.com at the bottom of the homepage. Daniels Trading is not affiliated with nor does it endorse any third-party trading system, newsletter or other similar service. Daniels Trading does not guarantee or verify any performance claims made by such systems or service.