Good morning friends
This is an example of the morning newsletter I write daily for my clients.  If you would like to follow along, you can do so by clicking here.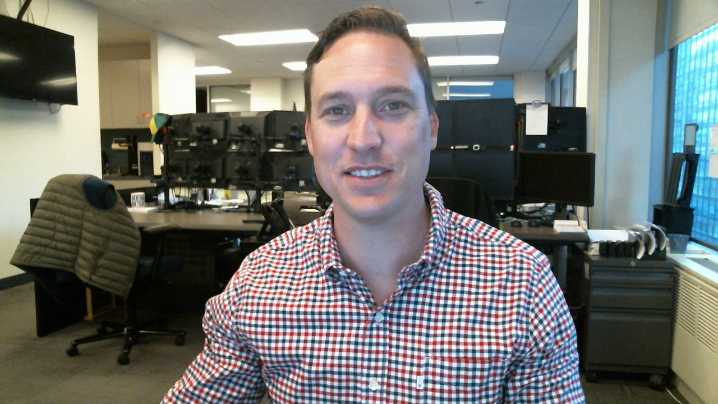 Drama is the theme here today.  Between China-US trade talks, the USDA WASDE and a winter storm bearing down on 10% of the growing region trading this involves little more than a guess. The drama started early last night before the grain open when the South China Morning Post (Chinese government PR arm) reported that the U.S. and China had made no progress in deputy level talks this week.  Chinese media said the divide remains wide between both parties and that no progress was scored on forced IP nor China's subsidy of state-run firms.This is being refuted right now by the White House. Then a few hours later, a report circulated that the White House may implement a previously-agreed-upon currency deal with China ahead of schedule, and suspend tariff hikes scheduled to take effect next week. It is assumed now that a "mini-deal" may be in the cards.  Details are really sketchy, but I have read from a couple of sources that the deal would involve China securing additional US ag goods for the promise that the US would not raise tariffs on Oct 15th and Dec 15th. By the end of the year, the Trump Administration was planning on placing tariffs on all Chinese goods imported into the US if a broad trade deal was not showing significant progress.  In other words…
Now, none of this has been confirmed by the white house so be on the lookout for tweets this morning to the contrary. So far, this has been stick save for the markets, which after opening lower across the board came back to trade near closing levels of yesterday.
USDA Export Sales
Sales were just released right before publishing. They were brutal for corn again, coming in at 284 kmt- well below expectatins.  Soybean sales were stout, coming in above expectations at 2.1 MMT. Wheat sales were solid above the 500 kmt level, as were cotton sales coming in at 188k bales.  Cotton, wheat and beans are beyond USDA expectations right now while the Corn numbers are way behind.
WASDE
The USDA report released at 11 am will take precedence over trade in the eyes of the market, at least for a few hours.  Below are expectations. Corn and Chicago wheat have some spec length built in already. Beans have more of a neutral structure while KC wheat and cotton have speculators closer to record short.  Corn should dictate the price action of wheat, in my opinion.  Given the impending snow storms, I doubt we see some massive flush in corn unless yields go up.  I would see it as a bearish report if the yields dont change, but a break into the 360's this early is not likely. Demand is the biggest unknown from where I sit.  The pace of US ethanol production remains far below what's needed to meet the USDA's annual forecast. Keep in mind ethanol stocks are near record highs. I could easily see a 2 bpa drop in corn yield offset by a 75 million bushel drop in exports and 100 million bushel drop in demand for ethanol grind. That keeps prices below 400, with winter storms maybe reducing yield further breaks into the low from this week should be supported. If you took the rec to sell Dec corn at 397, hold it into the report. If we close above 403 on Friday- take it off.
Soybean demand has been pretty stout, I doubt we see much change there. Yield guesses are much larger in beans than corn.  I really have no idea what to make of soybeans, except prices are at a 5 month high and delivery starts in three weeks. I would be selling rallies with record bean stocks on hand. If you are already short, use the 980 level for Nov 2020 on the close as a stop.
Lastly, cotton appears to be very confused right now. The trade estimates show a smaller crop than last month but given the sharp drop in crop conditions, actual production may come in below the average trade estimate. Cotton has been a great tell for what the Chinese talks are doing to ag prices. Currently we are seeing no change in price as we sit at 62 cents, nearly 3 cents above where it was during the last WASDE. The market is in an steady up trend right now, a break of 61 on the close of the week would inspire more selling as harvest begins. Weather in West Texas remains sketchy over the next two weeks.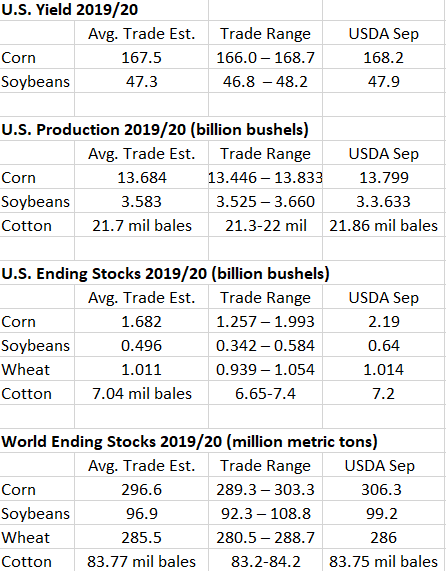 WEATHER
Lastly and maybe the most important thing right now on traders minds is the weather. The forecasted snow has begun to fall in the Dakotas after blanketing Montana earlier.  Short term, the forecast offers heavy snow for Eastern North Dakota starting late today with accumulations of 4-18" heading into the weekend, yikes. A frost/freeze will impact much of the NW growing areas including MN and a good portion of NW IA on the weekend. Producers around Sioux City don't seem to be horribly worried though, crops in the NW part of Iowa got planted on time in most areas. The remainder of the Midwest will frost free and crops here will continue to mature. Keep in mind, this is known and likely priced in.  Going forward, the 8-14 day forecasts are for a slight warm up but rain is expected.  This harvest is going to take a long time, we are just starting to being to see combines roll in the North.   Moisture will be a concern in West Texas as producers will try to get as much stripped as they can in front of higher chances of rain after a week. I am hearing mixed reports of cotton in Texas. Some are happy, some not so much. The bulk of harvest has yet to take place.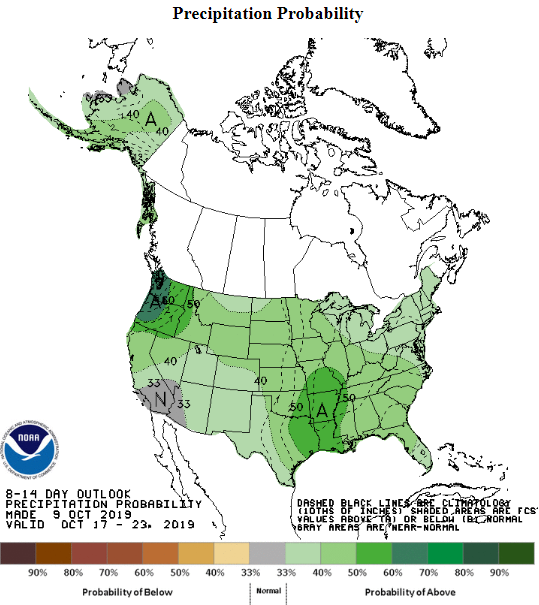 Subscribe to This Week In Grain
This Week In Grain - This Week in Grain (T.W.I.G.) is a weekly grain and oilseed commentary newsletter designed to keep grain market participants on the cutting edge, so they can hedge or speculate with more confidence and precision.
Risk Disclosure
The StoneX Group Inc. group of companies provides financial services worldwide through its subsidiaries, including physical commodities, securities, exchange-traded and over-the-counter derivatives, risk management, global payments and foreign exchange products in accordance with applicable law in the jurisdictions where services are provided. References to over-the-counter ("OTC") products or swaps are made on behalf of StoneX Markets LLC ("SXM"), a member of the National Futures Association ("NFA") and provisionally registered with the U.S. Commodity Futures Trading Commission ("CFTC") as a swap dealer. SXM's products are designed only for individuals or firms who qualify under CFTC rules as an 'Eligible Contract Participant' ("ECP") and who have been accepted as customers of SXM. StoneX Financial Inc. ("SFI") is a member of FINRA/NFA/SIPC and registered with the MSRB. SFI does business as Daniels Trading/Top Third/Futures Online. SFI is registered with the U.S. Securities and Exchange Commission ("SEC") as a Broker-Dealer and with the CFTC as a Futures Commission Merchant and Commodity Trading Adviser. References to securities trading are made on behalf of the BD Division of SFI and are intended only for an audience of institutional clients as defined by FINRA Rule 4512(c). References to exchange-traded futures and options are made on behalf of the FCM Division of SFI.
Trading swaps and over-the-counter derivatives, exchange-traded derivatives and options and securities involves substantial risk and is not suitable for all investors. The information herein is not a recommendation to trade nor investment research or an offer to buy or sell any derivative or security. It does not take into account your particular investment objectives, financial situation or needs and does not create a binding obligation on any of the StoneX group of companies to enter into any transaction with you. You are advised to perform an independent investigation of any transaction to determine whether any transaction is suitable for you. No part of this material may be copied, photocopied or duplicated in any form by any means or redistributed without the prior written consent of StoneX Group Inc.
© 2021 StoneX Group Inc. All Rights Reserved