Hello hog traders
The story remained last week but we the potential for sentiment change is in the cards with trade talks scheduled between the US and China this week. Regardless, ASF continues to spread across Asia and the CME continues to price in stronger US pork exports to China and other Asian countries. Remember when we talked a few weeks ago about the ractopamene ban?  US packers are reacting by adapting production to meet Chinese regulations.
Summer 2020 contracts are now priced over the 2019 summer high. Hogs are not cheap at these prices, for this time of the year given the supply on hand. We expect that the premiums hold in the summer contracts while the cash and spring hog markets will trade around China-US sentiment.
Cash is strong right now, that can not be ignored. Hog basis continued to strengthen as the cash market rallied every day, the index has the look of a bottom and the cutout is at a 3 week high. All the while, record large hog slaughter rates continue to pour in, and the September Hogs and Pigs report confirmed that trend will continue into the end of the year.  This is not bullish for cash over the longer run, continued exports are needed.
Futures traders will probably keep the trade somewhat close to the best into Wednesday, then look to trade the China-US meetings.  A deal is not necessary to keep premiums in place, but positive rhetoric is.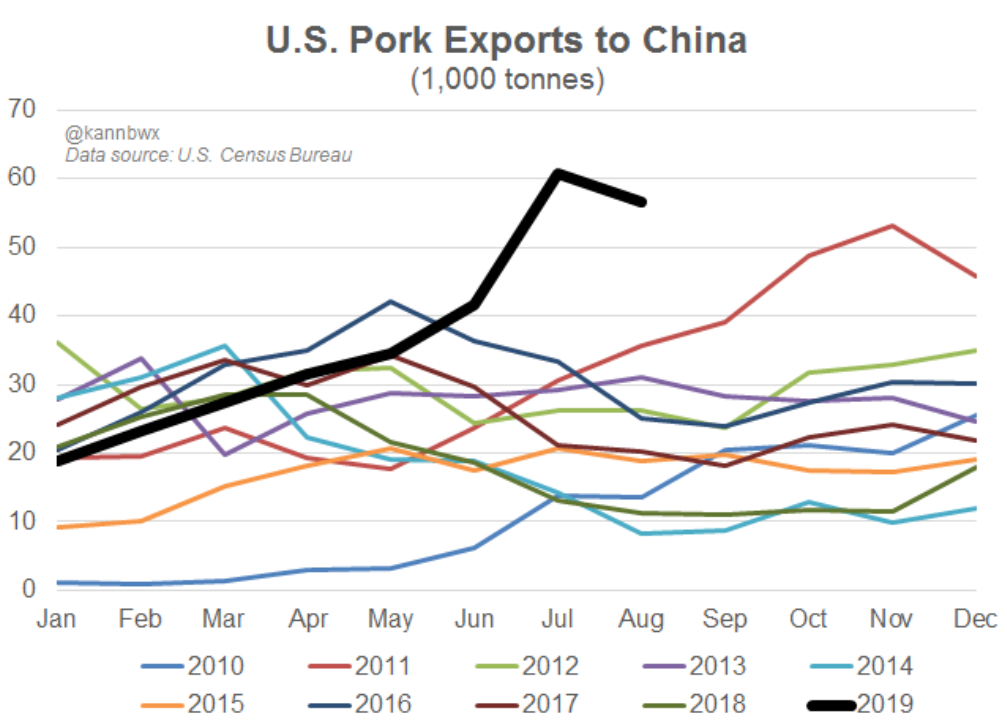 CURRENT POSITIONS
SHORT 2 UNITS OF DEC HOGS
LONG 2 UNITS OF FEB HOGS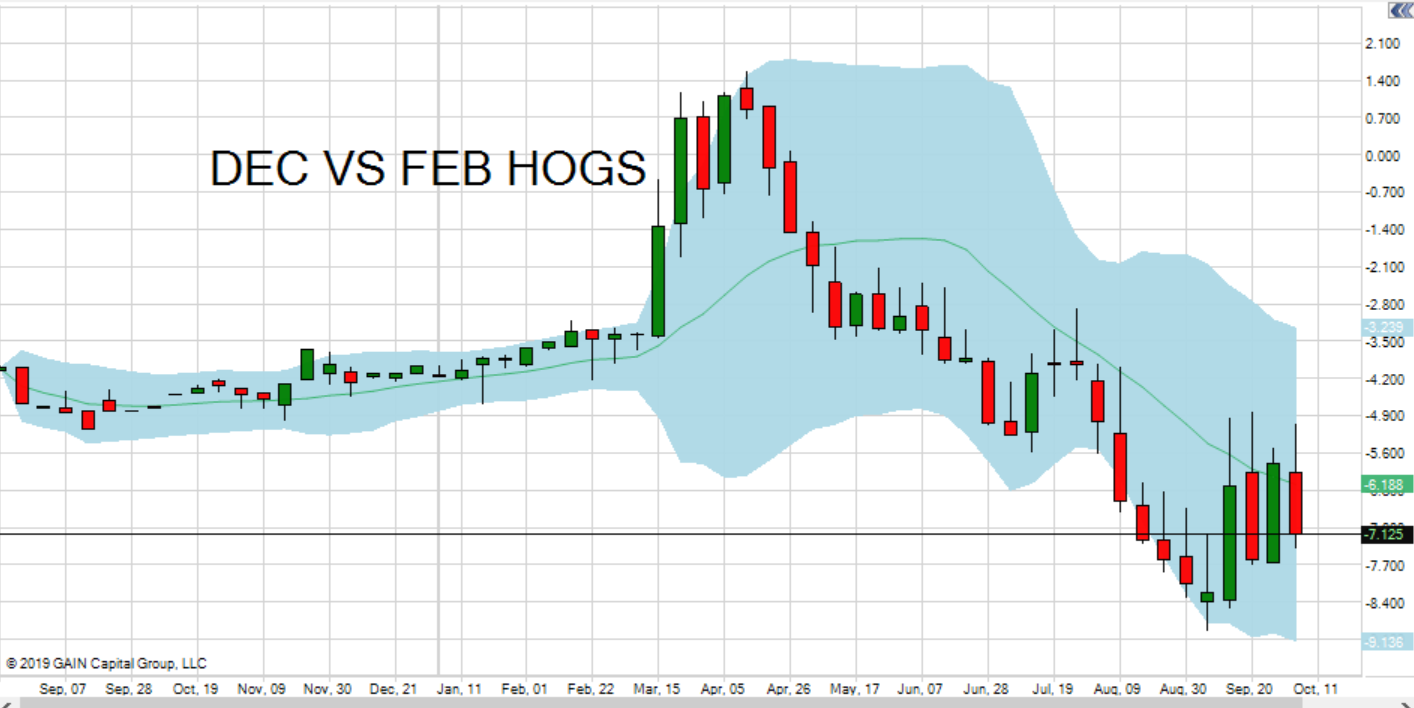 FRONT MONTH HOGS- WEEKLY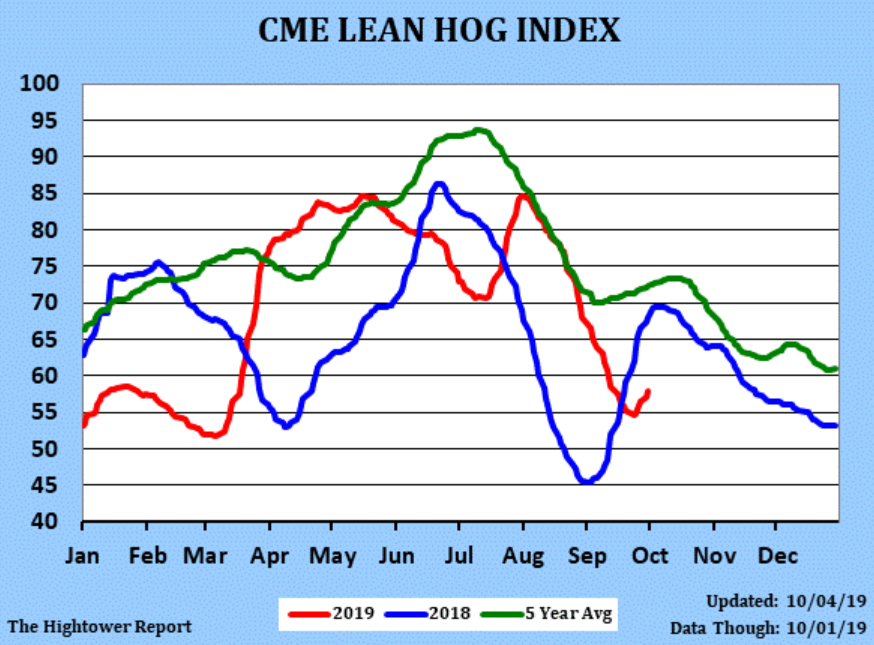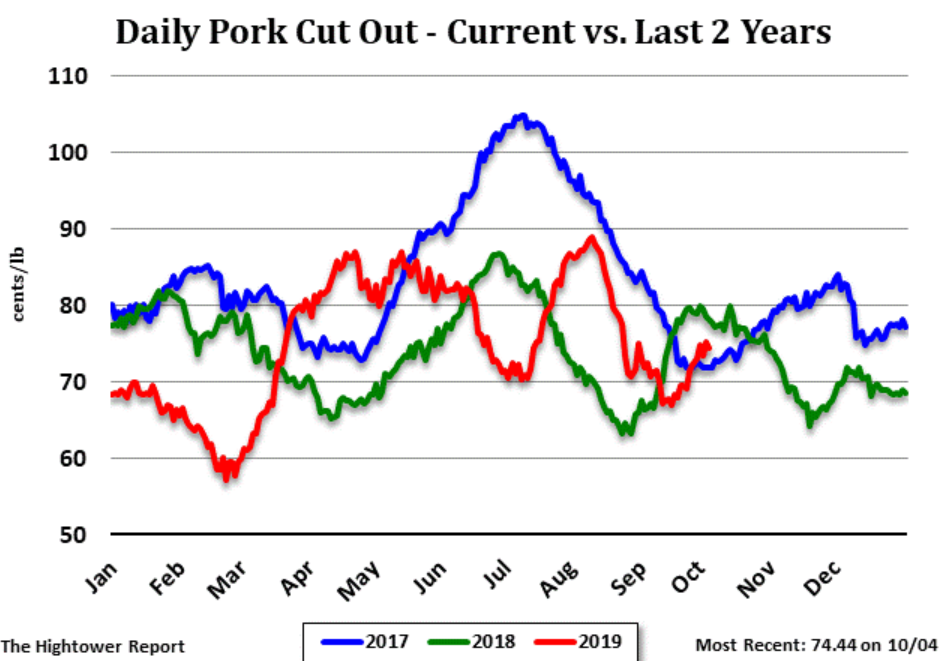 Looking into next week:
The belly market this past week was strong. The increase week over week was $13.42, we do not believe the highs are in. The possibility of bellies going to $1.45 to $1.50 is a real.
Hams took an unexpected dip because a major packer got delisted as an approved supplier to Mexico. As a result of this announcement this packer was put in a bind.  The product previously sold is now surplus and they had to find a price level to clear the surplus hams.  This caused the ham market to lose over $2.00 on the week.
Loins and butt prices consolidated this past week as expected, but should increase in price as we get into October, maybe 5 to 7 dollars up from where they settled on Friday.
There is a lot supportive cash news, but the industry has projected a weekly slaughter of up around 2,700,000 head next week. This should temper the increase in prices on all the primal cuts not just loins and butts.
The administration has just completed a trade deal with Japan this past week, and the Chinese most likely have taken notice. If it weren't for the politics distracting the administrations in both countries, a deal could be reached sooner than later. However, until an agreement is reached, volatility will most likely remain in the market.
Swine Times has mentioned in previous newsletters that the Chinese, and for that matter most of Europe and the rest of the world will not accept pork with ractopamine in it. As of this week a letter was sent out by JBS one of the largest packers in the U.S and the world, that they are going to be ractopamine free. In other words they will not be processing hogs that have been fed ractopamine. While producers may be upset by this development in the long run in will benefit them by expanding the export markets to which they can sell.
The USDA Interior Iowa Southern Minnesota live weight came in at 281.9 up 1.4 lbs. From a week ago, and are now 1.9lbs over a year ago
How we trade this:

We like the LHG/LHJ spread and we also like the LHM/LHJ back spread.We think either one or both of these spreads will make money over time. A year ago the LHM/LHJ spread went over $20.00
This may also be an opportunity to be butterfly spread. With the LHG and the LHM being the wings or the long legs and the LHJ being the body or short leg.
We think December hogs gain on and February hogs in the short run. In other words as long as the product, especially the belly prices, continue to go higher. It may be less risky just being long a few December hogs outright, rather than being positioned in any kind of December hog spread. Be ready to exit this spread early this week.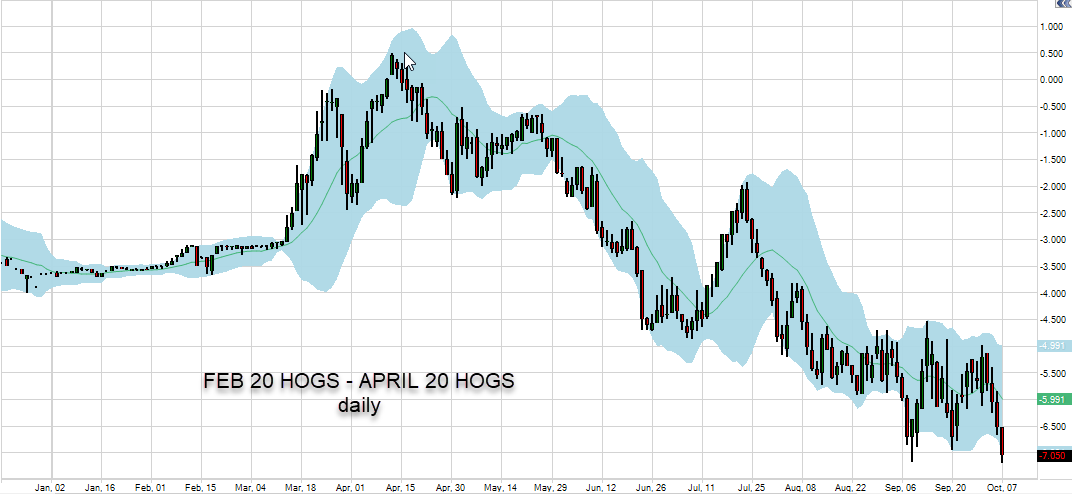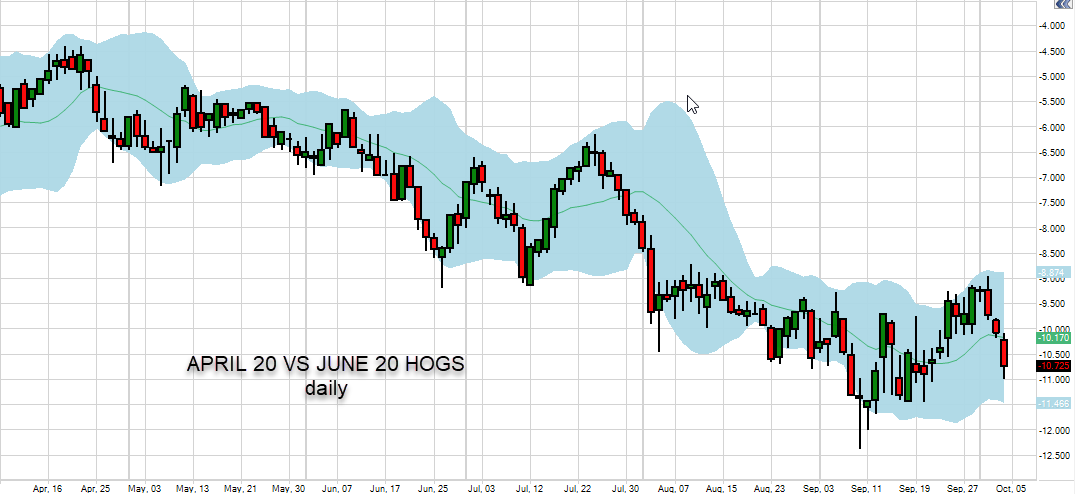 *USDA   National Hog and Pork summary
** Expressed in thousand head
Subscribe to The Swine Times
The Swine Times - The Swine Times newsletter is designed to help participants in the pork complex understand and trade the futures markets. Our intention is to fundamentally inform and trade based off the information we have.
Risk Disclosure
The StoneX Group Inc. group of companies provides financial services worldwide through its subsidiaries, including physical commodities, securities, exchange-traded and over-the-counter derivatives, risk management, global payments and foreign exchange products in accordance with applicable law in the jurisdictions where services are provided. References to over-the-counter ("OTC") products or swaps are made on behalf of StoneX Markets LLC ("SXM"), a member of the National Futures Association ("NFA") and provisionally registered with the U.S. Commodity Futures Trading Commission ("CFTC") as a swap dealer. SXM's products are designed only for individuals or firms who qualify under CFTC rules as an 'Eligible Contract Participant' ("ECP") and who have been accepted as customers of SXM. StoneX Financial Inc. ("SFI") is a member of FINRA/NFA/SIPC and registered with the MSRB. SFI does business as Daniels Trading/Top Third/Futures Online. SFI is registered with the U.S. Securities and Exchange Commission ("SEC") as a Broker-Dealer and with the CFTC as a Futures Commission Merchant and Commodity Trading Adviser. References to securities trading are made on behalf of the BD Division of SFI and are intended only for an audience of institutional clients as defined by FINRA Rule 4512(c). References to exchange-traded futures and options are made on behalf of the FCM Division of SFI.
Trading swaps and over-the-counter derivatives, exchange-traded derivatives and options and securities involves substantial risk and is not suitable for all investors. The information herein is not a recommendation to trade nor investment research or an offer to buy or sell any derivative or security. It does not take into account your particular investment objectives, financial situation or needs and does not create a binding obligation on any of the StoneX group of companies to enter into any transaction with you. You are advised to perform an independent investigation of any transaction to determine whether any transaction is suitable for you. No part of this material may be copied, photocopied or duplicated in any form by any means or redistributed without the prior written consent of StoneX Group Inc.
© 2021 StoneX Group Inc. All Rights Reserved