Ag bulls awake this morning and find themselves happy to turn the calendar page after a brutal month of price action in every major Ag market traded. Corn, wheat (all classes but specifically KC and Minneapolis), cotton, hogs and cattle are all substantially lower from where they were 30 days ago.  Below is the scorecard for August, a month that was marred by USDA surprises, trade failure, strong currency and ethanol/cattle/end user plant closings.  As much as farmers hate getting welfare, they probably feel it deserved this month. Here is the score card:
CORN- down 38 cents/9.5%
COTTON- down 4.8 cents/7.5%
MIN. WHEAT- down 20 cents/7.6%
KC WHEAT- down 36 cents/8.6%
CHI WHEAT- down 30 cents (sep down 13 this morning)/ 9.3%
SOYBEANS-  down 6 cents/.75%
News
News is slow this morning. Equities are on the move and soybean futures are higher after China touted that it's having 'effective communication' with the U.S. on the trade war.  The world's two biggest economies are keeping lines open, China's Foreign Ministry said. President Donald Trump said more talks took place between U.S. and Chinese officials Thursday and more discussions are scheduled. Below are the latest temperature forecasts for the 8-14. Cold weather remains in place
Cotton
Cotton is trying to come along but just can't muster much strength. Hurricane Dorian is strengthening, with the potential of reaching a Category 4 storm. The path is very sketchy at this point, all of Florida Is under a state of emergency.  Im watching for rain totals into SW Georgia, it appears to be OK for now.  The funds are so short right now, we have a 3 day weekend ahead with 40% of cotton in GA opening bolls.  I expect some short covering today, maybe even a test of 60 cents.
Corn & Beans
Corn and soybeans appear to have bottomed for now.  The upside move we saw yesterday in corn was short lived. I think that will be the theme on rallies, so be ready. Use limit orders. If you have nothing sold, get started on an approach to 380. I think we could see a test of 400 if the crop concerns would grow enough, but right now I just don't see where the yield losses will come from outside of some major event.  Trading with that in mind is not a recommended plan.  The next big event for corn and beans will be the USDA report on the 12th of Sep.
Below are monthly continuous charts.  Woof….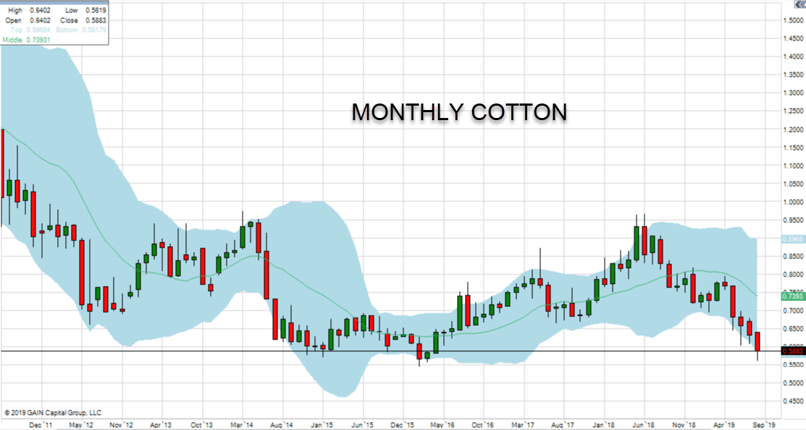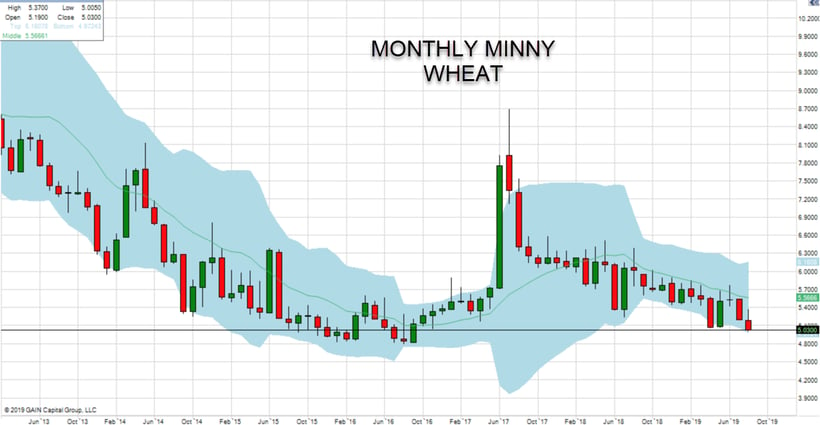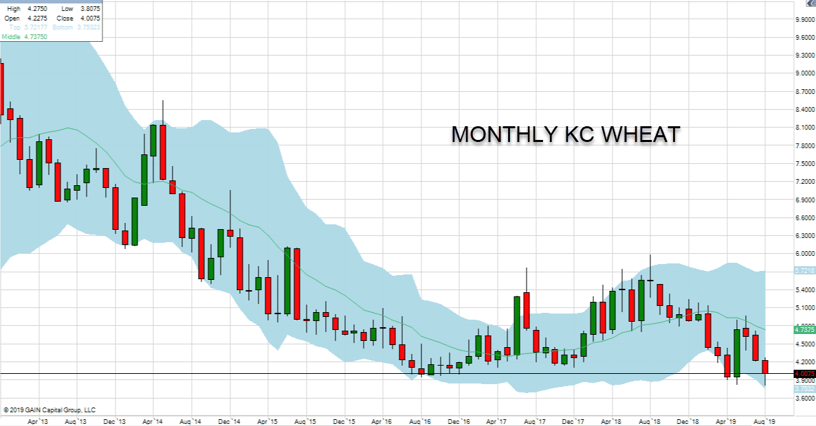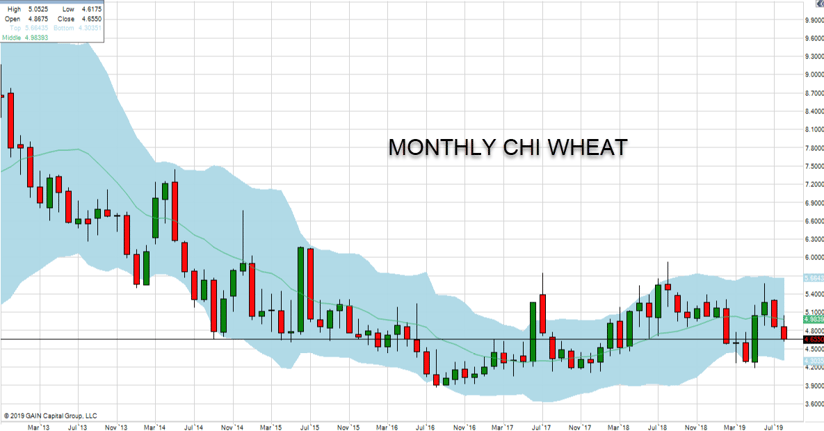 It's a holiday on Monday. The newsletter will be up on Monday night this week.  Don't bother me on Saturday, I'll be watching my Iowa Hawkeyes embark on a 15-0 season….
Subscribe to This Week In Grain
This Week In Grain - This Week in Grain (T.W.I.G.) is a weekly grain and oilseed commentary newsletter designed to keep grain market participants on the cutting edge, so they can hedge or speculate with more confidence and precision.
Risk Disclosure
The StoneX Group Inc. group of companies provides financial services worldwide through its subsidiaries, including physical commodities, securities, exchange-traded and over-the-counter derivatives, risk management, global payments and foreign exchange products in accordance with applicable law in the jurisdictions where services are provided. References to over-the-counter ("OTC") products or swaps are made on behalf of StoneX Markets LLC ("SXM"), a member of the National Futures Association ("NFA") and provisionally registered with the U.S. Commodity Futures Trading Commission ("CFTC") as a swap dealer. SXM's products are designed only for individuals or firms who qualify under CFTC rules as an 'Eligible Contract Participant' ("ECP") and who have been accepted as customers of SXM. StoneX Financial Inc. ("SFI") is a member of FINRA/NFA/SIPC and registered with the MSRB. SFI does business as Daniels Trading/Top Third/Futures Online. SFI is registered with the U.S. Securities and Exchange Commission ("SEC") as a Broker-Dealer and with the CFTC as a Futures Commission Merchant and Commodity Trading Adviser. References to securities trading are made on behalf of the BD Division of SFI and are intended only for an audience of institutional clients as defined by FINRA Rule 4512(c). References to exchange-traded futures and options are made on behalf of the FCM Division of SFI.
Trading swaps and over-the-counter derivatives, exchange-traded derivatives and options and securities involves substantial risk and is not suitable for all investors. The information herein is not a recommendation to trade nor investment research or an offer to buy or sell any derivative or security. It does not take into account your particular investment objectives, financial situation or needs and does not create a binding obligation on any of the StoneX group of companies to enter into any transaction with you. You are advised to perform an independent investigation of any transaction to determine whether any transaction is suitable for you. No part of this material may be copied, photocopied or duplicated in any form by any means or redistributed without the prior written consent of StoneX Group Inc.