Good morning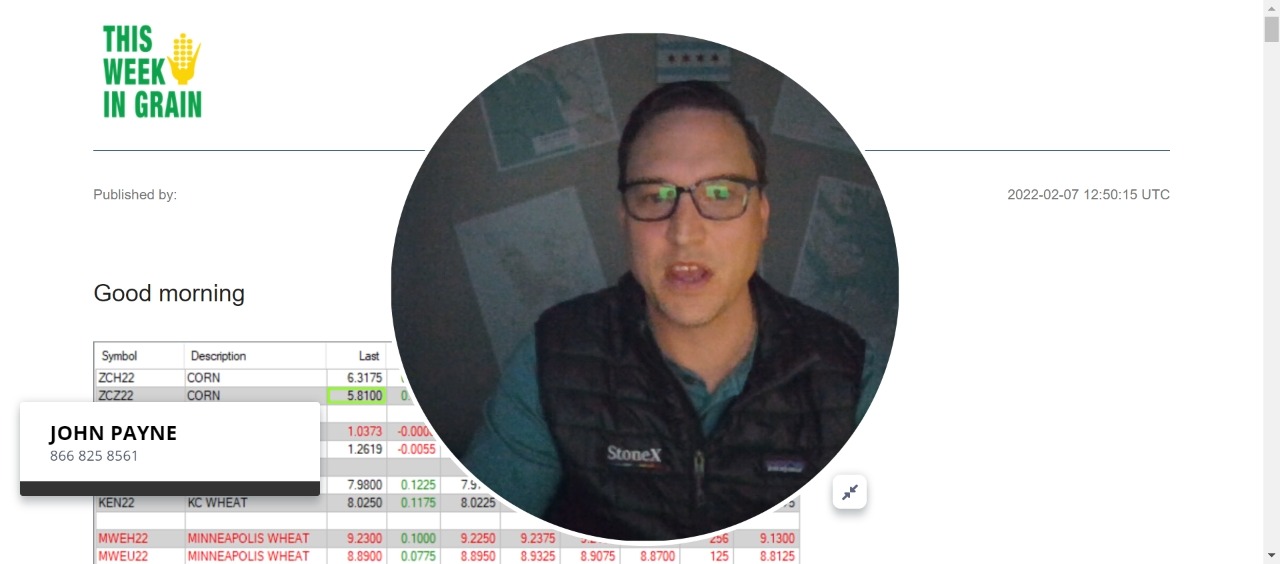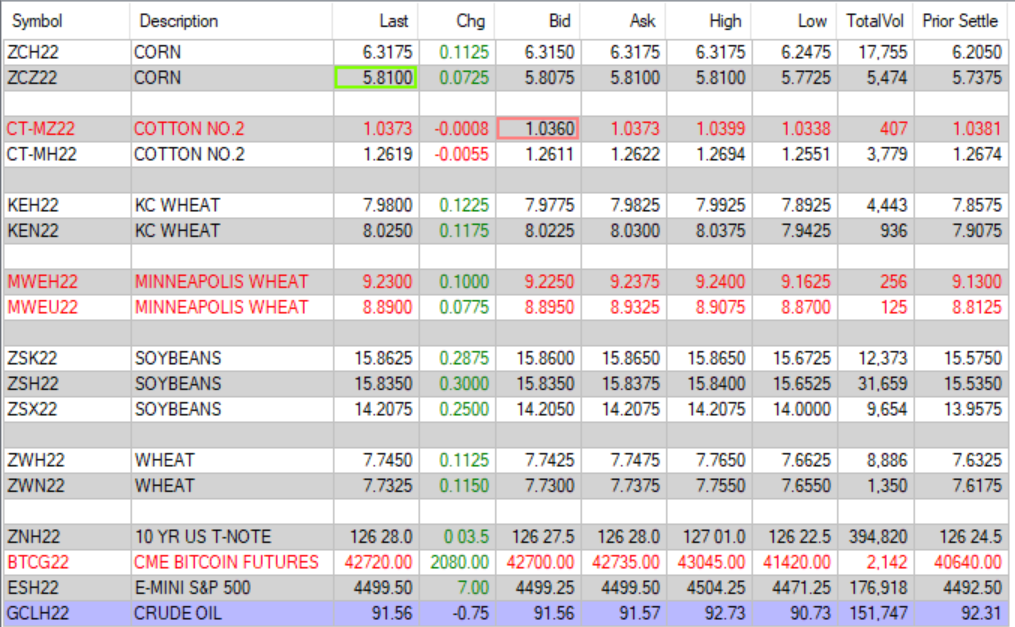 Ill be out of the office this week, attending the World Ag Expo in Tulare, California. Given the Pacific time zone, you may not hear from me everyday. I will be checking email frequently, but please call in orders this morning as I will be airborne. If you will be in Tulare, please look for the Stonex booth and swing by to say hi. Oh, and download the APP.
USDA WASDE and CONAB will be out with official adjustments to corn and bean crops on Wednesday.  Expectations are baked in for a cut to S. Am production.  I think the wild card is the Brazil corn number and early outlook on Argentina. I think the trade has built in expectations of a cut there to yields but I am not sure we get it tomorrow, if at all given recent rains. There is likely US demand changes as well, down in wheat and up in cotton, corn and beans would be my lean.  In regards to wheat, any negative action on demand should be bought given future weather problems not priced in at this time.





US CPI numbers on Thursday should dictate the attitude of the macro trade into the March FOMC meeting.  Inflation is driving the FOMC to want to tighten, CPI will give traders an indication of how aggressive they need to be.  If CPI comes in under .5% per month, I think we could see a risk on type of trade. If its .5% or higher I think risk off is the theme as expectations will remain for a higher than expected rate hike pace.  All asset prices will likely struggle in the short to medium term in my opinion, should we see a high CPI print on Thursday.

The yield on the benchmark 10-year Treasury note edged up to 1.92% on Monday, the highest in 2 years, as investors await US inflation data on Thursday and continue to expect the Fed will need to raise rates faster to tackle soaring consumer prices. Money markets are now betting on more than five quarter-point Federal Reserve interest-rate hikes in 2022, after a stronger-than-expected job gain last month. I am somewhat surprised we are seeing strength in commodities (and crypto) as this occurs, although given the US remains at negative real interest rates I should not be.
Both Russian Ruble and Brazil Real markets have been strengthening vs the USD of late. This is a friendly sight for US growers as one domino yet to fall is the currency competition between the US/Brazil for beans and corn and US/Russia for wheat.  Weaker currencies support export demand, something the US grower has not had in their corner for nearly a decade
Hong Kong Braces for Curbs as Cases Double Every Three Days

Spec money is at the ag "party" right now but remain well below highs from last spring as well as '10-12 runups. The "Goldman roll" begins this week.  I would bet on some moves in the H vs K spreads given market participation.

CORN (March, Dec)
SOYBEANS (March, Nov)



COTTON (March, Dec)
July WHEAT (Chicago, KC, Minneapolis)
Risk Disclosure
The StoneX Group Inc. group of companies provides financial services worldwide through its subsidiaries, including physical commodities, securities, exchange-traded and over-the-counter derivatives, risk management, global payments and foreign exchange products in accordance with applicable law in the jurisdictions where services are provided. References to over-the-counter ("OTC") products or swaps are made on behalf of StoneX Markets LLC ("SXM"), a member of the National Futures Association ("NFA") and provisionally registered with the U.S. Commodity Futures Trading Commission ("CFTC") as a swap dealer. SXM's products are designed only for individuals or firms who qualify under CFTC rules as an 'Eligible Contract Participant' ("ECP") and who have been accepted as customers of SXM. StoneX Financial Inc. ("SFI") is a member of FINRA/NFA/SIPC and registered with the MSRB. SFI does business as Daniels Trading/Top Third/Futures Online. SFI is registered with the U.S. Securities and Exchange Commission ("SEC") as a Broker-Dealer and with the CFTC as a Futures Commission Merchant and Commodity Trading Adviser. References to securities trading are made on behalf of the BD Division of SFI and are intended only for an audience of institutional clients as defined by FINRA Rule 4512(c). References to exchange-traded futures and options are made on behalf of the FCM Division of SFI.
Trading swaps and over-the-counter derivatives, exchange-traded derivatives and options and securities involves substantial risk and is not suitable for all investors. The information herein is not a recommendation to trade nor investment research or an offer to buy or sell any derivative or security. It does not take into account your particular investment objectives, financial situation or needs and does not create a binding obligation on any of the StoneX group of companies to enter into any transaction with you. You are advised to perform an independent investigation of any transaction to determine whether any transaction is suitable for you. No part of this material may be copied, photocopied or duplicated in any form by any means or redistributed without the prior written consent of StoneX Group Inc.
© 2023 StoneX Group Inc. All Rights Reserved