Happy Monday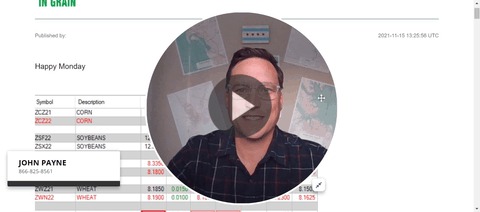 The week ahead
Ill be at the Montana Stock Growers annual convention and trade show this week. If you are in Billings and want to meet up, give me a shout.
Xi and Biden will speak tonight virtually. Two issues that dominate the U.S.-China economic relationship, tariffs and supply chain woes, will take a backseat Monday to more pressing security concerns when President Joe Biden holds a virtual summit with Chinese President Xi Jinping. Chinese relations with the world will be fascinating to watch as the Beijing Olympics begin in a little over two months. From a trading perspective, we want to be on alert for any changes to the Trump-era tariffs.
NOPA will report crush data this AM at 11 central. Outside of that, eyes will be on the normal grain reports with export inspections this morning, crop progress tonight and the export sales data on Thurs.  Wheat traders will be on alert as we get a crop progress number tonight that continues to highlight a poor start to the US crop.
Turkey (TMO) is tendering corn this am.  Offers came in north of $300 per MT.  $300 is approx 7.50 per bushel.  You could make the case the CBOT board is cheap. Other tenders to watch will be Egypt (GASC) and Algeria (AOIC) wheat and soyoil this week.
John Deere, United Auto Workers report reaching third tentative contract agreement amid strike.  Vote goes to locals today, who have rejected the last two offers by a decent margin.
Inflation reports were on fire in October. Everyone seems to be now worried about run away inflation.  While I agree it needs to be monitored, keep an eye on China.  Chinese PPI numbers were mainly higher on energy costs.  That will not be the case in the next month report.  Thermal coal futures continue to fall and is down another 6% hitting the lowest level since August. Data about coal production showed a y/y increase in October production.  Price changes like this are likely driven by new Chinese supply, either from reserves or new imports.  Regardless, Xi wanted prices lower and he got his wish.
Traders looking for a low risk way to reown sales or basis on earlier sales, may want to think about a simple bull spread in corn.   Seasonal's are friendly and basis is strong. I see the value in the physical better than the value in the paper at this point.
Subscribe to This Week In Grain
This Week In Grain - This Week in Grain (T.W.I.G.) is a weekly grain and oilseed commentary newsletter designed to keep grain market participants on the cutting edge, so they can hedge or speculate with more confidence and precision.