Good afternoon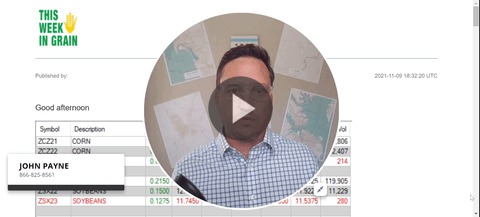 USDA released it's latest supply and demand update for November. Yield was reduced in soybeans, surprising a trade that was looking for yield hikes.  Carryover supply loss was offset by falling demand, leaving an ending stocks number only slightly larger than expected rather than much larger. Global soybean numbers came in 2% low as well.  Today's price action is a great example of the power of LIMIT ORDERS.  If you had orders in above 1230, congrats as you sold a high only available for a few min.
For corn, the report was largely begin with little yield surprise and no change to demand. Ending stocks sit south of 1.5 billion and have likely topped for now in my opinion. Buy breaks on old crop, Id be willing to sell a floor to someone to finance some upside protection if you are an end user.  Given HRW is north of 350 per MT (9.40 per bushel) into most locations until next marketing year, corn purchases at 200 per mt (5.00 per bushel) until that point are a no brainer in my opinion.
Wheat is still working off baseline acreage as well as yield at this point.  Outside of global estimates, which came in a little light, the story of wheat will be written with Northern Hemisphere yields and Russian export taxes in mind.  Those are the two things to monitor before we get acreage updates at the end of the year.
Cotton supplies see an uptick on a strong harvest, demand was left unchanged.  As cotton looks down from lofty prices, supplies are actually larger now than a year ago at this time in the US.  Harvest will continue to progress over the end of the month, then eyes shift to new crop acreage and whatever is driving cotton out of Asia (Evergrande).
If you are not already a subscriber to This Week in Grain, sign up now to have This Week in Grain delivered to your inbox!
Subscribe to This Week In Grain
This Week In Grain - This Week in Grain (T.W.I.G.) is a weekly grain and oilseed commentary newsletter designed to keep grain market participants on the cutting edge, so they can hedge or speculate with more confidence and precision.