Good afternoon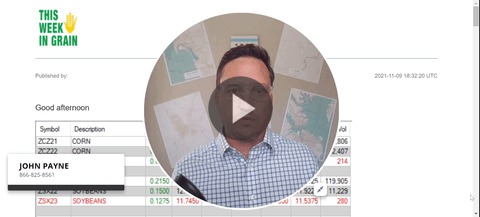 USDA released it's latest supply and demand update for November. Yield was reduced in soybeans, surprising a trade that was looking for yield hikes.  Carryover supply loss was offset by falling demand, leaving an ending stocks number only slightly larger than expected rather than much larger. Global soybean numbers came in 2% low as well.  Today's price action is a great example of the power of LIMIT ORDERS.  If you had orders in above 1230, congrats as you sold a high only available for a few min.
For corn, the report was largely begin with little yield surprise and no change to demand. Ending stocks sit south of 1.5 billion and have likely topped for now in my opinion. Buy breaks on old crop, Id be willing to sell a floor to someone to finance some upside protection if you are an end user.  Given HRW is north of 350 per MT (9.40 per bushel) into most locations until next marketing year, corn purchases at 200 per mt (5.00 per bushel) until that point are a no brainer in my opinion.
Wheat is still working off baseline acreage as well as yield at this point.  Outside of global estimates, which came in a little light, the story of wheat will be written with Northern Hemisphere yields and Russian export taxes in mind.  Those are the two things to monitor before we get acreage updates at the end of the year.
Cotton supplies see an uptick on a strong harvest, demand was left unchanged.  As cotton looks down from lofty prices, supplies are actually larger now than a year ago at this time in the US.  Harvest will continue to progress over the end of the month, then eyes shift to new crop acreage and whatever is driving cotton out of Asia (Evergrande).
If you are not already a subscriber to This Week in Grain, sign up now to have This Week in Grain delivered to your inbox!
Risk Disclosure
The StoneX Group Inc. group of companies provides financial services worldwide through its subsidiaries, including physical commodities, securities, exchange-traded and over-the-counter derivatives, risk management, global payments and foreign exchange products in accordance with applicable law in the jurisdictions where services are provided. References to over-the-counter ("OTC") products or swaps are made on behalf of StoneX Markets LLC ("SXM"), a member of the National Futures Association ("NFA") and provisionally registered with the U.S. Commodity Futures Trading Commission ("CFTC") as a swap dealer. SXM's products are designed only for individuals or firms who qualify under CFTC rules as an 'Eligible Contract Participant' ("ECP") and who have been accepted as customers of SXM. StoneX Financial Inc. ("SFI") is a member of FINRA/NFA/SIPC and registered with the MSRB. SFI does business as Daniels Trading/Top Third/Futures Online. SFI is registered with the U.S. Securities and Exchange Commission ("SEC") as a Broker-Dealer and with the CFTC as a Futures Commission Merchant and Commodity Trading Adviser. References to securities trading are made on behalf of the BD Division of SFI and are intended only for an audience of institutional clients as defined by FINRA Rule 4512(c). References to exchange-traded futures and options are made on behalf of the FCM Division of SFI.
Trading swaps and over-the-counter derivatives, exchange-traded derivatives and options and securities involves substantial risk and is not suitable for all investors. The information herein is not a recommendation to trade nor investment research or an offer to buy or sell any derivative or security. It does not take into account your particular investment objectives, financial situation or needs and does not create a binding obligation on any of the StoneX group of companies to enter into any transaction with you. You are advised to perform an independent investigation of any transaction to determine whether any transaction is suitable for you. No part of this material may be copied, photocopied or duplicated in any form by any means or redistributed without the prior written consent of StoneX Group Inc.
© 2023 StoneX Group Inc. All Rights Reserved