Good morning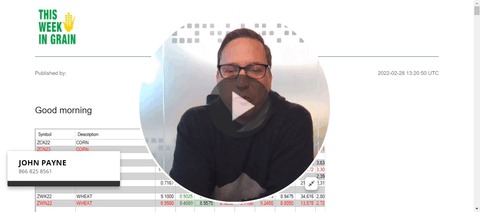 COVID goes away with a whimper in the US.  This story is obviously back page considering the Ukraine-Russian situation, yet it needs to be in the back of mind as the US central bank is set to pour cold water on the economy in the next few weeks.




Meanwhile in Asia, Hong Kong is being overrun with cases. According to he NYT, dead bodies are piling up on gurneys in hospital hallways as Hong Kong's health system is overloaded by its biggest Covid-19 outbreak of the pandemic. Chinese growth faces tremendous headwinds in the coming quarters are they attempt to come out of "Zero Covid" lockdowns.
WASDE and CONAB will be out next week with updates on S.Am crop sizes as well as new crop estimates using the latest Ag Forum planted acreage data.
The main event this morning will be talks between Ukrainian and Russian leaders in Belarus this morning.  A cease fire would likely inspire price action like we saw on Friday where spec longs run for the exits before even thinking twice.
In my opinion, Turkey holds the key to peace in the region.
GASC takes a shot at buying wheat again.  It goes a little better than their efforts last week, but not by much.  One big change is the US is involved in offers.  N. African buyers are in trouble.







Risk Disclosure
The StoneX Group Inc. group of companies provides financial services worldwide through its subsidiaries, including physical commodities, securities, exchange-traded and over-the-counter derivatives, risk management, global payments and foreign exchange products in accordance with applicable law in the jurisdictions where services are provided. References to over-the-counter ("OTC") products or swaps are made on behalf of StoneX Markets LLC ("SXM"), a member of the National Futures Association ("NFA") and provisionally registered with the U.S. Commodity Futures Trading Commission ("CFTC") as a swap dealer. SXM's products are designed only for individuals or firms who qualify under CFTC rules as an 'Eligible Contract Participant' ("ECP") and who have been accepted as customers of SXM. StoneX Financial Inc. ("SFI") is a member of FINRA/NFA/SIPC and registered with the MSRB. SFI does business as Daniels Trading/Top Third/Futures Online. SFI is registered with the U.S. Securities and Exchange Commission ("SEC") as a Broker-Dealer and with the CFTC as a Futures Commission Merchant and Commodity Trading Adviser. References to securities trading are made on behalf of the BD Division of SFI and are intended only for an audience of institutional clients as defined by FINRA Rule 4512(c). References to exchange-traded futures and options are made on behalf of the FCM Division of SFI.
Trading swaps and over-the-counter derivatives, exchange-traded derivatives and options and securities involves substantial risk and is not suitable for all investors. The information herein is not a recommendation to trade nor investment research or an offer to buy or sell any derivative or security. It does not take into account your particular investment objectives, financial situation or needs and does not create a binding obligation on any of the StoneX group of companies to enter into any transaction with you. You are advised to perform an independent investigation of any transaction to determine whether any transaction is suitable for you. No part of this material may be copied, photocopied or duplicated in any form by any means or redistributed without the prior written consent of StoneX Group Inc.
© 2023 StoneX Group Inc. All Rights Reserved