Good morning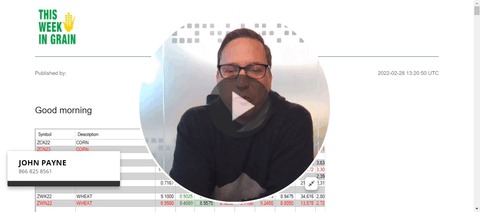 COVID goes away with a whimper in the US.  This story is obviously back page considering the Ukraine-Russian situation, yet it needs to be in the back of mind as the US central bank is set to pour cold water on the economy in the next few weeks.




Meanwhile in Asia, Hong Kong is being overrun with cases. According to he NYT, dead bodies are piling up on gurneys in hospital hallways as Hong Kong's health system is overloaded by its biggest Covid-19 outbreak of the pandemic. Chinese growth faces tremendous headwinds in the coming quarters are they attempt to come out of "Zero Covid" lockdowns.
WASDE and CONAB will be out next week with updates on S.Am crop sizes as well as new crop estimates using the latest Ag Forum planted acreage data.
The main event this morning will be talks between Ukrainian and Russian leaders in Belarus this morning.  A cease fire would likely inspire price action like we saw on Friday where spec longs run for the exits before even thinking twice.
In my opinion, Turkey holds the key to peace in the region.
GASC takes a shot at buying wheat again.  It goes a little better than their efforts last week, but not by much.  One big change is the US is involved in offers.  N. African buyers are in trouble.