Good morning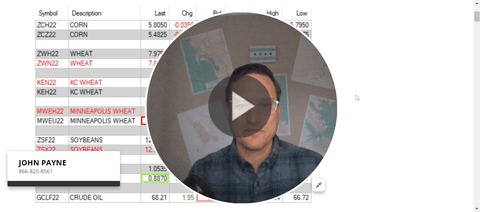 USDA will release the December WASDE on Thursday.  This is a precursor to the higher leveraged January report where more cemented production data will be released along side the grain stocks reports. Potential wild cards would include a yield hike in cotton and export changes in the beans, corn and wheat.  Again, the January report will be more of a jump ball given the inclusion of quarterly grain stocks.
US CPI will be released on Friday.  Expectations for a 7% print have folks bracing for the FOMC to act sooner rather than later.  With the US 10 year bond trading below 1.4% this AM, that puts the real interest rate here in the US at a rolling -5.6% as of right now.  This is incredibly inflationary and should cause the FOMC to act.  Keep your eyes on the bitcoin markets, they had a heck of a ride this weekend.
Be ready for an EPA bio-fuel mandate announcement soon.  It was supposed to be before the end of November but there has been zero word out of the EPA in regards to how much will be mandated next year.  At this point, no mandate is needed given high gasoline prices.  Drivers who use ethanol are seeing better prices at the pump.
It is will be bone dry this week over S. Brazil and Argentina growing areas.  In my opinion the markets have priced in nearly zero S. Am crop loss. Models show better chances of rain next week, but extreme southern areas will be monitored.




Biden admin is expected to announce this week a diplomatic boycott of the Chinese Olympics.  This has been largely expected, it will be very interesting to see if other countries or athletes follow.  Keep in mind, China is not allowing any foreign visitors anyway, so this is largely symbolic.
China's central bank will cut reserve requirement ratio (RRR) for commercial banks by 50 basis points, effective from December 15, which will release about 1.2 trillion yuan ($188 billion) of long-term funding, the People's Bank of China (PBOC) said in a statement on Monday. Compared to the previous cut in July, this cut is more widely expected as the macro economy is facing additional downward pressure due to the current debt crisis.  This is the second time the central bank has reduced the RRR this year. The cut will not apply to financial institutions with existing RRR of 5%, the PBOC said, adding that the latest cut will lower financial institutions' weighted average RRR ratio to 8.4% and reduce their funding costs by about 15 billion yuan a year.

Remember Evergrande?  News media has largely moved on from the drama, but creditors have not. The real estate development company has yet to restructure, but it is expected that may happen as soon as this week with two dollar denominated bond payments due this week. The Yuan vs USD cross trades at the strongest levels since July.  The fact the Yuan has remained stable vs the USD going back to July when all of this began has me believing the US and China are coordinating stimulus efforts. Corn traders are awaiting fresh purchases of US corn by China, they have been largely absent of late.
We had another wheat tender supporting KCBOT wheat in the overnight. This time it was Saudi buying late spring delivery for an average price of 360 per MT. Global prices remain firm
Risk Disclosure
The StoneX Group Inc. group of companies provides financial services worldwide through its subsidiaries, including physical commodities, securities, exchange-traded and over-the-counter derivatives, risk management, global payments and foreign exchange products in accordance with applicable law in the jurisdictions where services are provided. References to over-the-counter ("OTC") products or swaps are made on behalf of StoneX Markets LLC ("SXM"), a member of the National Futures Association ("NFA") and provisionally registered with the U.S. Commodity Futures Trading Commission ("CFTC") as a swap dealer. SXM's products are designed only for individuals or firms who qualify under CFTC rules as an 'Eligible Contract Participant' ("ECP") and who have been accepted as customers of SXM. StoneX Financial Inc. ("SFI") is a member of FINRA/NFA/SIPC and registered with the MSRB. SFI does business as Daniels Trading/Top Third/Futures Online. SFI is registered with the U.S. Securities and Exchange Commission ("SEC") as a Broker-Dealer and with the CFTC as a Futures Commission Merchant and Commodity Trading Adviser. References to securities trading are made on behalf of the BD Division of SFI and are intended only for an audience of institutional clients as defined by FINRA Rule 4512(c). References to exchange-traded futures and options are made on behalf of the FCM Division of SFI.
Trading swaps and over-the-counter derivatives, exchange-traded derivatives and options and securities involves substantial risk and is not suitable for all investors. The information herein is not a recommendation to trade nor investment research or an offer to buy or sell any derivative or security. It does not take into account your particular investment objectives, financial situation or needs and does not create a binding obligation on any of the StoneX group of companies to enter into any transaction with you. You are advised to perform an independent investigation of any transaction to determine whether any transaction is suitable for you. No part of this material may be copied, photocopied or duplicated in any form by any means or redistributed without the prior written consent of StoneX Group Inc.
© 2023 StoneX Group Inc. All Rights Reserved