Hello friends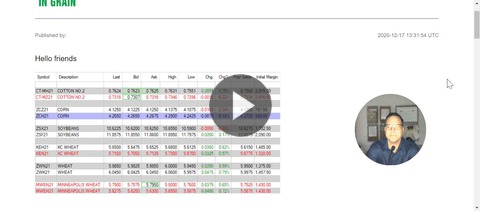 Congress is near a deal for a 900 billion dollar fiscal package. Its amazing how we throw numbers of this size these days.  This  200 billion more than size of the entire US bank bailout in 2008.  Fast forward 2020 and between the package in March and this one, the US treasury will have authorized more than triple that amount in fiscal stimulus.
China and Brazil cut a deal for more corn imports. This kind of deal does not indicate China holds the amount of corn in storage they say they do.  Besides, Brazil doesn't have a tremendous amount of carryover to play around with, I expect China to continue to be in the US market into next year.
A wage strike by Argentine grain inspectors and oilseed workers has now been underway for over a week, and no additional negotiations are scheduled this week. Picketers are blocking entrances to terminals at soymeal processors around the Rosario hub and cargo ships are stalled along the waterway. Bloomberg estimates that around 4.5 MMT of ag commodities have been stranded on docks.
Turkey cuts import taxes on ag goods to 0% from 20%.  This is supportive cotton as Turkey is a large importer.
Great video from Khan academy on the Quantity Theory of Money. Bottom line, the FOMC says to expect the top chart (money supply) to continue to accelerate until the bottom chart (Velocity of M2) increases. This should be bullish risk assets like commodities. Crypto is leading the way right now. I like gold and commodities in general to follow.
COTTON

BITCOIN