Hello friends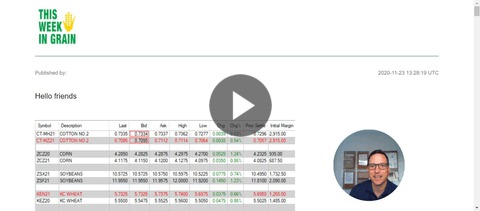 THE WEEK AHEAD
Thanksgiving on Thursday will break up the week.  Grain markets close at normal times on Wed and will remain close until Friday morning.  Markets close an hour early on Friday. Currency, energies, equities and a host of other markets will only close for a few hours on Thursday.
Congress is out for the Thanksgiving recess, with the House slated to return on Dec. 1 and the Senate on Nov. 30. Biden would "absolutely" meet with Senate Majority Leader Mitch McConnell (R-Ky.) on a Covid-19 relief package, transition team spokeswoman said over the weekend. Biden wants to get a package passed by the lame-duck Congress within the next couple of weeks, fitting the time after the election but before lawmakers adjourn for the year. As of right now, my outstanding bet for Biden to win the presidency (with an offshore book) has yet to be paid out. I remain on the lookout for surprises related to the election. I am not a constitutional scholar, but it seems to me this is headed for the higher courts. Meanwhile Biden makes plans for transition.
Reports of a Russian grains export tax have surfaced again this morning, with Russian flour millers and animal meat producers reported to have submitted an appeal set a tax. The Agricultural Ministry has stated that it would consider a proposal on export taxes if an appeal were submitted Russian domestic wheat prices continue to hover above 18,000 Rb/t. The implementation of the tax would serve to discourage international shipments, pushing domestic sales to consumers due to declining purchasing power (weak Ruble). This would be very bullish international wheat markets (outside of Russia) who could potentially win that business. I see wheat as a buy; delivery begins on Friday, which seasonally has been a good time to get long ahead of winter growing problems.
Meanwhile, global prices stay high. Pakistan reportedly bought around 340kmt of optional-origin wheat in a tender for up to 400k, at just under $287 kmt C&F for March arrival. Again, new highs for global wheat imports.
% OF NORMAL PRECIP FROM SEP 15- NOV 30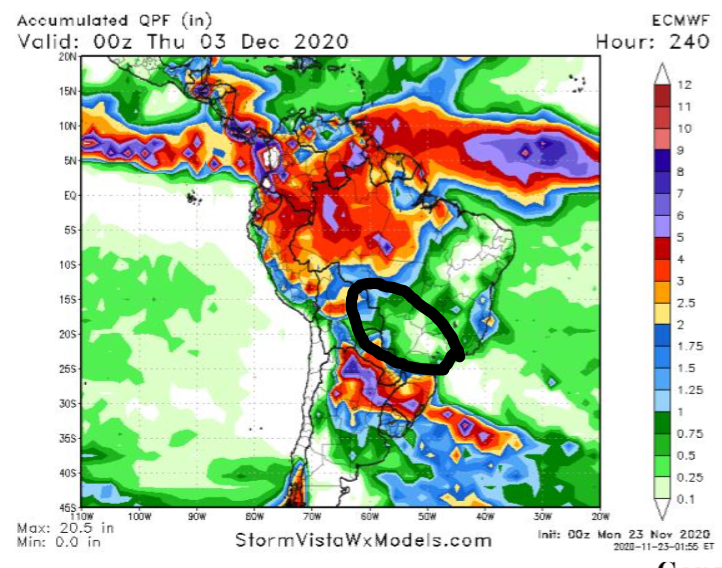 video 2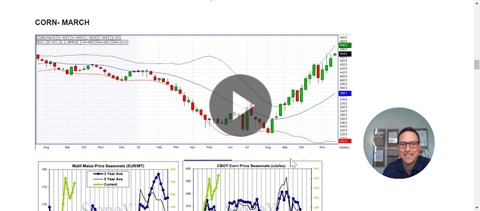 CORN- MARCH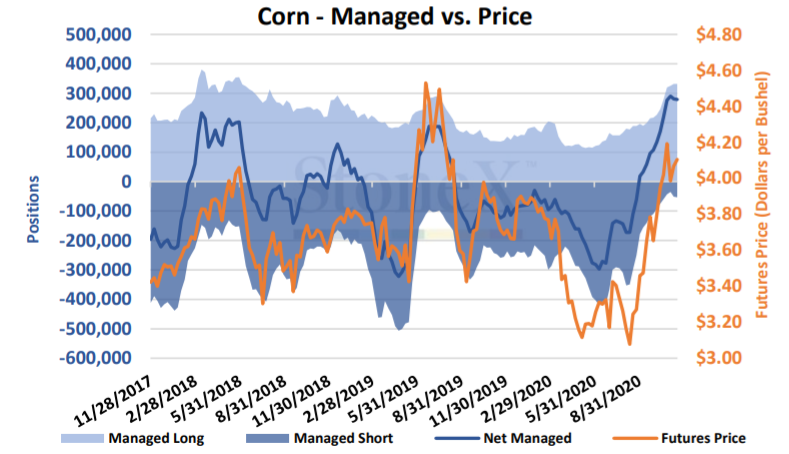 SOYBEANS- JANUARY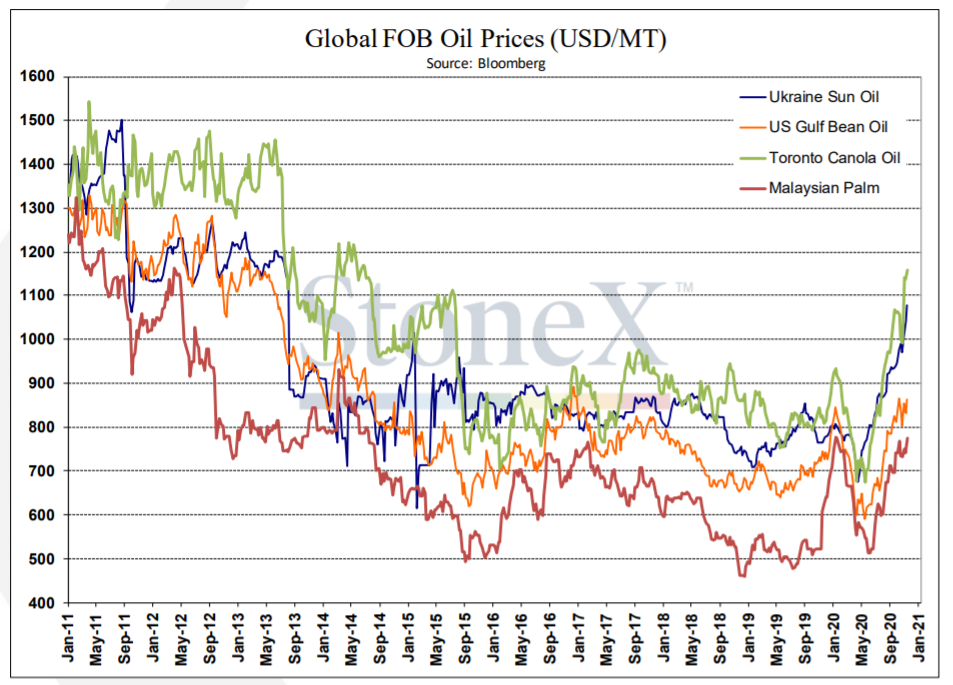 COTTON

WHEAT- KC MARCH
WHEAT- MARCH CHI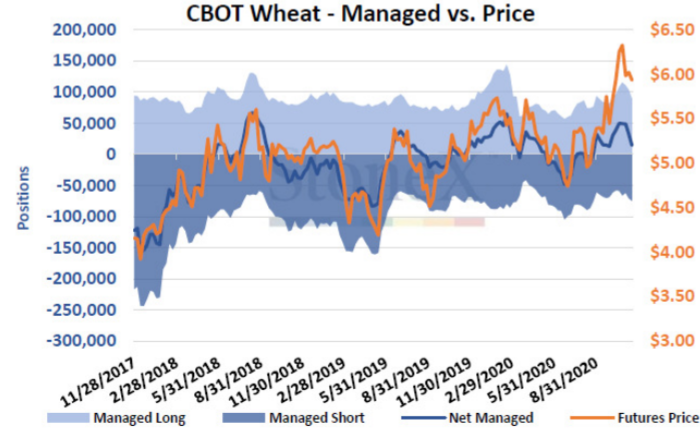 Risk Disclosure
The StoneX Group Inc. group of companies provides financial services worldwide through its subsidiaries, including physical commodities, securities, exchange-traded and over-the-counter derivatives, risk management, global payments and foreign exchange products in accordance with applicable law in the jurisdictions where services are provided. References to over-the-counter ("OTC") products or swaps are made on behalf of StoneX Markets LLC ("SXM"), a member of the National Futures Association ("NFA") and provisionally registered with the U.S. Commodity Futures Trading Commission ("CFTC") as a swap dealer. SXM's products are designed only for individuals or firms who qualify under CFTC rules as an 'Eligible Contract Participant' ("ECP") and who have been accepted as customers of SXM. StoneX Financial Inc. ("SFI") is a member of FINRA/NFA/SIPC and registered with the MSRB. SFI does business as Daniels Trading/Top Third/Futures Online. SFI is registered with the U.S. Securities and Exchange Commission ("SEC") as a Broker-Dealer and with the CFTC as a Futures Commission Merchant and Commodity Trading Adviser. References to securities trading are made on behalf of the BD Division of SFI and are intended only for an audience of institutional clients as defined by FINRA Rule 4512(c). References to exchange-traded futures and options are made on behalf of the FCM Division of SFI.
Trading swaps and over-the-counter derivatives, exchange-traded derivatives and options and securities involves substantial risk and is not suitable for all investors. The information herein is not a recommendation to trade nor investment research or an offer to buy or sell any derivative or security. It does not take into account your particular investment objectives, financial situation or needs and does not create a binding obligation on any of the StoneX group of companies to enter into any transaction with you. You are advised to perform an independent investigation of any transaction to determine whether any transaction is suitable for you. No part of this material may be copied, photocopied or duplicated in any form by any means or redistributed without the prior written consent of StoneX Group Inc.
© 2023 StoneX Group Inc. All Rights Reserved