Good morning hog traders
Cash markets and hog futures made new lows last week, with the May contract trading into the mid 30's for a period of time. This is the cheapest we have seen a front month contract since 2003. This is due to plant shutdowns across the United States due to COVID infections. The silver lining to the plant shutdowns is the sudden drop in production will cause the cash markets to bounce a bit.  The fear of meat shortages is overblown, any short term problems we see will be alleviated by massive amounts of supply coming as we reopen.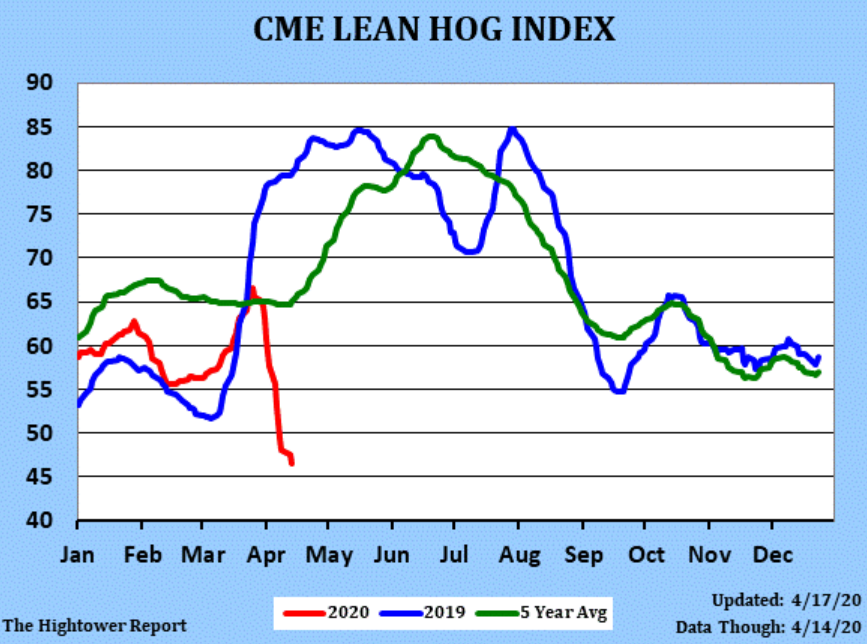 We expect our bull spreads to perform this week.  Cash prices should follow the cutout and a jump in the front of the curve (vs the back) is expected as plants reopen. We may get into a June vs July spread early this week.
CURRENT POSITIONS
BUY 1 UNIT OF JUNE HOGS
SELL 1 UNIT OF OCT HOGS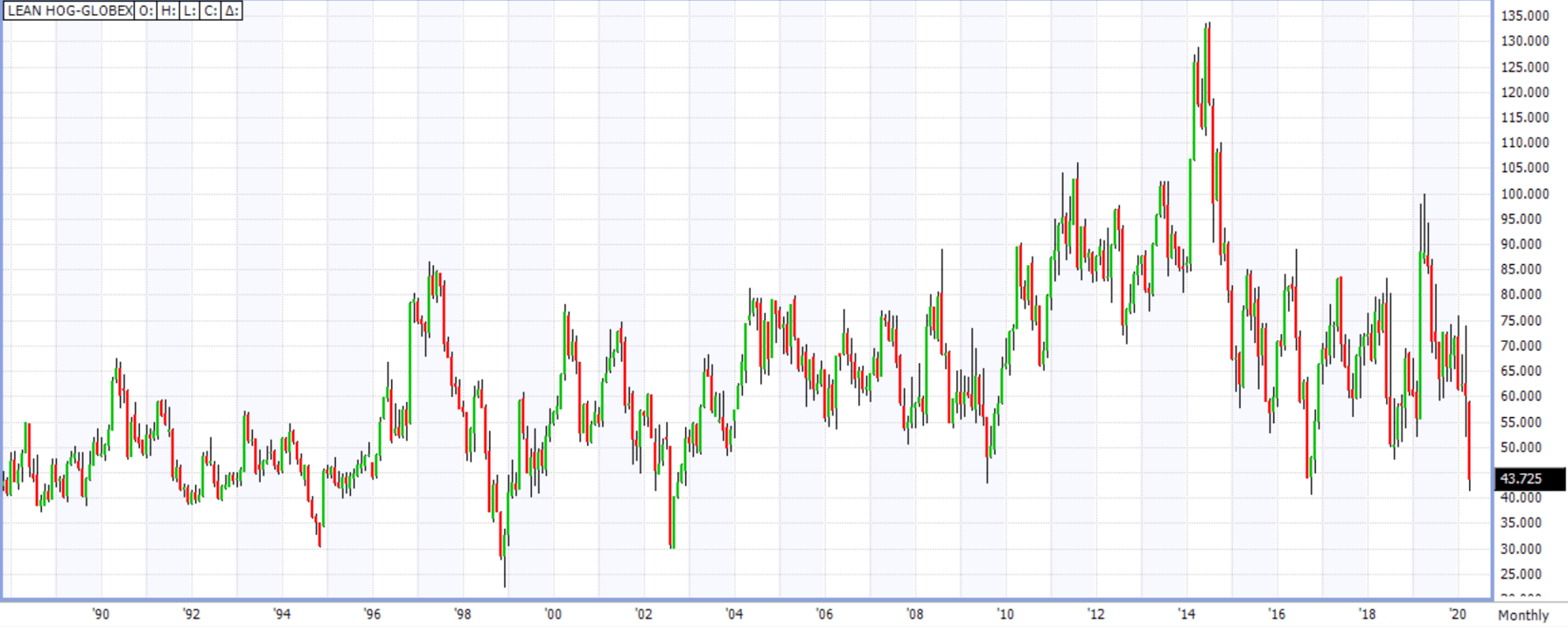 LOOKING AHEAD TO NEXT WEEK:
Last week the retail cuts (ribs, butts, loins) were weak across the board to start the week but reversed when major packing companies had to close plants because of positive COVID-19 tests. There has also been closings or reduced schedules of several plants because hourly laborers are calling in sick for fear of contracting the virus if they show up for work.
The factors above have set up a pretty simple supply/demand market scenario.  As long as these plants continue to remain closed or operate on a reduced schedule, product prices will go higher due to the limited supply. The opposite is true with the live hog market. Reduced slaughter schedules with the same number of market ready hogs will drive prices lower. More hogs will be competing for less shackle space, forcing prices lower in the producers' attempt to get their hogs to market in a timely fashion.
The bellies have probably bottomed, at least for now. In our estimation, belly prices will most likely go up $10-$15 from where they closed at $59 on Friday. This is a result of less pork being produced, not from additional demand.
The USDA Interior Iowa Southern Minnesota Hog Weights went up a modest .2 lbs. coming in at 284.9 versus 284.7 a week ago and 286.5 a year ago. We will be paying particularly close attention to the weight data going forward. This will provide the best indication we can get on how current the producer is on his market hogs.  The next several weeks the weights will be a key indicator.
It is a big week of reporting from the USDA regarding data.  Wednesday we will see an updated cold storage situation, the supply in storage will likely stun the trade.  Thursday is livestock slaughter the Friday cattle on Feed for you cattle traders.
HOW WE TRADE THIS:
While we have been recommending selling rallies, selling the LHM is be risky for two reasons:

1) they historically have a very strong seasonal tendency to go higher this time of year, especially in the June hog contract, and
2) they are at a discount to cash which we believe is a little too wide.
We are cautious on doing any more bear spreads since they have already had a big move.
We will hesitate to get more agressive than June vs July or June vs Aug right now. We believe the virus news is wearing off.  Buying beyond the first two months puts you right in the crosshair if it looks like this virus will keep things offline for the longer run.
The packing industry is doing all they can with the information they have at their disposal. They will continue to try and process all three types of meat in an effort to prevent a national protein shortage, which could cause more panic. The bottom line is that until food service comes back, the hog markets will likely find extended rallies difficult.
Subscribe to The Swine Times
The Swine Times - The Swine Times newsletter is designed to help participants in the pork complex understand and trade the futures markets. Our intention is to fundamentally inform and trade based off the information we have.
Risk Disclosure
This material is conveyed as a solicitation for entering into a derivatives transaction.
This material has been prepared by a Daniels Trading broker who provides research market commentary and trade recommendations as part of his or her solicitation for accounts and solicitation for trades; however, Daniels Trading does not maintain a research department as defined in CFTC Rule 1.71. Daniels Trading, its principals, brokers and employees may trade in derivatives for their own accounts or for the accounts of others. Due to various factors (such as risk tolerance, margin requirements, trading objectives, short term vs. long term strategies, technical vs. fundamental market analysis, and other factors) such trading may result in the initiation or liquidation of positions that are different from or contrary to the opinions and recommendations contained therein.
Past performance is not necessarily indicative of future performance. The risk of loss in trading futures contracts or commodity options can be substantial, and therefore investors should understand the risks involved in taking leveraged positions and must assume responsibility for the risks associated with such investments and for their results.
Trade recommendations and profit/loss calculations may not include commissions and fees. Please consult your broker for details based on your trading arrangement and commission setup.
You should carefully consider whether such trading is suitable for you in light of your circumstances and financial resources. You should read the "risk disclosure" webpage accessed at www.DanielsTrading.com at the bottom of the homepage. Daniels Trading is not affiliated with nor does it endorse any third-party trading system, newsletter or other similar service. Daniels Trading does not guarantee or verify any performance claims made by such systems or service.