The entire US meat packing industry is under serious threat as massive supply is met by halted demand. Unlike other ag industries, when you halt or severely slow production the storage situation becomes very complicated.  The US hog herd has never been larger, the sudden loss of food service demand would be difficult to over 5 years ago let alone today when multiple packing plants are closing because of COVID-19 and the slowing economy.   Freezer stocks are full, there is simply no where for product to go until the US economy gets back underway. Q2 production will lighten up but it will only push everything later in Q3 and create even more of a supply glut.  Quite simply, the industry is mess right now.
People will point to Chinese demand but even if that demand would grow exponentially it will not replace what the US consumer demand represents. Short term futures rallies are selling opportunities in the M, N and Q.  M-N spreads have blown out, so at some point we will look to cover M and short the N or Q. Production slowing should give the M some relative value.   A good spread to start watching is the Q-G.  Sell the Aug and buy the Feb, if things do not improve soon the August could fall 10 dollars and over price the storage.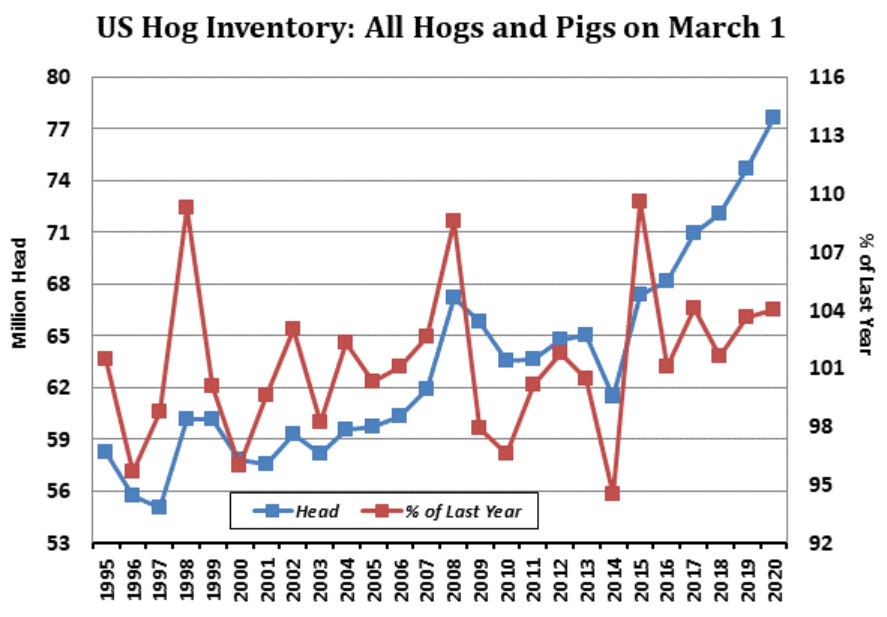 CURRENT POSITION
SHORT 2 UNIT OF JUNE HOGS
LONG 1 UNIT OF OCT HOGS
LONG 1 UNIT OF FEB HOGS

LOOKING INTO NEXT WEEK:
The retail cuts (loins, butts, and ribs) have had the steepest declines this week than they have had in a long time. We look for these cuts to slow down and bottom within the next week to ten days.
The hams and bellies did most likely bottom this week. Swine Times believes that there may be a little more down to these to clean up any residual inventory left over from the Easter holiday weekend. It is our opinion that the pork cuts have probably bottomed for the most part.
Our sources tell us that more packers will either reduce their daily slaughters or shut down temporarily. This is due to the fact that the labor force in these plants has either contracted COVID-19 or are afraid of getting it and are therefore calling in sick. This is hampering the running of the plants at capacity, if at all. This is a major issue, one that is taking the industry to its knees.
This phenomenon has affected all 3 major protein sources- beef, pork and poultry. At some point, the supplies will constrict and prices will go higher as the consumer looks to replace depleted meat stores. That is not happening as quickly as it needs to.  The consumer has lost significant demand since the initial grocery store rush three weeks ago.
The USDA Interior Iowa Southern Minnesota Hog Weights went down .7 lbs. coming in at 284.7 versus 285.4 a week ago and 285.7 a year ago. The weight data is encouraging, but again, if packers cut their weekly slaughter because  of COVID-19, the hog market could continue to go lower. At the same time, pork retail and processor prices would work higher because there will be less pork available to the retail stores, but with the same consumer demand.
HOW WE TRADE THIS:
We are still recommending selling rallies, they will probably be spurred by optimistic medical news. The LHM, LHN and LHQ are susceptible to losing more value, especially if the weekly slaughters are cut back.  Sell LHM over $52.00, LHN over $57.00.
We also like adding to the LHG/LHM bear spread when it comes in to 8.50 or under. The deferred markets are the place to be long right now, but if the medical situation does not change in a few months the market will act like a stop sign to producers by falling in price to stop production.
The packing industry is doing all they can with the information they have at their disposal. They will continue to try and process all three types of meat in an effort to prevent a national protein shortage, which could cause more panic. Freezer numbers will come out next week, they will show massive stock piles of pork on hand.
As mentioned last week, a point must be reached at which those managing this pandemic in our nation realize that the attempted prevention of people becoming infected is doing potentially more harm than the virus itself from an economic point of view. Until that time comes, we want to remind our readers that in all likelihood, the hog and cattle futures will be trading Coronavirus news headlines and sound bites. We could be entering a period where the story "peaks" and good news is on the horizon (as far as the economy reopening).  If news like this would generate a broad based market rally you should be ready to sell it. Supply news will not get better over the more medium term.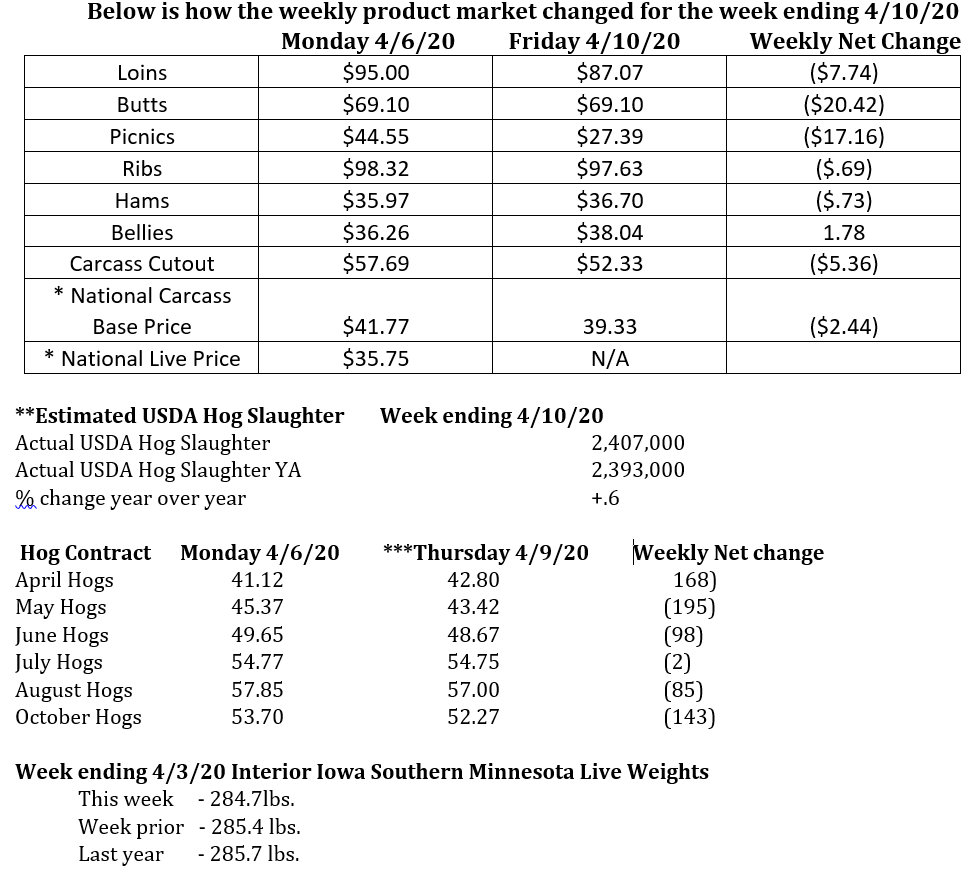 Subscribe to The Swine Times
The Swine Times - The Swine Times newsletter is designed to help participants in the pork complex understand and trade the futures markets. Our intention is to fundamentally inform and trade based off the information we have.
Risk Disclosure
This material is conveyed as a solicitation for entering into a derivatives transaction.
This material has been prepared by a Daniels Trading broker who provides research market commentary and trade recommendations as part of his or her solicitation for accounts and solicitation for trades; however, Daniels Trading does not maintain a research department as defined in CFTC Rule 1.71. Daniels Trading, its principals, brokers and employees may trade in derivatives for their own accounts or for the accounts of others. Due to various factors (such as risk tolerance, margin requirements, trading objectives, short term vs. long term strategies, technical vs. fundamental market analysis, and other factors) such trading may result in the initiation or liquidation of positions that are different from or contrary to the opinions and recommendations contained therein.
Past performance is not necessarily indicative of future performance. The risk of loss in trading futures contracts or commodity options can be substantial, and therefore investors should understand the risks involved in taking leveraged positions and must assume responsibility for the risks associated with such investments and for their results.
Trade recommendations and profit/loss calculations may not include commissions and fees. Please consult your broker for details based on your trading arrangement and commission setup.
You should carefully consider whether such trading is suitable for you in light of your circumstances and financial resources. You should read the "risk disclosure" webpage accessed at www.DanielsTrading.com at the bottom of the homepage. Daniels Trading is not affiliated with nor does it endorse any third-party trading system, newsletter or other similar service. Daniels Trading does not guarantee or verify any performance claims made by such systems or service.