Hello friends,
It will be a busy day today in all markets as options in currencies, financials, equities and grains expire today.  I heard someone say today could be the biggest one day of trading volume in US history when factoring in how many options trading out of the money two weeks ago are now deep in the money. This will cause a lot of gyrations.  Grains are on the come right now, cotton not so much but I would be jumping in that contract if inclined.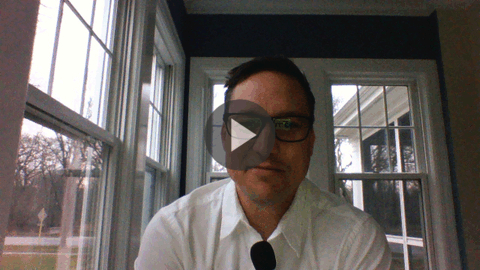 Cotton futures were the only contract on the board in the red yesterday.  Cotton is a total buy here in my opinion.  I would avoid the old crop, though.  Look at December 20 and even Dec 21 contracts right now. I would advise futures over options, they don't even exist in the Dec 21 futures right now (don't get me started on the joke that is the ICE exchange). Dec 21 is at 57 cents!  Its basically trading at loan values and the Dec 20 crop is still in the seed bag.  Export demand in cotton is on fire, with 350k bales moved last week.  I just don't get why it can't get off the mat with everything else.  I'm guessing it has to do with the Virus popping up in India (huge deal) but over the long run even that could be bullish. I would be taking off old crop hedges and looking at buying the contract via calls or futures.  I discuss this in the video above near the end.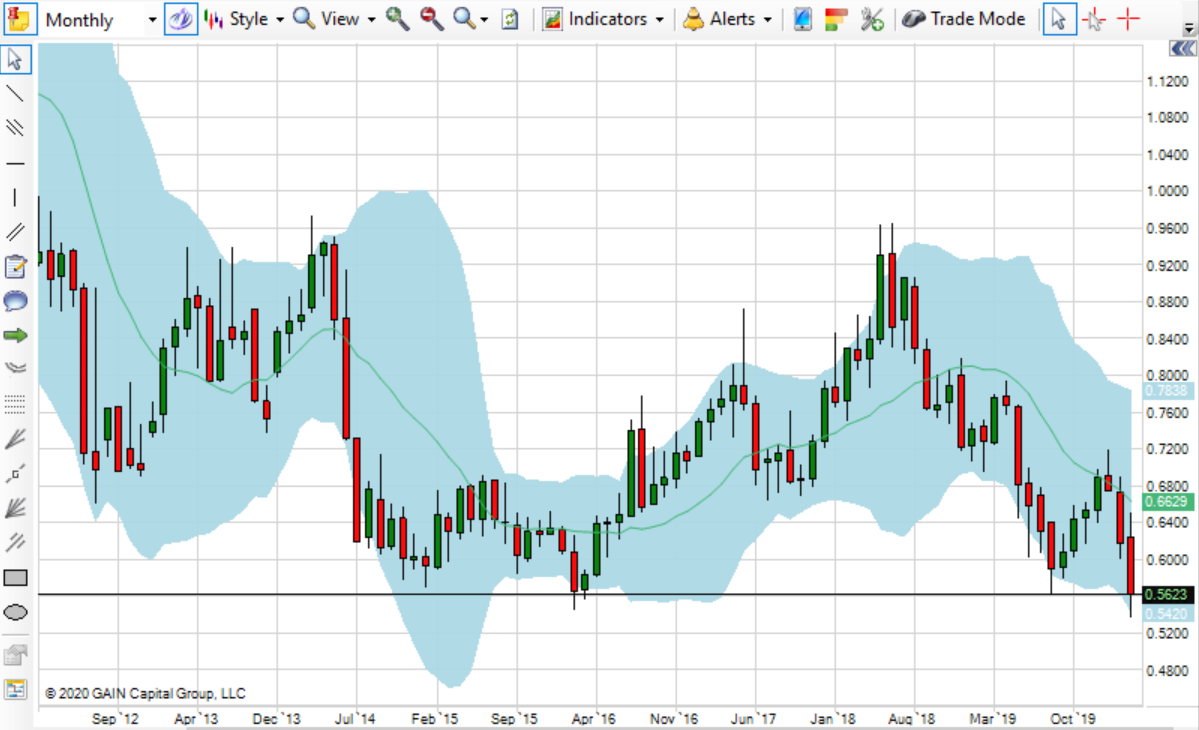 Wheat is on fire right now.  Both Chicago and KC futures trade nearly 50 cents off the lows from Tuesday as millers jump into the market.  481 is weekly resistance on the July futures, we could easily see that tested today if the DX continues to sell off. I know things are tough right now, but Americans should thank their lucky stars we have massive supplies of food on hand. Countries in the middle east like Egypt are shutting down, they only have limited amounts.  Just imagine going to the grocery store and being forced to ration instead of buying everything on the shelf without any regard.  US wheat futures have jumped up over the EU and Black Sea competition, but that may not matter much right now. Watch Minneapolis wheat for confirmation.  If KC and Chicago rally without Minny, I don't think this will hold into May delivery at the end of April.  The dollar is a huge wildcard here. A break in the dollar could send Wheat prices soaring.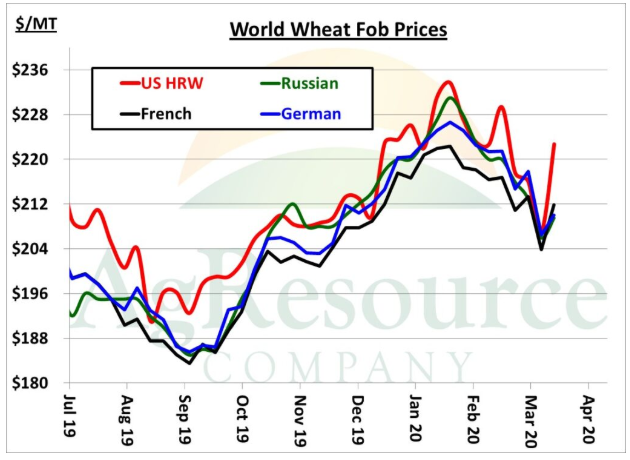 There are rumors that China has been sniffing around in the corn markets at NOLA. Short covering has brought the May contract back to 350, the lack of available supply in the 330's is evident.  I would continue to buy July on breaks into the 340's and sell out on rallies into the 360's. The ethanol margins breakdown at that area.  New crop beans are unlikely to pull acres from corn at these prices, cotton farmers are already talking about shifting to corn. We should see today that spec funds are near record short, who is left to sell?  The farmer has to sell, but right now prices and the time from delivery will keep bin doors shut for another month. Producers should be looking at new crop corn hedges in the 380's. I know that is incredibly cheap but I have no idea how the ethanol story plays out at these prices. Gasoline futures are below 80 cents until next year, if they stay there there plants will stay closed and bids will stay soft. Producers should be looking at pricing physical supply and re-owning with the board in a fixed risk manner to get you through the US summer growing season.
May soybean futures trade near weekly highs this morning, well off the Tuesday morning low. Yesterday news broke that the major Argentinian port in Timbues will be closed for at least two weeks as the quarantines take hold there.  This will take Argentinian soymeal offline for a while and most likely push business to the US. This is also helpful for corn, but more so for soybeans given the lack of exposure to the energy sector like corn has to ethanol. There are also issues of crop deterioration due to the dry conditions there. 860 would be my initial target for soybeans, a break above that will likely require economic optimism or continued expansion of demand for soymeal in China. Soymeal is trading at a 5 month high this morning after touching a contract low 5 weeks ago.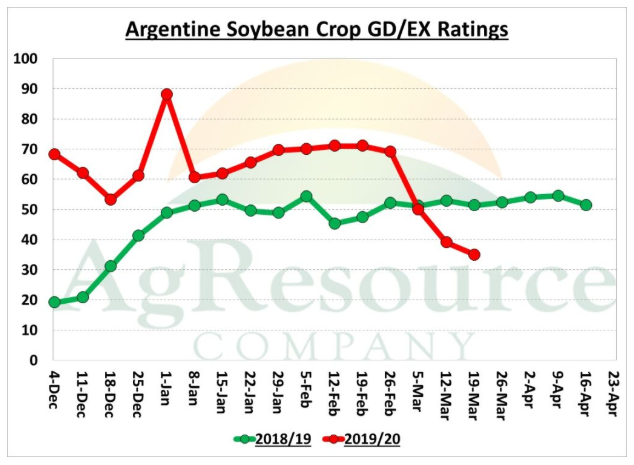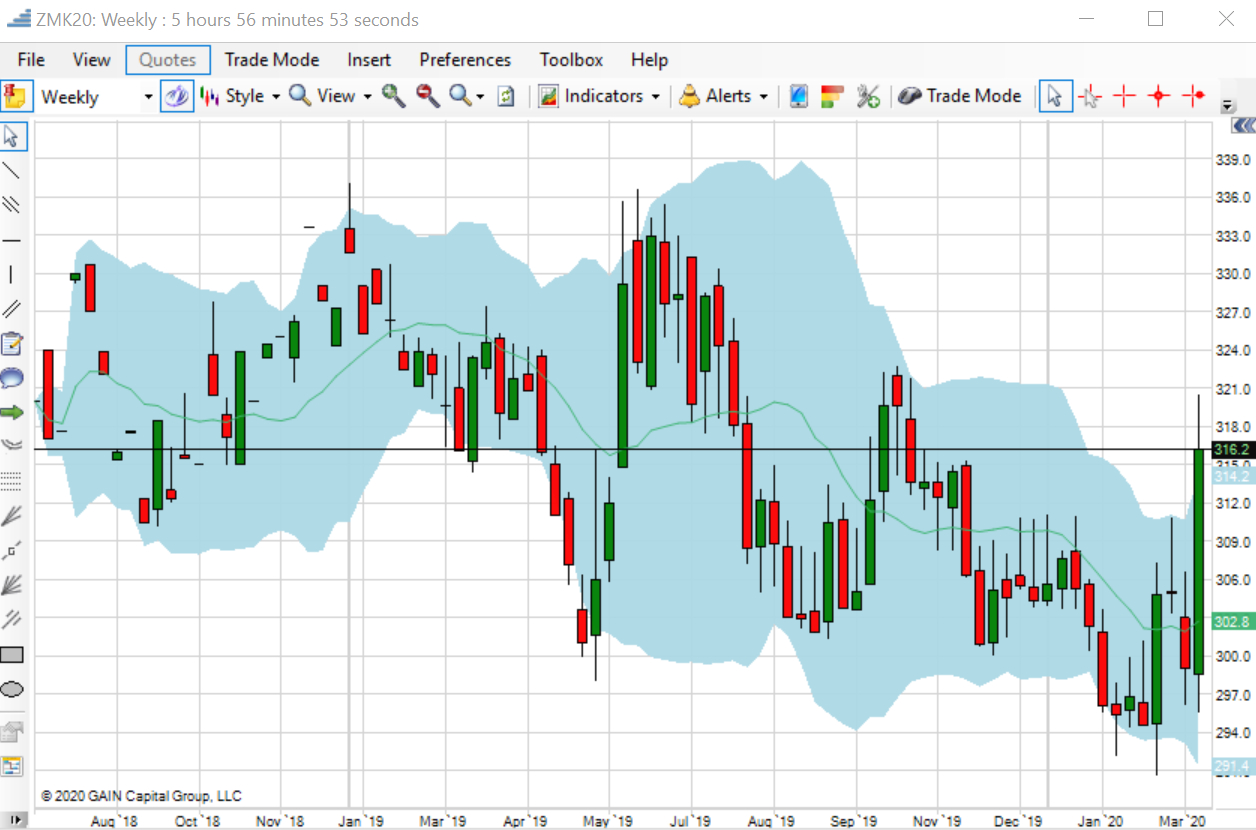 Subscribe to This Week In Grain
This Week In Grain - This Week in Grain (T.W.I.G.) is a weekly grain and oilseed commentary newsletter designed to keep grain market participants on the cutting edge, so they can hedge or speculate with more confidence and precision.
Risk Disclosure
THIS MATERIAL IS CONVEYED AS A SOLICITATION FOR ENTERING INTO A DERIVATIVES TRANSACTION.
THIS MATERIAL HAS BEEN PREPARED BY A DANIELS TRADING BROKER WHO PROVIDES RESEARCH MARKET COMMENTARY AND TRADE RECOMMENDATIONS AS PART OF HIS OR HER SOLICITATION FOR ACCOUNTS AND SOLICITATION FOR TRADES; HOWEVER, DANIELS TRADING DOES NOT MAINTAIN A RESEARCH DEPARTMENT AS DEFINED IN CFTC RULE 1.71. DANIELS TRADING, ITS PRINCIPALS, BROKERS AND EMPLOYEES MAY TRADE IN DERIVATIVES FOR THEIR OWN ACCOUNTS OR FOR THE ACCOUNTS OF OTHERS. DUE TO VARIOUS FACTORS (SUCH AS RISK TOLERANCE, MARGIN REQUIREMENTS, TRADING OBJECTIVES, SHORT TERM VS. LONG TERM STRATEGIES, TECHNICAL VS. FUNDAMENTAL MARKET ANALYSIS, AND OTHER FACTORS) SUCH TRADING MAY RESULT IN THE INITIATION OR LIQUIDATION OF POSITIONS THAT ARE DIFFERENT FROM OR CONTRARY TO THE OPINIONS AND RECOMMENDATIONS CONTAINED THEREIN.
PAST PERFORMANCE IS NOT NECESSARILY INDICATIVE OF FUTURE PERFORMANCE. THE RISK OF LOSS IN TRADING FUTURES CONTRACTS OR COMMODITY OPTIONS CAN BE SUBSTANTIAL, AND THEREFORE INVESTORS SHOULD UNDERSTAND THE RISKS INVOLVED IN TAKING LEVERAGED POSITIONS AND MUST ASSUME RESPONSIBILITY FOR THE RISKS ASSOCIATED WITH SUCH INVESTMENTS AND FOR THEIR RESULTS.
TRADE RECOMMENDATIONS AND PROFIT/LOSS CALCULATIONS MAY NOT INCLUDE COMMISSIONS AND FEES. PLEASE CONSULT YOUR BROKER FOR DETAILS BASED ON YOUR TRADING ARRANGEMENT AND COMMISSION SETUP.
YOU SHOULD CAREFULLY CONSIDER WHETHER SUCH TRADING IS SUITABLE FOR YOU IN LIGHT OF YOUR CIRCUMSTANCES AND FINANCIAL RESOURCES. YOU SHOULD READ THE "RISK DISCLOSURE" WEBPAGE ACCESSED AT WWW.DANIELSTRADING.COM AT THE BOTTOM OF THE HOMEPAGE. DANIELS TRADING IS NOT AFFILIATED WITH NOR DOES IT ENDORSE ANY TRADING SYSTEM, NEWSLETTER OR OTHER SIMILAR SERVICE. DANIELS TRADING DOES NOT GUARANTEE OR VERIFY ANY PERFORMANCE CLAIMS MADE BY SUCH SYSTEMS OR SERVICE.
GLOBAL ASSET ADVISORS, LLC ("GAA") (DBA: DANIELS TRADING, TOP THIRD AG MARKETING AND FUTURES ONLINE) IS AN INTRODUCING BROKER TO GAIN CAPITAL GROUP, LLC (GCG) A FUTURES COMMISSION MERCHANT AND RETAIL FOREIGN EXCHANGE DEALER. GAA AND GCG ARE WHOLLY OWNED SUBSIDIARIES OF STONEX GROUP INC. (NASDAQ:SNEX) THE ULTIMATE PARENT COMPANY.