Hello hog traders
Last week saw continued spread and flat price hog action. CME hog futures fell to new lows at the start of the week and were sharply higher at Friday's close for all markets except February.  Coronavirus continues to spread across China and the world, but the recovery rate is quickly exceeding the death rate and the number of new infected cases is now in decline. The solution to the virus (containment) has been crippling for the Chinese and emerging market economies.  Dates are being set to get business moving again, which has helped sooth demand concern for pork exports. Export demand marked the 2nd consecutive month of more than 20% growth, which helped cushion the seasonal decline in US cash prices. High demand is being countered by high supply, the latter is probably going to falter first.
Excessive fund length and the future's premium has been fleshed out of the market. Outstanding export sales are record large with more than half of the total sales to China.  Bull spreads in J-Q and M-Q will be our ideal positions, we may even look at M-V.  Q3 contracts should be sold on rallies while Q2 contracts should be bought on breaks.  We are bullish the J as prices have been over discounted in that month. Feb was a disaster contract, hopefully it can finish strong this week.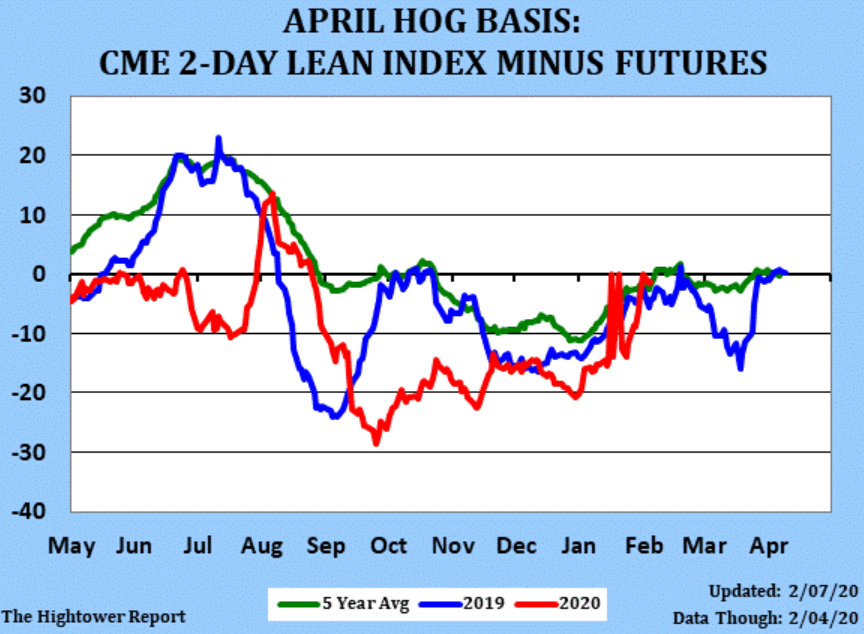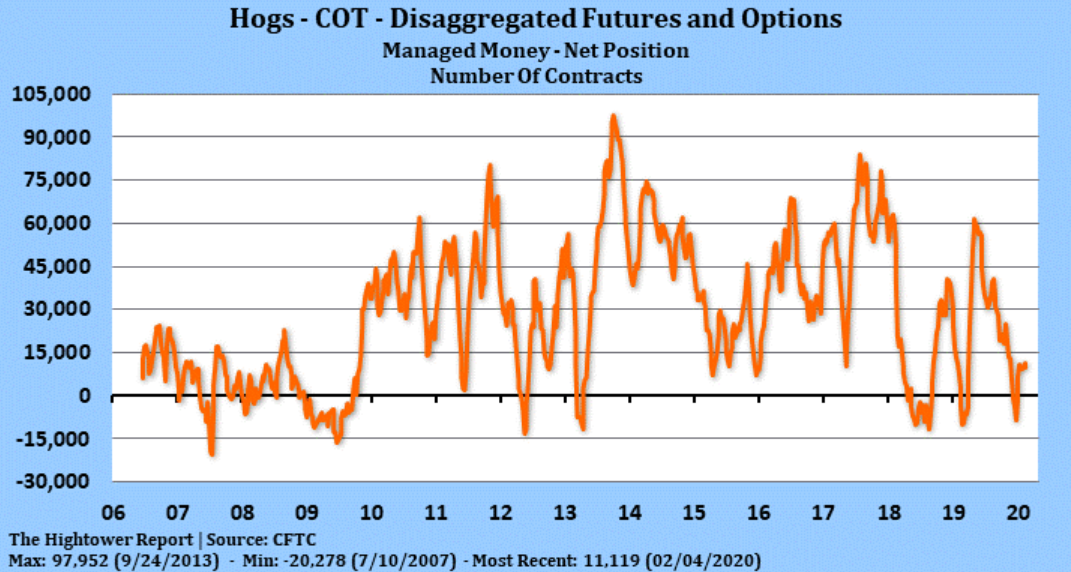 CURRENT POSITIONS
LONG 1 UNIT OF FEB HOGS
LONG 1 UNIT OF JUNE HOGS
SHORT 2 UNITS OF AUG HOGS
LOOKING INTO NEXT WEEK:
The entire pork product market took a hit this past week as seen in the numbers below. It is in our opinion that much of this was due to the large weekly slaughters the industry has been experiencing.  Add to that the negative effect of the Coronavirus outbreak in China and around the world. Overseas buyers have been reluctant to ship their usual weekly purchases for fear they cannot be unloaded upon arrival at ports of destination. This fear is founded upon the potential of the spread of Coronavirus to those countries of origin. This has backed up shipments at these countries.  As of this writing, the shipments are resuming, and there is optimism that things will get back to normal.
As we mentioned last week, the surplus of bellies, as well as the other cuts, has been further exasperated by the outbreak of the Coronavirus. We look for that to be nearing an end.
The ham market seasonally was due for a move down. Much of this is due to the large weekly slaughters, and as we mentioned above, the other component is that it is seasonal. We look for hams to bottom next week.
We believe loins and butts will continue to struggle for the next week to ten days before finding a bottom.
The USDA Interior Iowa Southern Minnesota Hog weights went down as they should, but the drop of only .4 lbs. was disappointing.  This indicates to us the producers still have a large number of market hogs on the farm and cannot slow down selling them without getting behind in their marketings. This week average live weight was 286.9, which is still 1.3 lbs. heavier than a year ago.

HOW WE TRADE THIS:

We hear at Swine Times are still and will remain bearish until the fundamentals prove otherwise. We believe you can catch a "bull" spike on a price correction, but over the long term, the hog market is a bear market.
It is our opinion that the hog futures rallied last week because of the steep decline the week prior with the news of the Coronavirus and the potential for delays in shipments. The rally we just experienced this week is a reaction to the perceived oversold condition set up two weeks ago. This we believe is the spike to sell.
As we stated in last week's Swine Times, we believe that the best thing to do is just lightly sell the deferred hogs, LHJ's at 68.00 or higher and or LHQ's at 82.50 or above. Do it cautiously and let time work for you. We like this strategy simply because we believe that it is the trade that lines up with the following facts: 1) there have been, and will continue to be, too many hogs for the industry to process and maintain current price levels, and 2) the front end of the curve (February hogs) trades closer to the index, but a lot of  "China optimism" is still built into the backend of the curve.
Once again, we are recommending patience with the market. Opportunities exist in the summer contracts on these breaks. We are always thinking short term in this letter, longer term the M and N contracts should see support in the 70's.

Subscribe to The Swine Times
The Swine Times - The Swine Times newsletter is designed to help participants in the pork complex understand and trade the futures markets. Our intention is to fundamentally inform and trade based off the information we have.
Risk Disclosure
THIS MATERIAL IS CONVEYED AS A SOLICITATION FOR ENTERING INTO A DERIVATIVES TRANSACTION.
THIS MATERIAL HAS BEEN PREPARED BY A DANIELS TRADING BROKER WHO PROVIDES RESEARCH MARKET COMMENTARY AND TRADE RECOMMENDATIONS AS PART OF HIS OR HER SOLICITATION FOR ACCOUNTS AND SOLICITATION FOR TRADES; HOWEVER, DANIELS TRADING DOES NOT MAINTAIN A RESEARCH DEPARTMENT AS DEFINED IN CFTC RULE 1.71. DANIELS TRADING, ITS PRINCIPALS, BROKERS AND EMPLOYEES MAY TRADE IN DERIVATIVES FOR THEIR OWN ACCOUNTS OR FOR THE ACCOUNTS OF OTHERS. DUE TO VARIOUS FACTORS (SUCH AS RISK TOLERANCE, MARGIN REQUIREMENTS, TRADING OBJECTIVES, SHORT TERM VS. LONG TERM STRATEGIES, TECHNICAL VS. FUNDAMENTAL MARKET ANALYSIS, AND OTHER FACTORS) SUCH TRADING MAY RESULT IN THE INITIATION OR LIQUIDATION OF POSITIONS THAT ARE DIFFERENT FROM OR CONTRARY TO THE OPINIONS AND RECOMMENDATIONS CONTAINED THEREIN.
PAST PERFORMANCE IS NOT NECESSARILY INDICATIVE OF FUTURE PERFORMANCE. THE RISK OF LOSS IN TRADING FUTURES CONTRACTS OR COMMODITY OPTIONS CAN BE SUBSTANTIAL, AND THEREFORE INVESTORS SHOULD UNDERSTAND THE RISKS INVOLVED IN TAKING LEVERAGED POSITIONS AND MUST ASSUME RESPONSIBILITY FOR THE RISKS ASSOCIATED WITH SUCH INVESTMENTS AND FOR THEIR RESULTS.
TRADE RECOMMENDATIONS AND PROFIT/LOSS CALCULATIONS MAY NOT INCLUDE COMMISSIONS AND FEES. PLEASE CONSULT YOUR BROKER FOR DETAILS BASED ON YOUR TRADING ARRANGEMENT AND COMMISSION SETUP.
YOU SHOULD CAREFULLY CONSIDER WHETHER SUCH TRADING IS SUITABLE FOR YOU IN LIGHT OF YOUR CIRCUMSTANCES AND FINANCIAL RESOURCES. YOU SHOULD READ THE "RISK DISCLOSURE" WEBPAGE ACCESSED AT WWW.DANIELSTRADING.COM AT THE BOTTOM OF THE HOMEPAGE. DANIELS TRADING IS NOT AFFILIATED WITH NOR DOES IT ENDORSE ANY TRADING SYSTEM, NEWSLETTER OR OTHER SIMILAR SERVICE. DANIELS TRADING DOES NOT GUARANTEE OR VERIFY ANY PERFORMANCE CLAIMS MADE BY SUCH SYSTEMS OR SERVICE.
GLOBAL ASSET ADVISORS, LLC ("GAA") (DBA: DANIELS TRADING, TOP THIRD AG MARKETING AND FUTURES ONLINE) IS AN INTRODUCING BROKER TO GAIN CAPITAL GROUP, LLC (GCG) A FUTURES COMMISSION MERCHANT AND RETAIL FOREIGN EXCHANGE DEALER. GAA AND GCG ARE WHOLLY OWNED SUBSIDIARIES OF STONEX GROUP INC. (NASDAQ:SNEX) THE ULTIMATE PARENT COMPANY.