Hello hog traders!
To describe the last 8 hours of hog trading at the CME as rough would be an understatement. The front of the hog curve has been snowed under due to the Coronavirus fears. The cash index moved higher into the close of the week, but it didn't matter as futures hit expanded limits into the close as futures traders sell with their eyes closed. Weekly exports are holding at record levels as China takes delivery of previous purchases. The Chinese government/economy has essentially closed for the last week. By the time you read this it may be open, to much lower prices I would assume. This discount is a "fear sale", one that I encourage buyers to begin to take advantage of. Spec funds are virtually flat now, premium has been extracted as summer contracts trade in the mid 70's!
The action on Friday felt awful, but we will hold these positions for now. It could take a few days/weeks for this thing to run its course but our bet is virus scare is shorter lived. The death rate is very low and falling. Price spreads are massive between US and Chinese futures, and the hog crush has only been this good since twice since 2004. US domestic buyers are going to be very active. April is down 10 dollars in the last week. April is now trades with the index, Feb is below. If you have not added our position, good for you. Now is not a bad time to join us. The Chinese government is actively trying to support the market with liquidity injections. Trading with the end of time in mind is never a winning proposition over the longer run.
Crush spreads are massive, sitting at record levels right now. We think the front of the curve should see some support in the coming days.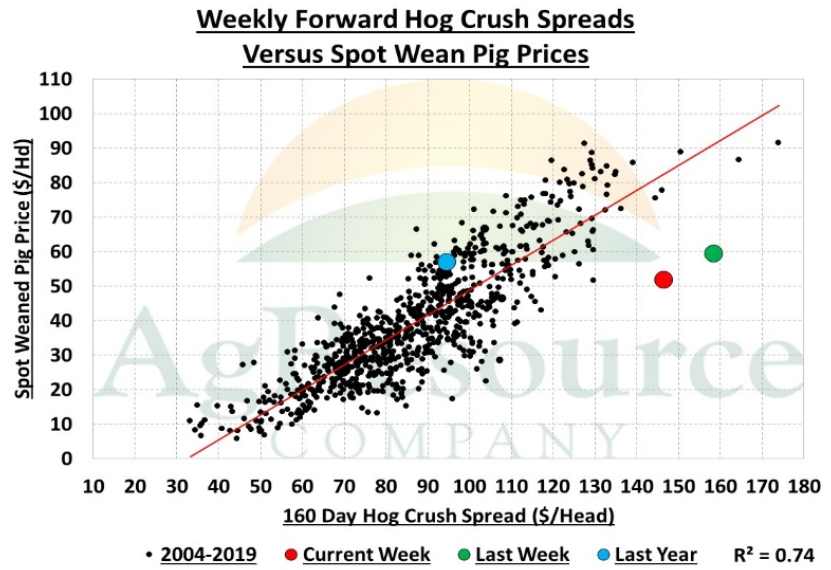 CURRENT POSITION
LONG 1 FEB HOGS
LONG 1 APRIL HOG
SHORT 2 AUGUST HOG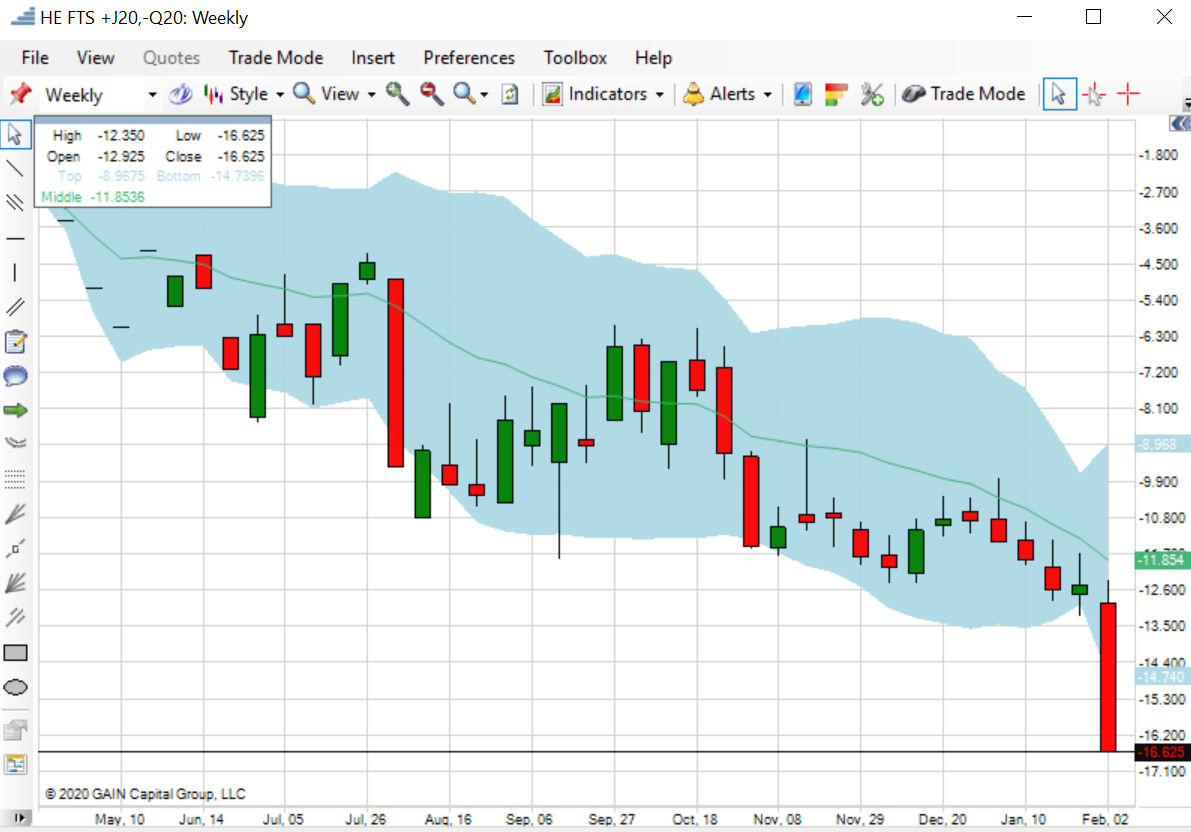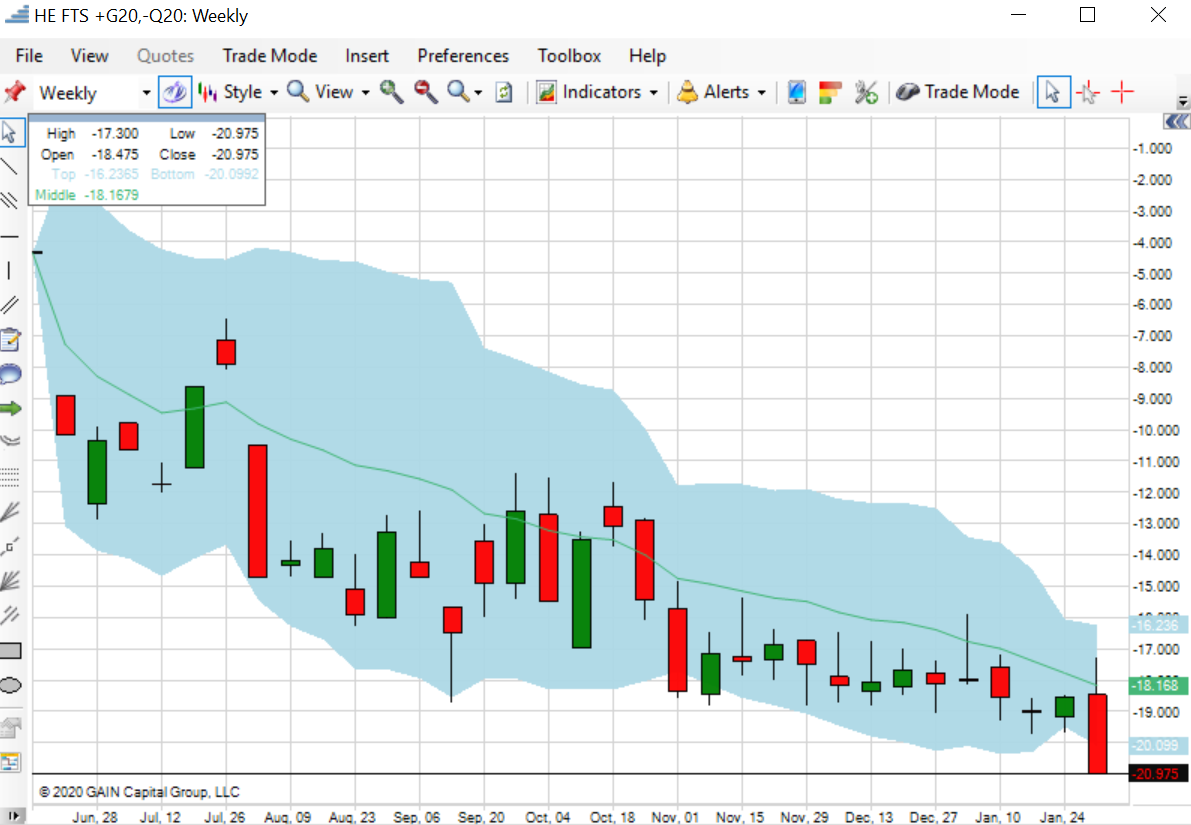 LOOKING INTO NEXT WEEK:
The loins and butts did as we had projected last week. Both cuts struggled to hold value.
Butts took the biggest hit on the downside simply because of the premium priced in by the export markets. Korea is now basically out of the butt market and probably will not return until after the Lunar New Year. Even then, it is questionable how much they will come back, given the Coronavirus outbreak in Southeast Asia. The loin market will most likely remain stagnant at around $3-$5 from where they closed Friday. February is historically a terrible month for pork, especially the retail cuts, and this year will not be an exception. In fact, it may be worse than usual.
The area in which we really missed the market this past week was in regard to the direction and the magnitude of the pork belly market. Our sources tell us there were a couple of major packers that wanted to get ahead of the 2,700,000 head kill next week. They went out and took a position at lower money in the belly market in order to accommodate another 2,700,000 head kill. This surplus of bellies, as well as with the other cuts, has been further exasperated by the outbreak of the Coronavirus.
The ham market seasonally was due for a move down. This is typical for this time of year. As Easter approaches, ham prices usually make their correction and don't stay substantially lower for any length of time. However, this year could be unique due to the Coronavirus.
As we alluded to above, the Coronavirus has had a very negative impact on pork prices due to the slow down in exports to China and other Southeast Asian countries. There was an article released last Friday on Reuters news service that the China Council for the Promotion of International Trade, (CCPIT), is going to offer firms force majeure certificates to help companies struggling to cope with the impact the Coronavirus is having on their businesses. The article did not identify the companies, or even say whether these companies have requested liability relief on their contracts that cannot be fulfilled because of the Coronavirus outbreak. However, just the fact that this is being offered is detrimental to exporting pork and other commodities, at least in the short run. We do not know as of this writing how severe or how long this outbreak will last. We do know that the export of pork to China is going to slow down, and this will back everything up all the way back to the pigs on the farm.
The USDA Interior Iowa Southern Minnesota Hog weights went up counter seasonally, coming in at 287.3. This is an increase of .7 lbs. from a week ago and are now 3.2 lbs. over a year ago. This is has us questioning the number of hogs really out there on the farm and just how "current" in their marketing's the producers really are.
HOW WE TRADE THIS:
In this volatile market environment, it is very difficult to give any good sound trading recommendations. The market is trading headlines and news releases.
We here at Swine Times are still and will remain bearish until the fundamentals prove otherwise. We believe you can catch a "bull" spike on a price correction, but over the long term, the hog market is a bear market.
When we get sharp rallies, it is our opinion that the best thing to do is just lightly sell the deferred hogs, LHJ's or LHQ's. Do it lightly and let time work for you. We like this strategy simply because we believe that it is the trade that lines up with the following facts: 1) there have been, and will continue to be, too many hogs for the industry to process and maintain current price levels., and 2) the front end of the curve trades closer to the index, but a lot of "China optimism" is still built into the back-end of the curve.
The recent outbreak of Coronavirus is definitely going to be a factor on exporting goods into mainland China. We do not know at this time what the affect may be or to what degree it will impact trade. All we know is it that it will. It is our opinion that this unknown cannot be viewed any other way than it will be bearish to pork prices. People in China will not be going out to restaurants or where they may be infected with the virus. This will certainly curtail activities during Chinese New Year. Be sure and keep this in mind when analyzing risk.
Subscribe to The Swine Times
The Swine Times - The Swine Times newsletter is designed to help participants in the pork complex understand and trade the futures markets. Our intention is to fundamentally inform and trade based off the information we have.
Risk Disclosure
This material is conveyed as a solicitation for entering into a derivatives transaction.
This material has been prepared by a Daniels Trading broker who provides research market commentary and trade recommendations as part of his or her solicitation for accounts and solicitation for trades; however, Daniels Trading does not maintain a research department as defined in CFTC Rule 1.71. Daniels Trading, its principals, brokers and employees may trade in derivatives for their own accounts or for the accounts of others. Due to various factors (such as risk tolerance, margin requirements, trading objectives, short term vs. long term strategies, technical vs. fundamental market analysis, and other factors) such trading may result in the initiation or liquidation of positions that are different from or contrary to the opinions and recommendations contained therein.
Past performance is not necessarily indicative of future performance. The risk of loss in trading futures contracts or commodity options can be substantial, and therefore investors should understand the risks involved in taking leveraged positions and must assume responsibility for the risks associated with such investments and for their results.
Trade recommendations and profit/loss calculations may not include commissions and fees. Please consult your broker for details based on your trading arrangement and commission setup.
You should carefully consider whether such trading is suitable for you in light of your circumstances and financial resources. You should read the "risk disclosure" webpage accessed at www.DanielsTrading.com at the bottom of the homepage. Daniels Trading is not affiliated with nor does it endorse any third-party trading system, newsletter or other similar service. Daniels Trading does not guarantee or verify any performance claims made by such systems or service.