Good morning friends
This is an example of the morning newsletter I write daily for my clients.  If you would like to follow along, you can do so by clicking here.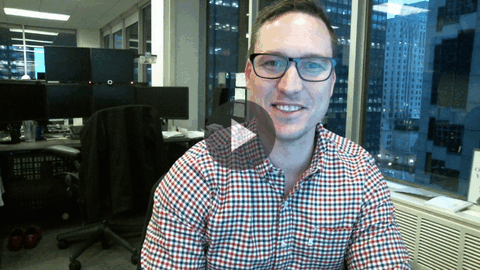 There is a calm to the markets right now that I fear could be going away as markets open on Sunday. The markets in China have been closed since last week and will remain close in celebration of the Chinese New Year.  The Shanghai stock exchange was supposed to re-open on the 31st but authorities in China have kicked that back to the 3rd, which will be Sunday night here. After the Superbowl ends, turn over to the currency markets and you may see some real fireworks as those markets re-open. There is a huge concern about what this virus outbreak is doing to the Chinese economy.  Transit into and around China has basically halted as the government there tries to get this thing corralled. The game plan for Chinese authorities in tough times has been to go to the "easing well" and flood their markets with currency to stabilize confidence.  That can work internally for China, but the kick back would be a weaker (higher on this chart) RMB vs USD.  This has traditionally meant weaker commodity markets on the margins.  Some are saying the RMB will spike against the USD (off shore of course) and trade back toward those levels seen in August when we saw US commodity prices their weakest.  I highly advise longs into the weekend to invest in some cheap short term protection into the close on Friday to handle what this dynamic could bring next week.
Mayalsian Palm oil futures have fallen nearly 10% in the last 24 hours on concerns this spreads into SE Asia. This type of action is leaning on soybean oil and soybeans, while meal trading at 7 month lows is not helping things.  Falling soybean prices are putting pressure on corn and wheat.  While deferred soybean contracts are attractive from potentially lower US acreage intentions, corn faces more acreage.  The last few years, producers have put 87-92 million corn acres into the ground with new crop prices between 360-380. Right now new crop December futures trade 395. I highly doubt that if beans are trading 920 into the Spring we will see corn prices at 395. Wheat futures are pulling corn from the other direction, but that will only go so far.
Cotton futures have performed amicably, but they may be the most at risk from the Chinese reopen on Sunday.  First notice day for March futures is only 3 weeks away right now, this is typically a time in the delivery cycle when we see contracts top. Breaks provide buying opportunities over the medium term, but in the short run a move to 66 in March futures would not shock me, especially if the RMB:USD cross trades north of 7:1 again.
South American weather models are slightly drier than they were in the recent runs. Argentina is expected to see better rains up north while the southern part of the country remains very dry.  Brazilian rainfall will be close to normal in the coming weeks. Corn markets will remain more supported than soybeans given the early bean harvest in Brazil vs the later corn harvest. US corn offers remain the cheapest on this side of the globe. I expect exports and wheat prices to support corn but low bean prices won't let them run away, especially the new crop Dec contract.
Subscribe to This Week In Grain
This Week In Grain - This Week in Grain (T.W.I.G.) is a weekly grain and oilseed commentary newsletter designed to keep grain market participants on the cutting edge, so they can hedge or speculate with more confidence and precision.
Risk Disclosure
THIS MATERIAL IS CONVEYED AS A SOLICITATION FOR ENTERING INTO A DERIVATIVES TRANSACTION.
THIS MATERIAL HAS BEEN PREPARED BY A DANIELS TRADING BROKER WHO PROVIDES RESEARCH MARKET COMMENTARY AND TRADE RECOMMENDATIONS AS PART OF HIS OR HER SOLICITATION FOR ACCOUNTS AND SOLICITATION FOR TRADES; HOWEVER, DANIELS TRADING DOES NOT MAINTAIN A RESEARCH DEPARTMENT AS DEFINED IN CFTC RULE 1.71. DANIELS TRADING, ITS PRINCIPALS, BROKERS AND EMPLOYEES MAY TRADE IN DERIVATIVES FOR THEIR OWN ACCOUNTS OR FOR THE ACCOUNTS OF OTHERS. DUE TO VARIOUS FACTORS (SUCH AS RISK TOLERANCE, MARGIN REQUIREMENTS, TRADING OBJECTIVES, SHORT TERM VS. LONG TERM STRATEGIES, TECHNICAL VS. FUNDAMENTAL MARKET ANALYSIS, AND OTHER FACTORS) SUCH TRADING MAY RESULT IN THE INITIATION OR LIQUIDATION OF POSITIONS THAT ARE DIFFERENT FROM OR CONTRARY TO THE OPINIONS AND RECOMMENDATIONS CONTAINED THEREIN.
PAST PERFORMANCE IS NOT NECESSARILY INDICATIVE OF FUTURE PERFORMANCE. THE RISK OF LOSS IN TRADING FUTURES CONTRACTS OR COMMODITY OPTIONS CAN BE SUBSTANTIAL, AND THEREFORE INVESTORS SHOULD UNDERSTAND THE RISKS INVOLVED IN TAKING LEVERAGED POSITIONS AND MUST ASSUME RESPONSIBILITY FOR THE RISKS ASSOCIATED WITH SUCH INVESTMENTS AND FOR THEIR RESULTS.
TRADE RECOMMENDATIONS AND PROFIT/LOSS CALCULATIONS MAY NOT INCLUDE COMMISSIONS AND FEES. PLEASE CONSULT YOUR BROKER FOR DETAILS BASED ON YOUR TRADING ARRANGEMENT AND COMMISSION SETUP.
YOU SHOULD CAREFULLY CONSIDER WHETHER SUCH TRADING IS SUITABLE FOR YOU IN LIGHT OF YOUR CIRCUMSTANCES AND FINANCIAL RESOURCES. YOU SHOULD READ THE "RISK DISCLOSURE" WEBPAGE ACCESSED AT WWW.DANIELSTRADING.COM AT THE BOTTOM OF THE HOMEPAGE. DANIELS TRADING IS NOT AFFILIATED WITH NOR DOES IT ENDORSE ANY TRADING SYSTEM, NEWSLETTER OR OTHER SIMILAR SERVICE. DANIELS TRADING DOES NOT GUARANTEE OR VERIFY ANY PERFORMANCE CLAIMS MADE BY SUCH SYSTEMS OR SERVICE.
GLOBAL ASSET ADVISORS, LLC ("GAA") (DBA: DANIELS TRADING, TOP THIRD AG MARKETING AND FUTURES ONLINE) IS AN INTRODUCING BROKER TO GAIN CAPITAL GROUP, LLC (GCG) A FUTURES COMMISSION MERCHANT AND RETAIL FOREIGN EXCHANGE DEALER. GAA AND GCG ARE WHOLLY OWNED SUBSIDIARIES OF STONEX GROUP INC. (NASDAQ:SNEX) THE ULTIMATE PARENT COMPANY.