Hello hog traders!
Hog futures were lower last week across the board, held under pressure by dwarfing supply numbers. The CME hog index was actually higher last week while the cutout fell. US hog slaughter rates hold above last year's levels by nearly 6%. We think this phenomenon is about over, 2.8 million will be a high number by mid-Feb. International data showed record hog exports by the US in November and the data should show the same for December when it comes out in a month. Cash hog markets should be bottoming soon, we encourage producers to buy some way OTM "courage" calls to be able to sell into when prices catch fire mid-year.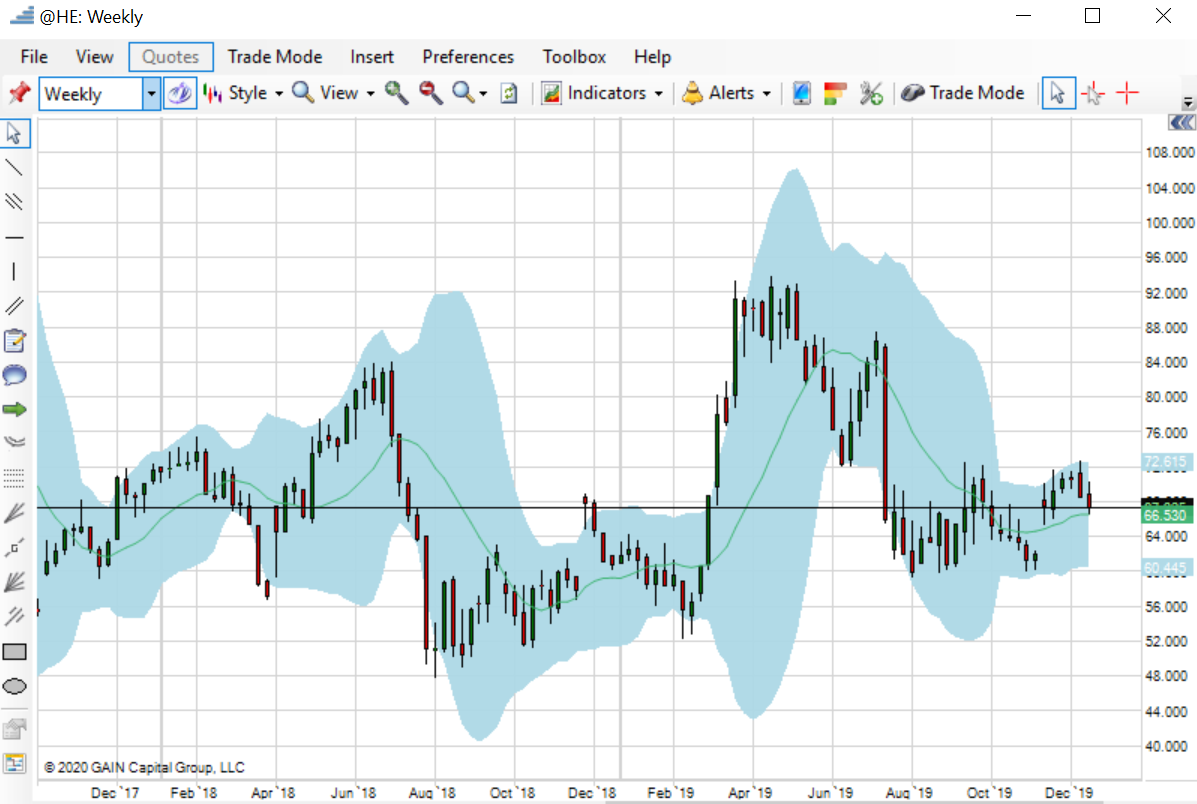 CURRENT POSITIONS:
LONG 2 UNITS OF FEB HOGS
SHORT 1 UNIT OF APRIL HOGS
SHORT 1 UNIT OF AUGUST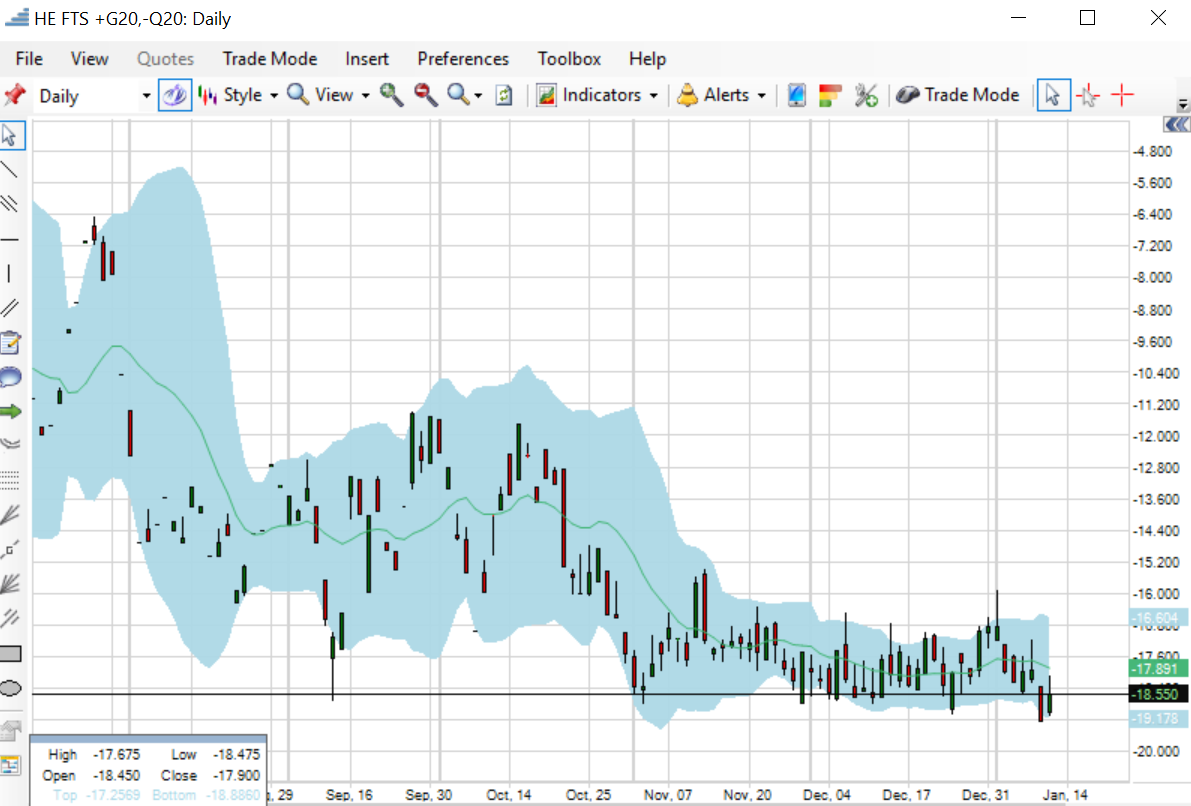 Looking into next week:
Once again, retail cuts were on the defensive for the entire week.
The loins lost $4.08 cwt. and the butts lost $4.40 cwt. Our sources expect little change next week. Their decline may only be tempered by the fact that next week's slaughter will be about 100,000 head less than this week's, coming in around 2,630,000 head. Watch out, though, because these same sources tell us the following week (week of 1/20), the industry will be right back to processing 2,700,000 head.
The ham market made up for part of the losses on the loins and butts. They increased in value by $3.51 cwt. versus the week prior.
Bellies were a disappointment. We were looking for an increase in price, but by the close of Friday 1/10, the belly market had lost $2.11 cwt. versus the week prior. We do think that the belly market next week can move $5-$10 higher, given the lighter projected slaughter next week. We have been told by several processors that there has been a fair amount of business booked when the bellies were cheaper a few weeks ago.
The USDA Interior Iowa Southern Minnesota live weight went up this past week, coming in at 288.9. This is an increase of 1.8 lbs from the prior week and 2.3 lbs over a year ago. Once again, we believe this is just a function of the reduced weekly slaughters caused by the Christmas & New Year's holidays. When we get next week's USDA Southern Minnesota Interior Iowa weights, we should see the seasonal downward trend in live weights resume.
The index roll will wrap up early this week.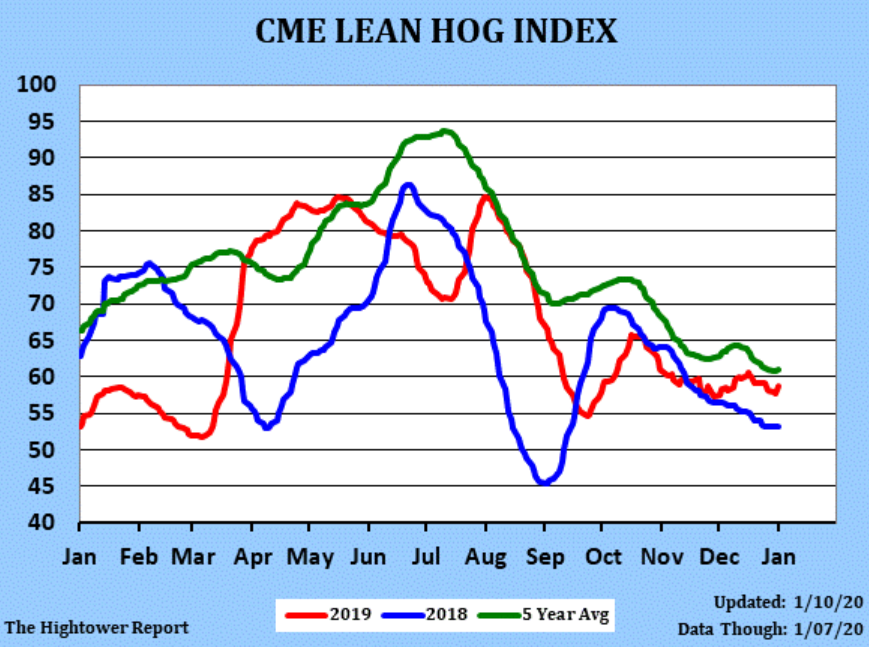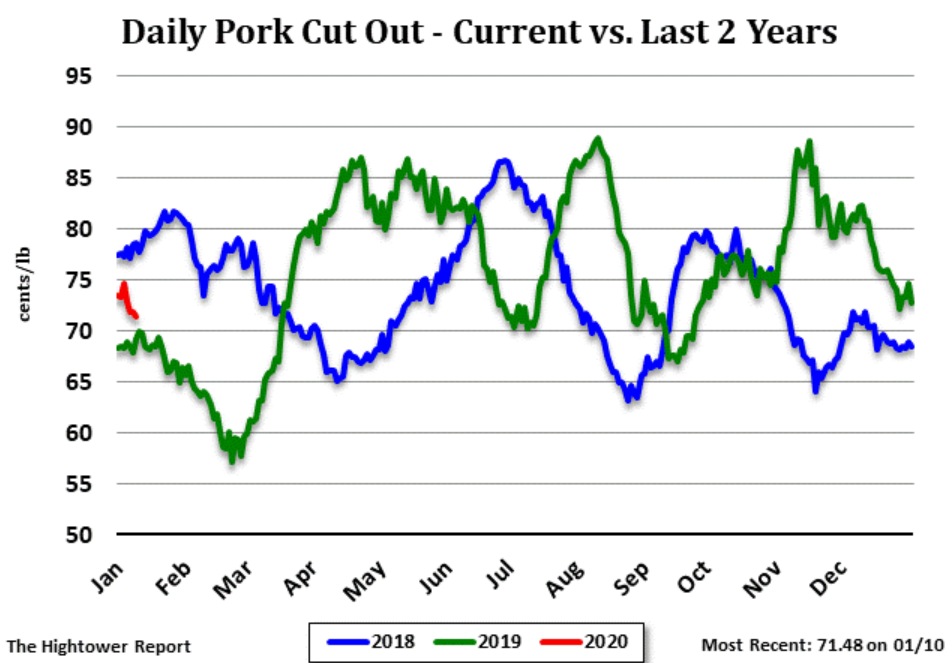 How we trade this:
The February basis did continue to narrow this week. The cash market stayed basically steady, while the February futures lost 137 points. This is why we like owning Feb.
The LHG/LHJ spread did widen to over 7.35, but settled to 6.87 as of Friday's close. We think this spread will continue to bounce between 750 and 550 until a new dynamic is set.
It is our opinion that the deferred futures have way too much "China "premium priced in. However, until it is proven out by the market forces of supply and demand, these premiums are here to stay. Extreme caution is advised in selling them very aggressively.
Spec money remains flat.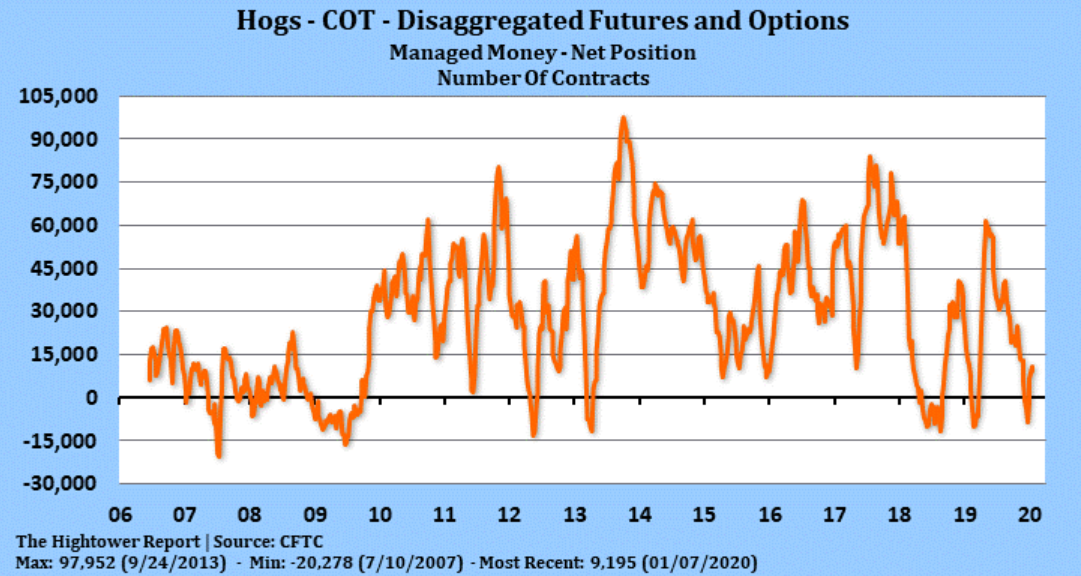 Subscribe to The Swine Times
The Swine Times - The Swine Times newsletter is designed to help participants in the pork complex understand and trade the futures markets. Our intention is to fundamentally inform and trade based off the information we have.
Risk Disclosure
THIS MATERIAL IS CONVEYED AS A SOLICITATION FOR ENTERING INTO A DERIVATIVES TRANSACTION.
THIS MATERIAL HAS BEEN PREPARED BY A DANIELS TRADING BROKER WHO PROVIDES RESEARCH MARKET COMMENTARY AND TRADE RECOMMENDATIONS AS PART OF HIS OR HER SOLICITATION FOR ACCOUNTS AND SOLICITATION FOR TRADES; HOWEVER, DANIELS TRADING DOES NOT MAINTAIN A RESEARCH DEPARTMENT AS DEFINED IN CFTC RULE 1.71. DANIELS TRADING, ITS PRINCIPALS, BROKERS AND EMPLOYEES MAY TRADE IN DERIVATIVES FOR THEIR OWN ACCOUNTS OR FOR THE ACCOUNTS OF OTHERS. DUE TO VARIOUS FACTORS (SUCH AS RISK TOLERANCE, MARGIN REQUIREMENTS, TRADING OBJECTIVES, SHORT TERM VS. LONG TERM STRATEGIES, TECHNICAL VS. FUNDAMENTAL MARKET ANALYSIS, AND OTHER FACTORS) SUCH TRADING MAY RESULT IN THE INITIATION OR LIQUIDATION OF POSITIONS THAT ARE DIFFERENT FROM OR CONTRARY TO THE OPINIONS AND RECOMMENDATIONS CONTAINED THEREIN.
PAST PERFORMANCE IS NOT NECESSARILY INDICATIVE OF FUTURE PERFORMANCE. THE RISK OF LOSS IN TRADING FUTURES CONTRACTS OR COMMODITY OPTIONS CAN BE SUBSTANTIAL, AND THEREFORE INVESTORS SHOULD UNDERSTAND THE RISKS INVOLVED IN TAKING LEVERAGED POSITIONS AND MUST ASSUME RESPONSIBILITY FOR THE RISKS ASSOCIATED WITH SUCH INVESTMENTS AND FOR THEIR RESULTS.
TRADE RECOMMENDATIONS AND PROFIT/LOSS CALCULATIONS MAY NOT INCLUDE COMMISSIONS AND FEES. PLEASE CONSULT YOUR BROKER FOR DETAILS BASED ON YOUR TRADING ARRANGEMENT AND COMMISSION SETUP.
YOU SHOULD CAREFULLY CONSIDER WHETHER SUCH TRADING IS SUITABLE FOR YOU IN LIGHT OF YOUR CIRCUMSTANCES AND FINANCIAL RESOURCES. YOU SHOULD READ THE "RISK DISCLOSURE" WEBPAGE ACCESSED AT WWW.DANIELSTRADING.COM AT THE BOTTOM OF THE HOMEPAGE. DANIELS TRADING IS NOT AFFILIATED WITH NOR DOES IT ENDORSE ANY TRADING SYSTEM, NEWSLETTER OR OTHER SIMILAR SERVICE. DANIELS TRADING DOES NOT GUARANTEE OR VERIFY ANY PERFORMANCE CLAIMS MADE BY SUCH SYSTEMS OR SERVICE.
GLOBAL ASSET ADVISORS, LLC ("GAA") (DBA: DANIELS TRADING, TOP THIRD AG MARKETING AND FUTURES ONLINE) IS AN INTRODUCING BROKER TO GAIN CAPITAL GROUP, LLC (GCG) A FUTURES COMMISSION MERCHANT AND RETAIL FOREIGN EXCHANGE DEALER. GAA AND GCG ARE WHOLLY OWNED SUBSIDIARIES OF STONEX GROUP INC. (NASDAQ:SNEX) THE ULTIMATE PARENT COMPANY.