Hello hog traders
Hogs rang in the new year on the upswing but touched limit down on Friday.  The wide spread between the index and Feb futures hog futures had the market under pressure at the end of the week as year end spec buying was covered. The cash market has been weaker through the holiday season, but should trade at least sideways for the coming week or two. Pork product demand is improving at weaker prices as China interest stays strong. We will look to possibly add some G length to the market as we feel J should be the whipping post soon.
Long term, the cash market should reach $95-100 by this summer on China demand for a host of US ag products. Spec funds are virtually flat the board right now, we think buying picks up if the Chinese bill of goods is as high as we are hearing. Signing is set for the 15th in DC.  There is also big USDA grain report at the back end of this week to be aware of.
CURRENT POSITIONS
LONG 1 UNIT OF FEB HOGS
SHORT 1 UNIT OF AUGUST HOGS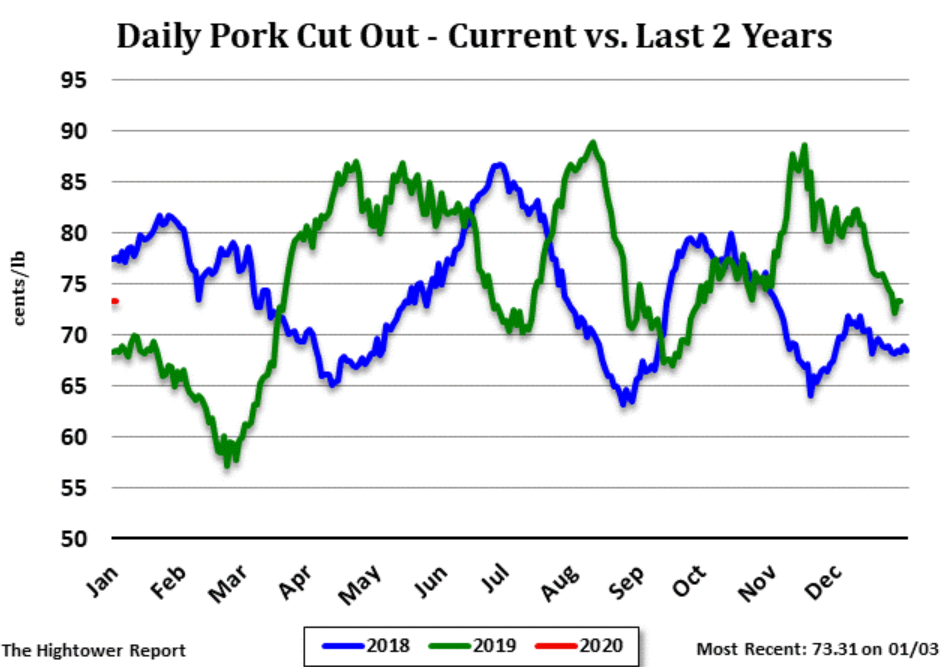 Looking into next week:
Retail cuts were on the defensive the entire week.
The loins lost $1.40 and the butts lost $1.00. From what our sources tell us this trend may not change until late next week or the first of the following week.
The ham market made up for the loss of $1.09 from the previous week by going up $1.08 this week. We believe the hams may have a $3- $5 bounce this next week to ten days , but until the weekly slaughters start to come down, the ham market will be limited on any substantial increase.
Bellies will offset those gains in the carryout. They are very limited in our opinion as to how high they can go.
There is another factor involved in regards to the price of bellies this year. The industry has always been able to slaughter more hogs than the bacon processor can cure and slice in a given week.  What is unique about this year is  the fact that with all of the product being sold to China, there is very little storage capacity left  for storing bellies before processing. This just forces the packer to either export the bellies over seas (which further exasperates the storage problem) or take belly prices low enough that retailers run liquidation sales. It's weird dynamic that has developed thanks to a change in exports, be ready for some cheap bacon prices at the store.
The weekly surplus product dynamic will change only when the weekly slaughters are reduced.   They can do this one of two ways or a combination of all of them. A) They can reduce the daily kills from ten hours per day down to 8 hours per day, B) by eliminating the Saturday slaughter schedules altogether.
The USDA Interior Iowa Southern Minnesota live weight went up this past week coming in at 287.1. This is an increase of 1.2 lbs. from the prior week, and 1.2 lbs. over a year ago. We believe this increase is nothing to get concerned about it is just a function of the reduced weekly slaughter because of the Christmas holiday.
Packer margins are reduced but still in the black. We will continue to look for a change in the weekly slaughters and export news to China to fundamentally drive the live hog prices.
How we trade this:
This past week the basis did narrow as the cash market went up .79 while at the same time the February hog futures lost $3.00.
We continue to like the LHG/LHJ spread, especially now that the basis is starting to narrow and the deferred contracts are still carrying a hefty premium. We like doing the spread at $6.50 to $7.00 and would take profits at $3.50 to $4.00.
We also like selling LHJ over $78.00, and would take profits at $71-$72. We probably see the former before the latter with China signing the deal on the 15th
We think there is more to squeeze out of G-Q, be ready for profit taking there if we would get up over 15.00
Subscribe to The Swine Times
The Swine Times - The Swine Times newsletter is designed to help participants in the pork complex understand and trade the futures markets. Our intention is to fundamentally inform and trade based off the information we have.
Risk Disclosure
THIS MATERIAL IS CONVEYED AS A SOLICITATION FOR ENTERING INTO A DERIVATIVES TRANSACTION.
THIS MATERIAL HAS BEEN PREPARED BY A DANIELS TRADING BROKER WHO PROVIDES RESEARCH MARKET COMMENTARY AND TRADE RECOMMENDATIONS AS PART OF HIS OR HER SOLICITATION FOR ACCOUNTS AND SOLICITATION FOR TRADES; HOWEVER, DANIELS TRADING DOES NOT MAINTAIN A RESEARCH DEPARTMENT AS DEFINED IN CFTC RULE 1.71. DANIELS TRADING, ITS PRINCIPALS, BROKERS AND EMPLOYEES MAY TRADE IN DERIVATIVES FOR THEIR OWN ACCOUNTS OR FOR THE ACCOUNTS OF OTHERS. DUE TO VARIOUS FACTORS (SUCH AS RISK TOLERANCE, MARGIN REQUIREMENTS, TRADING OBJECTIVES, SHORT TERM VS. LONG TERM STRATEGIES, TECHNICAL VS. FUNDAMENTAL MARKET ANALYSIS, AND OTHER FACTORS) SUCH TRADING MAY RESULT IN THE INITIATION OR LIQUIDATION OF POSITIONS THAT ARE DIFFERENT FROM OR CONTRARY TO THE OPINIONS AND RECOMMENDATIONS CONTAINED THEREIN.
PAST PERFORMANCE IS NOT NECESSARILY INDICATIVE OF FUTURE PERFORMANCE. THE RISK OF LOSS IN TRADING FUTURES CONTRACTS OR COMMODITY OPTIONS CAN BE SUBSTANTIAL, AND THEREFORE INVESTORS SHOULD UNDERSTAND THE RISKS INVOLVED IN TAKING LEVERAGED POSITIONS AND MUST ASSUME RESPONSIBILITY FOR THE RISKS ASSOCIATED WITH SUCH INVESTMENTS AND FOR THEIR RESULTS.
TRADE RECOMMENDATIONS AND PROFIT/LOSS CALCULATIONS MAY NOT INCLUDE COMMISSIONS AND FEES. PLEASE CONSULT YOUR BROKER FOR DETAILS BASED ON YOUR TRADING ARRANGEMENT AND COMMISSION SETUP.
YOU SHOULD CAREFULLY CONSIDER WHETHER SUCH TRADING IS SUITABLE FOR YOU IN LIGHT OF YOUR CIRCUMSTANCES AND FINANCIAL RESOURCES. YOU SHOULD READ THE "RISK DISCLOSURE" WEBPAGE ACCESSED AT WWW.DANIELSTRADING.COM AT THE BOTTOM OF THE HOMEPAGE. DANIELS TRADING IS NOT AFFILIATED WITH NOR DOES IT ENDORSE ANY TRADING SYSTEM, NEWSLETTER OR OTHER SIMILAR SERVICE. DANIELS TRADING DOES NOT GUARANTEE OR VERIFY ANY PERFORMANCE CLAIMS MADE BY SUCH SYSTEMS OR SERVICE.
GLOBAL ASSET ADVISORS, LLC ("GAA") (DBA: DANIELS TRADING, TOP THIRD AG MARKETING AND FUTURES ONLINE) IS AN INTRODUCING BROKER TO GAIN CAPITAL GROUP, LLC (GCG) A FUTURES COMMISSION MERCHANT AND RETAIL FOREIGN EXCHANGE DEALER. GAA AND GCG ARE WHOLLY OWNED SUBSIDIARIES OF STONEX GROUP INC. (NASDAQ:SNEX) THE ULTIMATE PARENT COMPANY.