Hello hog traders
It was another quiet week last week in the hog futures.  December goes off the board this week, contracts continue to find buyers near 60.00.  February contracts now face the burden of trying to climb higher amidst massive supply news as slaighter clears 2.8 million and headline writers talk about larger supply now than at any other point since the US was fighting a war against Germany and Japan. The market was excited early on Friday that China had dropped tariffs on US pork imports. This is huge news, one that should propel the market if supplies can get in order but the trade remains skeptical on any US -China trade news until something is signed.
Cash hogs hold above Sep lows, trending similar to last year.  Feb trades 6.00 above cash.  Our view is more supportive for cash. Even with the massive slaughters, we think Feb contracts will find support in the mid 60's given the Chinese buying spree that is likely in pork if "Phase 1" gets passed.  Carcass cutouts hold a 20 dollar premium over prices a year ago at this time, even with slaughters running nearly 10% above last year. Funds are carrying a net short position for the first time since early in 2019.  Paper liquidation risk is minimal, if you have been waiting to jump in on this hog story, now is not a horrible time to begin building a long position.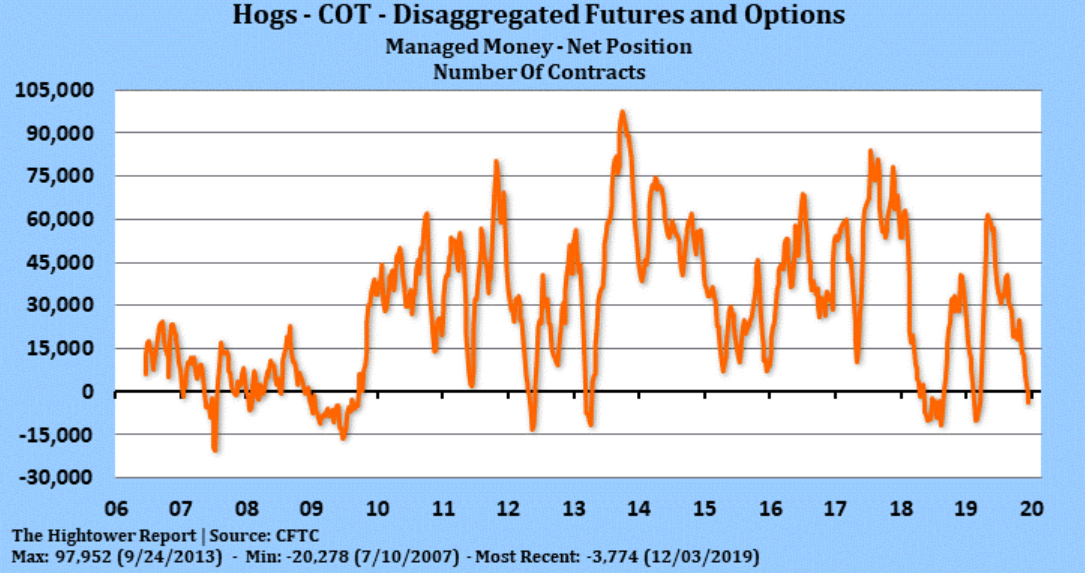 While the action since our purchase has been less than stellar, we have to be prepared to defend it and buy breaks in the G via outright and bull spreads.
CURRENT POSITION:
LONG 1 UNIT OF FEB HOGS
LOOKING INTO NEXT WEEK
Our thought that bellies would rally last week was unfounded. Sources tell us the weekly FIS for the week 12/16 could be as high as 2,800,000 head, an all time record weekly slaughter.  With this in mind it will be difficult to call any product values much higher for the short term.
We do think loins and butts will trend higher the next week to ten days, as retailers look to feature these two primal cuts post-Christmas. The pull back in price of these two cuts may happen sooner rather than later if the 2,800,000 head slaughter does come to pass.   This is just too much meat for the retailers and processors to use, especially as we go into the Christmas, New Years Holidays.
The USDA Interior Iowa Southern Minnesota live weight came in at 287.0, down .1 lbs. from last week's weights of 287.1 and are now just 2.5 lbs. over a year ago weights which were 284.5 lbs.
We think the data above on the hog weights is bullish in the sense that they are going the right direction. Seasonally this is what is supposed to happen this time of year, so this decrease in weights is not surprising.  Unfortunately given the unusually large number of hogs that are market ready, there is, in our opinion, no way the producer can go through the holidays and keep his marketing's current.
One other complication to the bullish scenario, and why caution is needed here, is the fact that at the end of December is the USDA Quarterly Hog and Pig report. There is little doubt that this report will be friendly to live hog prices, those in the trade are well aware of that.
HOW WE TRADE THIS:
We like buying LHG outright on corrections below $64.50 and take profits over $68.00
We will not forget about the LHG/LHJ spread. Look to put these spreads on corrections of $7.00 or more. We are of the opinion that this spread will probably be best to put on after the pig crop report, and probably after the first of the year, but time will tell.
Again one other trade we like, is being long February hogs and short February cattle, when the spread is over $60.00. This is risky, so be cautious, its not for everyone.
We believe both the beef and pork packer margins are in for a major compression. The pork packer 's margin compression will come from decreasing pork prices while at the same time experiencing a seasonally tightening hog numbers.
The beef packers margin compression will come from beef prices dropping precipitously, because China has pulled back from the beef they have been buying from Australia. That product will find its way to the US, while at the same time the Tyson beef plant that has been down for almost a year is back in operation as of this week. This will put that much more meat on the market. We look for beef packers to ultimately cut their kills in response to decreasing margins.
Subscribe to The Swine Times
The Swine Times - The Swine Times newsletter is designed to help participants in the pork complex understand and trade the futures markets. Our intention is to fundamentally inform and trade based off the information we have.
Risk Disclosure
This material is conveyed as a solicitation for entering into a derivatives transaction.
This material has been prepared by a Daniels Trading broker who provides research market commentary and trade recommendations as part of his or her solicitation for accounts and solicitation for trades; however, Daniels Trading does not maintain a research department as defined in CFTC Rule 1.71. Daniels Trading, its principals, brokers and employees may trade in derivatives for their own accounts or for the accounts of others. Due to various factors (such as risk tolerance, margin requirements, trading objectives, short term vs. long term strategies, technical vs. fundamental market analysis, and other factors) such trading may result in the initiation or liquidation of positions that are different from or contrary to the opinions and recommendations contained therein.
Past performance is not necessarily indicative of future performance. The risk of loss in trading futures contracts or commodity options can be substantial, and therefore investors should understand the risks involved in taking leveraged positions and must assume responsibility for the risks associated with such investments and for their results.
Trade recommendations and profit/loss calculations may not include commissions and fees. Please consult your broker for details based on your trading arrangement and commission setup.
You should carefully consider whether such trading is suitable for you in light of your circumstances and financial resources. You should read the "risk disclosure" webpage accessed at www.DanielsTrading.com at the bottom of the homepage. Daniels Trading is not affiliated with nor does it endorse any third-party trading system, newsletter or other similar service. Daniels Trading does not guarantee or verify any performance claims made by such systems or service.