Hello Hog Traders
The story that is the hog market did not change much this last week from a macro standpoint.  Strong demand all around (both exports and domestic) has been supportive of price while production increases via both total head slaughtered and weight remain near multiple year highs.
There was little new on the trade front, deferred prices broke along with the front of the curve as summer hogs tested the 90 dollar level for the first time in 4 weeks.  The trade appears tired of the China rumors while the supply coming available is overwhelming the buyers right now. The cutout has held in fantastically well while the index has fallen. We sit at summer highs on the cutout. No matter, the Dec contract closed at an 8 week low on Friday.
Getting data out of China is difficult, but according to this analyst who covers the Chinese market, prices are falling. Not sure if demand is falling or the supplies brought in from overseas are doing their job.

We think a test of the lower bollinger band near 58 is likely, getting short has not been easy with the cutout near 89. We will look to take a shot on a short sale this week above 64, and try to buy G-J near -700.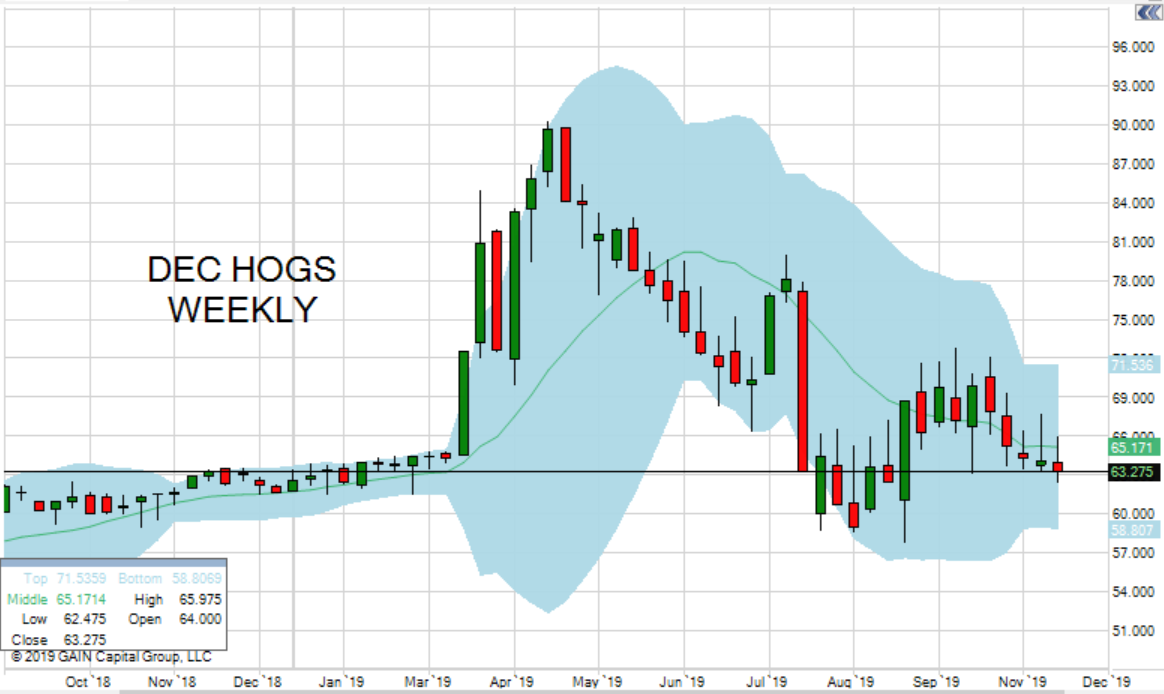 CURRENT POSITIONS:
LONG 1 UNIT OF FEB HOGS
SHORT 1 UNIT OF APRIL HOGS
Looking into next week:
The belly market has had an amazing counter seasonal run up on price. After researching prices from previous years, we have come to this conclusion.  The cheap prices of bellies in September made it easy for processors and retailers to book attractive deals for fall bacon features.  This has opened up pent up demand and the retail chains and consumers are taking advantage of it.  Couple this with the fact that most analysts, (ourselves included), did not give enough consideration to what China would do to the price of pork.  So far, we have mistakenly thought that the expansion in slaughter capacity and hog herd expansion would counter balance a lot of Chinese price affect. So far that has not been the case.

We believe that both hams and belly prices will pull back sometime around Thanksgiving, but time will tell.

Loin, butts and ribs have been in a trading range. We believe they could break out to higher prices just before or just after Thanksgiving. We should be able to start seeing this by late next week.

Carcasses going to China have and will continue to have a supportive affect on the rest of the cuts. Limiting the downside on pork prices and keeping packer margins in the black.

We do not look for a decrease in the weekly Federally Inspected Hogs slaughter, (FIS), until after the first of the year. When they do, the Chinese will still be buying pork, cuts, carcasses, trimmings and variety meats. This should  cause hog prices to continue higher because, while  at the same time packers will be trying to secure the same weekly slaughters  but fewer hogs will be available.  We project that this will cause the hog prices to turn around and move higher.  Patience and caution are in order here because,  it may be January or February before they do. We still have a lot of hogs in front of us.

The USDA Interior Iowa Southern Minnesota live weight came in at 287.9. up 1.2 lbs. from last week's   weights  at 286.7  and are now 3.9 lbs. over year ago.  This is troubling with a shortened holiday weeks just around the corner, producers can't help but get behind on their marketing's.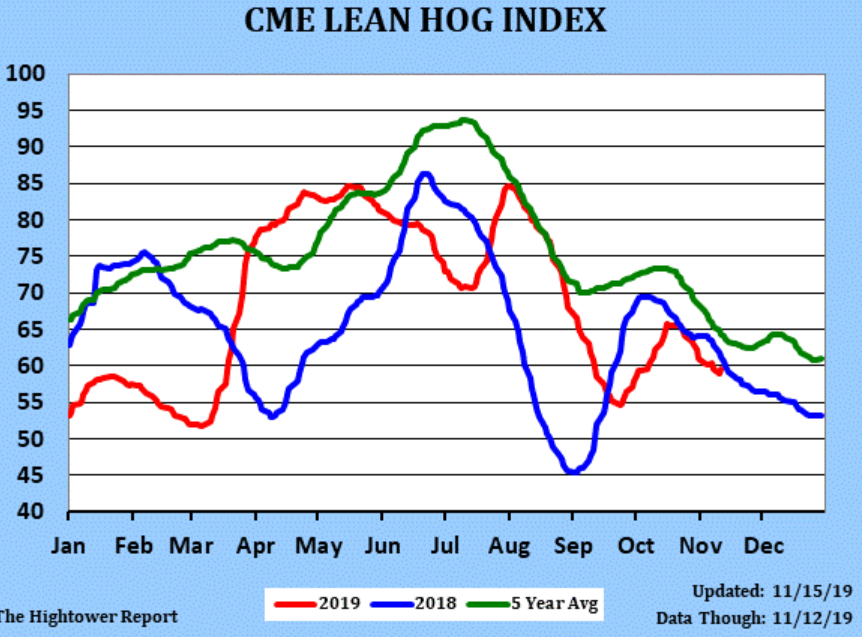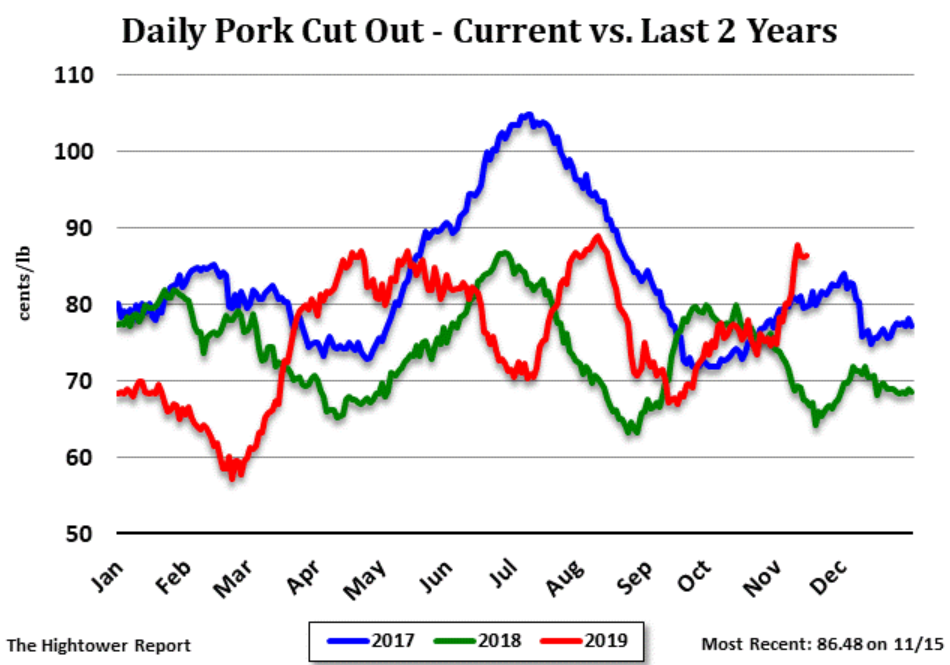 How we trade this:
We are still advising sell LHZ over 64.00.  Swine Times is changing our projection on where the low in December hogs could be.   We believe that the December hogs will go under $62 and possibly below 60.50. The key to whether they go there or not, in our opinion, depends on how much 'downside' liability the hams and bellies have prior to and just after the Thanksgiving holiday.

We still like the LHG/LHJ spread and look to put these spreads on, on corrections of $7.00 or more. We do advise our readers to take their time on this spread.  It will work the best when we get past the holidays and the backlog of hogs caused by the holidays is behind us.

We still think that the butterfly spread of long LHG short LHJ and long LHM is definitely worth considering.
Subscribe to This Week In Grain
This Week In Grain - This Week in Grain (T.W.I.G.) is a weekly grain and oilseed commentary newsletter designed to keep grain market participants on the cutting edge, so they can hedge or speculate with more confidence and precision.
Risk Disclosure
This material is conveyed as a solicitation for entering into a derivatives transaction.
This material has been prepared by a Daniels Trading broker who provides research market commentary and trade recommendations as part of his or her solicitation for accounts and solicitation for trades; however, Daniels Trading does not maintain a research department as defined in CFTC Rule 1.71. Daniels Trading, its principals, brokers and employees may trade in derivatives for their own accounts or for the accounts of others. Due to various factors (such as risk tolerance, margin requirements, trading objectives, short term vs. long term strategies, technical vs. fundamental market analysis, and other factors) such trading may result in the initiation or liquidation of positions that are different from or contrary to the opinions and recommendations contained therein.
Past performance is not necessarily indicative of future performance. The risk of loss in trading futures contracts or commodity options can be substantial, and therefore investors should understand the risks involved in taking leveraged positions and must assume responsibility for the risks associated with such investments and for their results.
Trade recommendations and profit/loss calculations may not include commissions and fees. Please consult your broker for details based on your trading arrangement and commission setup.
You should carefully consider whether such trading is suitable for you in light of your circumstances and financial resources. You should read the "risk disclosure" webpage accessed at www.DanielsTrading.com at the bottom of the homepage. Daniels Trading is not affiliated with nor does it endorse any third-party trading system, newsletter or other similar service. Daniels Trading does not guarantee or verify any performance claims made by such systems or service.