Good afternoon friends
This is an example of the morning newsletter I write daily for my clients.  If you would like to follow along, you can do so by clicking here.
Overnight news out of China sees Reuters claiming China purchased 7 cargoes of soybeans this week for late Dec-early Jan shipment. This comes as reports are leaking out that nearly 2 MMT of US beans are waiting offload at Chinese ports. Both sides continue to talk in different tongues when it comes to trade progress. The Chinese say both sides have agreed to bring down tariffs once an interim deal is signed and both sides are working toward that agreement right now.  The US (Trump) says that is not not case and that he has not decided to roll back anything.  Like sands through the hourglass….
Conab (the Brazilian Grain authority) is calling for a record soybean crop this year of nearly 121 MMT. Conab's corn production estimate edged 30,000 MT lower to 98.4 MMT and maintained its export forecast at 34 MMT.  I understand the argument for US supplies being short as a reason for a rally. The size of the South American crops will be a limiting factor if they can grow it to this size.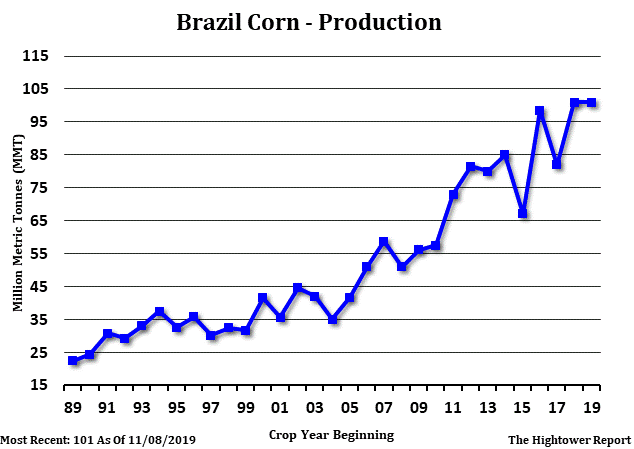 Corn inspections yesterday in this country were below 20 million bushels again, further emphasizing demand rationing at these prices. Soybean export inspections were decent, staying right on USDA pace.
The Cotton market remains in a very solid spot relative to where it traded in August, but bulls are asking if this is it as far as price action following bullish news from the USDA on Friday.  The market has done very little since the supply/demand report came out. December cotton managed to rally yesterday and the market has stayed inside of Friday's range this week so far. The stronger US dollar and some weakness seen in the energy markets were seen as short-term negative forces, but a rally in the grain markets may have provided enough buying support to close higher on the day. Traders will continue to monitor the China US trade negotiations closely as some feel that this could provide a boost to cotton demand.  Bullish buy seasonals do kick in at the end of next week.
VIA MRCI
WHEAT TRADE IDEA- CLICK BELOW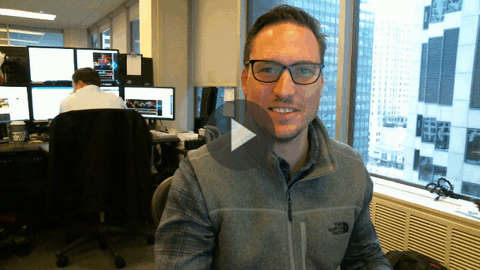 KC wheat has been the belle of the ball over the last two weeks, as December futures have run nearly 30 cents from low to high beginning on the 1st of November. Dec futures touched a front month high not seen since late July yesterday as futures tested 440. Dec is rallying against all other inter and intra-commodity spreads as well, as Dec vs March, May and July are all traded to highs. KC is backing off this morning as futures trade down a nickel to 434 while Chicago trades down 4 to 512. I am looking at shorting the Dec KC futures a few ways today. I have spoken to a few folks on the commercial side of the trade and they don't have any reason why KC wheat is behaving this way.  I think the board has covered a massive number of short positions in recent days (Goldman roll ends today) which has benefited the whipping post of the last 3 months, KC wheat. The weather is an issue, but I dont see why Dec futures would need to trade at these levels vs March just because its cold this early in the season.
The first way you can try is by simply selling the futures or buying put options which expire one week from Friday.

I would try to short is selling the KC and buying Chicago.  Dec futures should be better supported in Chicago wheat heading into delivery than KC.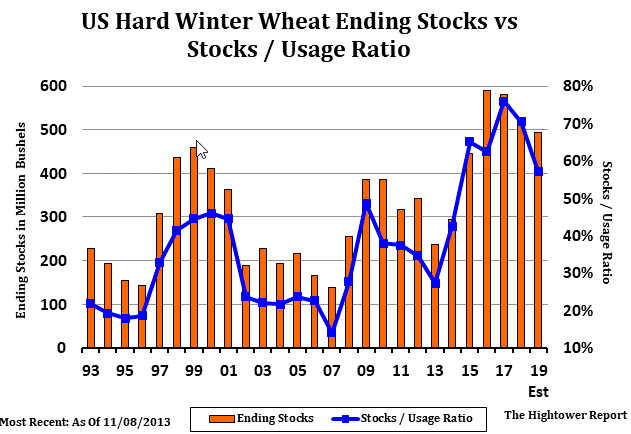 The last way I would play it and this is the most conservative way, is to sell the Dec KC wheat futures and buy the March, May or July. I don't think there is much difference which month you choose to buy, you should make more money the further out you spread.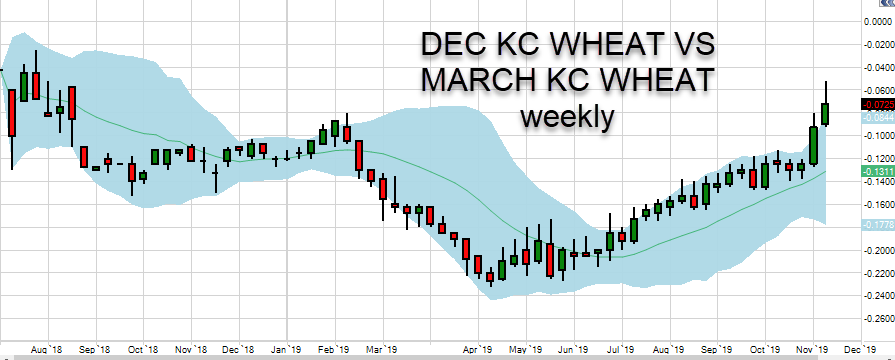 Just some ideas to keep you warm on this brutal Wednesday morning in November.  I think they are worth a shot if you are looking for what normally happens in delivery (feed grains sell off) happens this time. No guarantee this happens but I think the odds are with me.
Subscribe to This Week In Grain
This Week In Grain - This Week in Grain (T.W.I.G.) is a weekly grain and oilseed commentary newsletter designed to keep grain market participants on the cutting edge, so they can hedge or speculate with more confidence and precision.
Risk Disclosure
THIS MATERIAL IS CONVEYED AS A SOLICITATION FOR ENTERING INTO A DERIVATIVES TRANSACTION.
THIS MATERIAL HAS BEEN PREPARED BY A DANIELS TRADING BROKER WHO PROVIDES RESEARCH MARKET COMMENTARY AND TRADE RECOMMENDATIONS AS PART OF HIS OR HER SOLICITATION FOR ACCOUNTS AND SOLICITATION FOR TRADES; HOWEVER, DANIELS TRADING DOES NOT MAINTAIN A RESEARCH DEPARTMENT AS DEFINED IN CFTC RULE 1.71. DANIELS TRADING, ITS PRINCIPALS, BROKERS AND EMPLOYEES MAY TRADE IN DERIVATIVES FOR THEIR OWN ACCOUNTS OR FOR THE ACCOUNTS OF OTHERS. DUE TO VARIOUS FACTORS (SUCH AS RISK TOLERANCE, MARGIN REQUIREMENTS, TRADING OBJECTIVES, SHORT TERM VS. LONG TERM STRATEGIES, TECHNICAL VS. FUNDAMENTAL MARKET ANALYSIS, AND OTHER FACTORS) SUCH TRADING MAY RESULT IN THE INITIATION OR LIQUIDATION OF POSITIONS THAT ARE DIFFERENT FROM OR CONTRARY TO THE OPINIONS AND RECOMMENDATIONS CONTAINED THEREIN.
PAST PERFORMANCE IS NOT NECESSARILY INDICATIVE OF FUTURE PERFORMANCE. THE RISK OF LOSS IN TRADING FUTURES CONTRACTS OR COMMODITY OPTIONS CAN BE SUBSTANTIAL, AND THEREFORE INVESTORS SHOULD UNDERSTAND THE RISKS INVOLVED IN TAKING LEVERAGED POSITIONS AND MUST ASSUME RESPONSIBILITY FOR THE RISKS ASSOCIATED WITH SUCH INVESTMENTS AND FOR THEIR RESULTS.
TRADE RECOMMENDATIONS AND PROFIT/LOSS CALCULATIONS MAY NOT INCLUDE COMMISSIONS AND FEES. PLEASE CONSULT YOUR BROKER FOR DETAILS BASED ON YOUR TRADING ARRANGEMENT AND COMMISSION SETUP.
YOU SHOULD CAREFULLY CONSIDER WHETHER SUCH TRADING IS SUITABLE FOR YOU IN LIGHT OF YOUR CIRCUMSTANCES AND FINANCIAL RESOURCES. YOU SHOULD READ THE "RISK DISCLOSURE" WEBPAGE ACCESSED AT WWW.DANIELSTRADING.COM AT THE BOTTOM OF THE HOMEPAGE. DANIELS TRADING IS NOT AFFILIATED WITH NOR DOES IT ENDORSE ANY TRADING SYSTEM, NEWSLETTER OR OTHER SIMILAR SERVICE. DANIELS TRADING DOES NOT GUARANTEE OR VERIFY ANY PERFORMANCE CLAIMS MADE BY SUCH SYSTEMS OR SERVICE.
GLOBAL ASSET ADVISORS, LLC ("GAA") (DBA: DANIELS TRADING, TOP THIRD AG MARKETING AND FUTURES ONLINE) IS AN INTRODUCING BROKER TO GAIN CAPITAL GROUP, LLC (GCG) A FUTURES COMMISSION MERCHANT AND RETAIL FOREIGN EXCHANGE DEALER. GAA AND GCG ARE WHOLLY OWNED SUBSIDIARIES OF STONEX GROUP INC. (NASDAQ:SNEX) THE ULTIMATE PARENT COMPANY.