Hello Hog Traders
Hog futures were largely range bound last week, although December futures struggled to hold levels against Feb and beyond.  Cash prices continue to weaken amidst the weight of massive slaughters.  The high rate of production is something that will persist well into the new year, get used to it. Domestic demand is decent, but not good enough to survive without additional Asian imports. Feb futures appear to have good support in the high 70's, we will continue to stay bull spread Feb-April.
Look for us to sell Dec hogs on rallies and buy the Feb-April on Breaks. We missed our Z attempt to short Z midweek by a few pennies, that's frustrating but we would have lifted it by the weekend. You can expect us to take off flat price exposure into weekends given potential headline risk.
If we would see a big surge in G-J, we will probably look at selling J-M (April-June/July) to butterfly against it.  We think cash is headed into the mid-high 50's which should pull the Dec into the low 60's maybe even high 50's.
ASF remains a theme in China/SE Asia.  The Chinese have mentioned pork production will move back into normal territory by mid-2020, but we are skeptical.  This summer hogs will likely be on fire in 2020, but that is a story for another day. Right now there is plenty of supply given recent demand.
CURRENT POSITION
LONG 1 UNIT OF FEB HOGS
SHORT 1 UNIT OF APRIL HOGS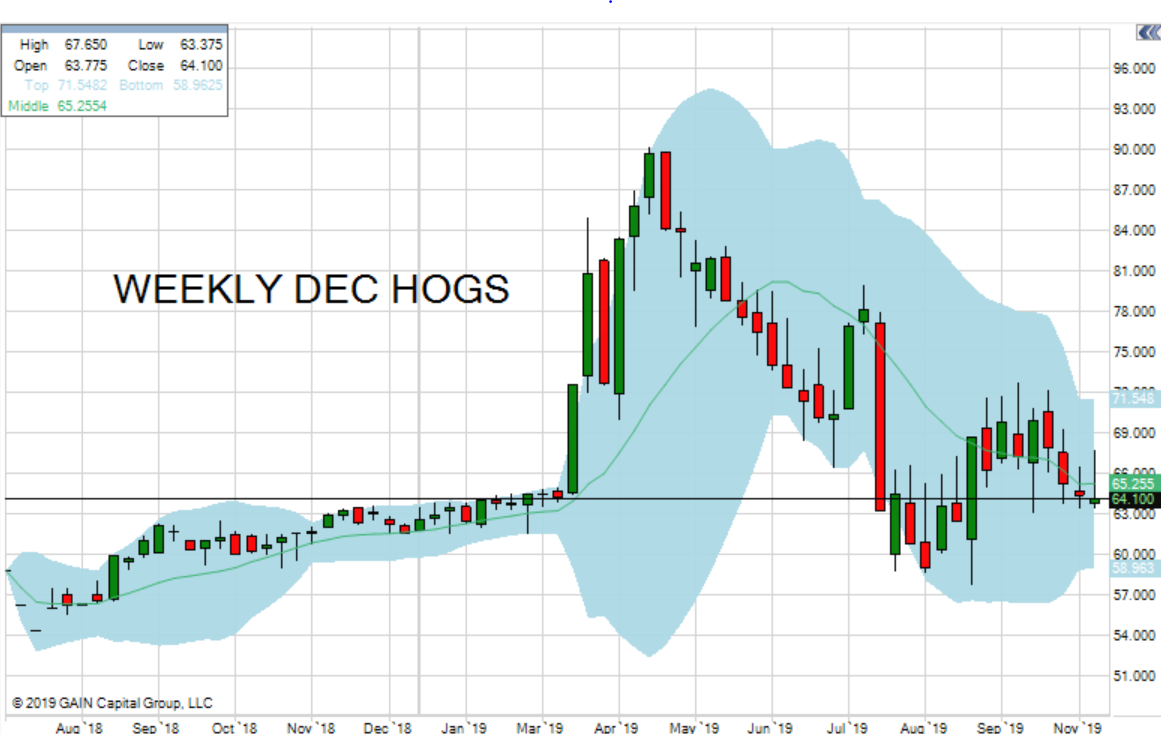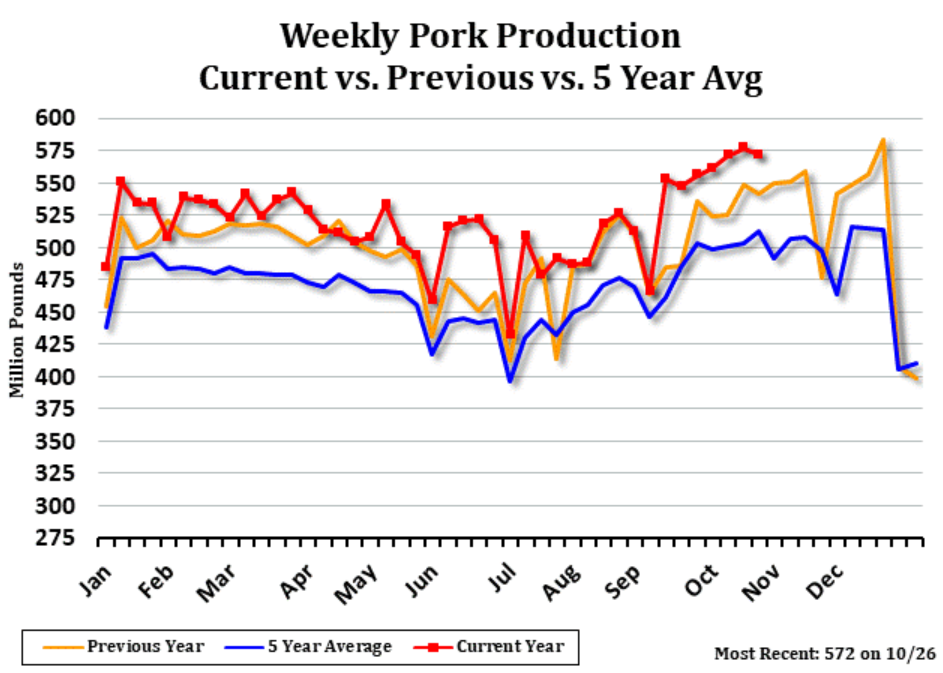 Looking into next week:
The cash market did inch under $60. We hear packers already have their slaughter needs covered for next week. The December futures closed at 64.12, it refused to break the mid 63's. As you can see in the chart above, there has been support there. This is a little over a $4.00 premium to cash though, and the cash hog prices next week are projected to go lower.

We missed the belly market last week. China continues to be the thorn in the short seller's side.  We will continue to chase it though. A while back, we mentioned China would be exporting whole carcasses.  It is now being reported that this is occurring. The number of carcasses may be in excess of 100K head. This has without doubt put a floor in the product values, at least for now.  We are calling the belly market up $7-$10 next week.
Last week we mentioned the ham market was in good shape price wise. As you can see by Fridays ham price above the demand has not slowed down. Going home tonight the hams are still sought after for holiday as well as export business. We could see the ham price go up another $3-$5 next week.
Loin, butts and ribs are in a trading range. We look for this to continue, we do not see any major move in those next week, but given the China affect, anything can happen. The cutout is strong and that is why prices haven't fallen like a year ago.
The USDA Interior Iowa Southern Minnesota live weight came in at 286.7 up .3 lbs. from last week's weights at 286.4 and are now 3.2 lbs. over year ago.  This is a little more seasonal than the change two weeks ago.
How we trade this:
We missed selling 65.75 last week, we will likely lower that price this week.  Eventually, we think it is very likely Dec trades below 62 as cash is headed toward 56 in our opinion.  The chart above shows basis will close on cash very soon, weaker cash means weaker futures in our opinion.
We still like the LHG/LHJ spread and look to put these spreads on, on corrections of $7.00 or more. We will use these as a shield as we try to short Z in the coming days/weeks.

We think that the butterfly spread of long LHG short LHJ and long LHM is definitely worth considering. This is a good spread that should perform slowly.
The test for the December hogs will be the Thanksgiving/Christmas Holidays. We say this because this year Thanksgiving is unusually late. This leaves fewer weeks between it and the Christmas Holiday. The reason we point this out is because, when this happens retailers and processor have less time to take advantage of the weekly features.  This can cause prices to be pushed lower in an effort to keep fresh meat stocks in rotation.
Ultimately this along with a lot more hogs coming to market will keep the live hog prices under pressure as well.  What would prices of the product and the hogs be, if we didn't have the sales to China that we do? The market is asking the producer to grow the herd a lot in the coming months, they will oblige.  What if China is not there to buy?
There is no end in sight of the unusually large numbers of hogs. We are still in a bear market, and will probably stay in one until at least the first quarter of 2020. The China trade deal and ASF makes us lose sleep at night, but being long that story is not the way to get paid in the near term.  That's how we see it.
*USDA   National Hog and Pork summary
** Expressed in thousand head
Subscribe to The Swine Times
The Swine Times - The Swine Times newsletter is designed to help participants in the pork complex understand and trade the futures markets. Our intention is to fundamentally inform and trade based off the information we have.
Risk Disclosure
The StoneX Group Inc. group of companies provides financial services worldwide through its subsidiaries, including physical commodities, securities, exchange-traded and over-the-counter derivatives, risk management, global payments and foreign exchange products in accordance with applicable law in the jurisdictions where services are provided. References to over-the-counter ("OTC") products or swaps are made on behalf of StoneX Markets LLC ("SXM"), a member of the National Futures Association ("NFA") and provisionally registered with the U.S. Commodity Futures Trading Commission ("CFTC") as a swap dealer. SXM's products are designed only for individuals or firms who qualify under CFTC rules as an 'Eligible Contract Participant' ("ECP") and who have been accepted as customers of SXM. StoneX Financial Inc. ("SFI") is a member of FINRA/NFA/SIPC and registered with the MSRB. SFI does business as Daniels Trading/Top Third/Futures Online. SFI is registered with the U.S. Securities and Exchange Commission ("SEC") as a Broker-Dealer and with the CFTC as a Futures Commission Merchant and Commodity Trading Adviser. References to securities trading are made on behalf of the BD Division of SFI and are intended only for an audience of institutional clients as defined by FINRA Rule 4512(c). References to exchange-traded futures and options are made on behalf of the FCM Division of SFI.
Trading swaps and over-the-counter derivatives, exchange-traded derivatives and options and securities involves substantial risk and is not suitable for all investors. The information herein is not a recommendation to trade nor investment research or an offer to buy or sell any derivative or security. It does not take into account your particular investment objectives, financial situation or needs and does not create a binding obligation on any of the StoneX group of companies to enter into any transaction with you. You are advised to perform an independent investigation of any transaction to determine whether any transaction is suitable for you. No part of this material may be copied, photocopied or duplicated in any form by any means or redistributed without the prior written consent of StoneX Group Inc.