Hello Hog Traders
Weak cash prices weighed on hog prices last week, record supply and cheaper cutouts are a theme that are not going away.  Everything on the board was weaker but the front of the curve sold the most.  Z, G and J futures against the summer contracts fell as the week progressed.  The April-June/July spreads are back at contract lows as the trade continues to keep premiums in those contracts. June, July and Aug are all above 90 dollars, priced at highs from last summer with the idea that Chinese prices are going to remain on fire and encourage continued need for US product imports. We shudder to think what will happen if US demand will not be needed or the US catches ASF, either one will send summer prices to the mat.
Even though we are bearish, we cant stay in bearish positions for too long given the potential for newswires to break bullish info.  After the close on Friday negotiators from both sides gave positive reports on negotiations.  The Chinese said "serious and constructive discussions on addressing their (US) concerns and reached consensus on principles for the next round of consultation arrangements."  USTR Peter Navarro (a China hawk) said "the US and China are on a good path to complete the first part of a trade agreement, but two additional phases will be needed to address all of China's structural deadly sins".
You can expect us to cover shorts into weekends if we have them as we did on Friday.  We like sleep and Friday after the close seems to be the time when trade updates are given, being stuck short on any bullish export news will hurt. Look for us to continue to play it from the short side in spurts. Seasonally, we tend to see the market put in a near term cash low in the coming weeks ahead of the Chinese new year buying that should start to come in early December.
CURRENT POSITIONS
None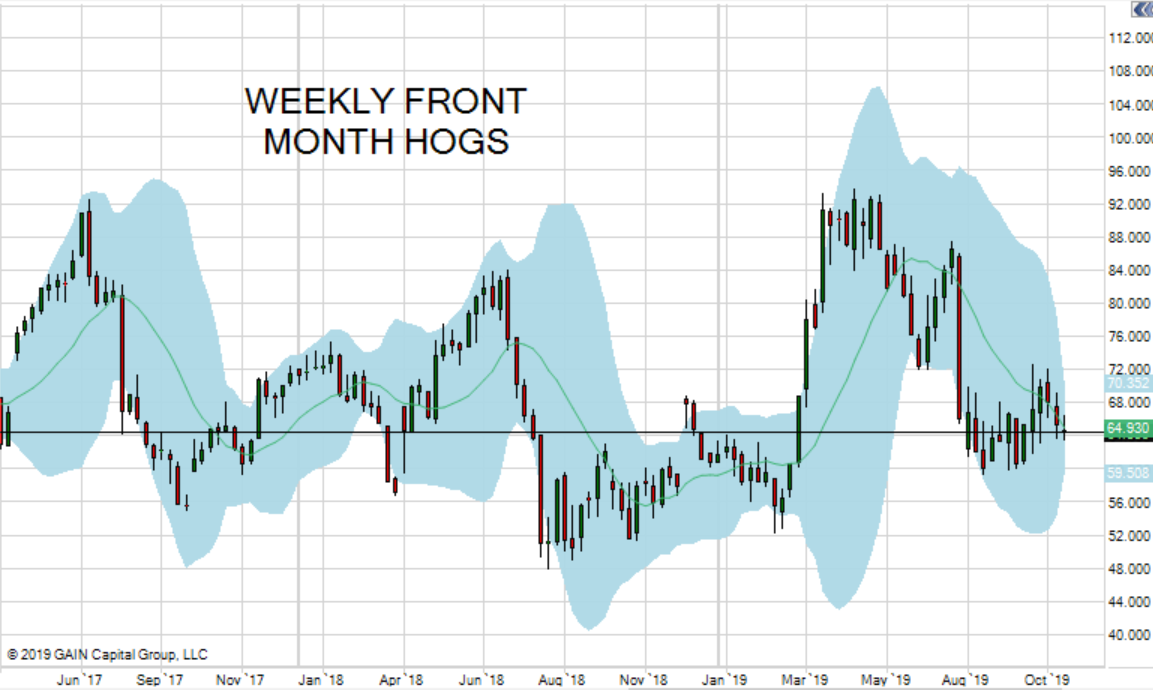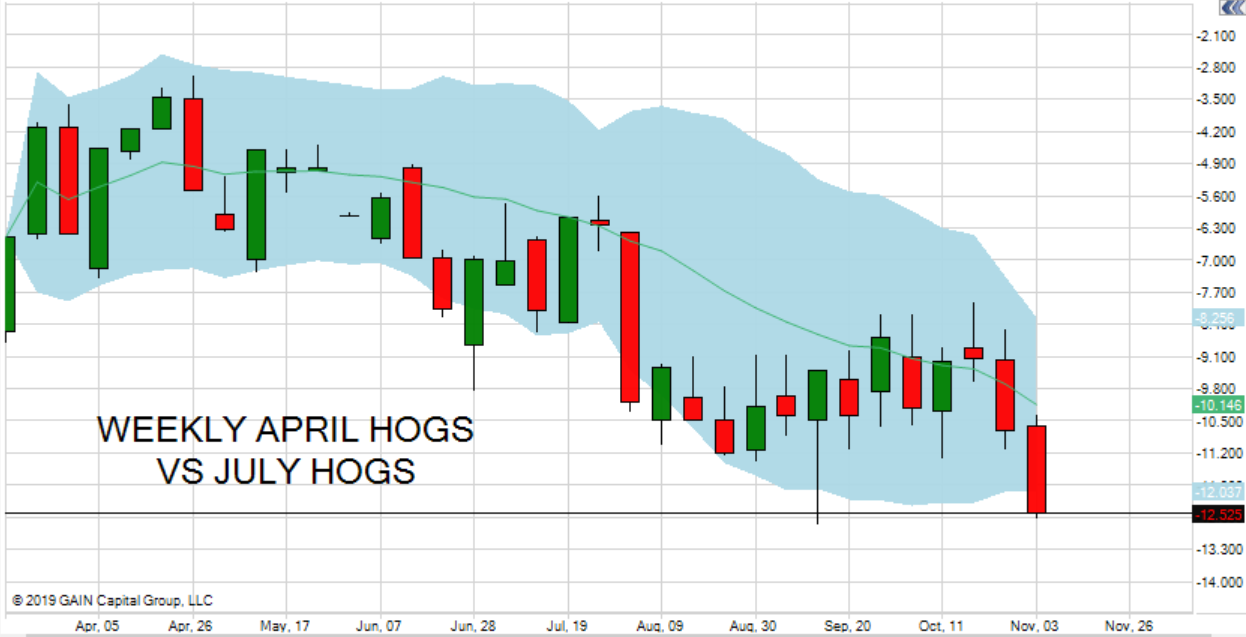 Looking into next week:
The belly market continued its fall last week. Our projection is for the bellies to go down to a $1.00 and see if that holds and stimulate some business going into the holidays.
The ham market is still in good shape as of this writing. However, our sources tell us that there is trouble on the horizon.  Packers are starting to get 'push back' from processors with the boneless ham prices increasing exponentially.
We believe that the loins and butt prices seemed to have started to turn, but the sheer quantity of what is being produced every week is still burdensome. These two cuts along with hams bellies and trimmings would be under a lot more pressure if it weren't for the ASF induced export demand.
The USDA Interior Iowa Southern Minnesota live weight came in at 286.4, up 1.0 lbs. from last week's weights at 285.4 and are now 3.0 lbs. over year ago.  This is a tad worrisome, from the standpoint that the weekly live weights are now increasing at a faster rate each week.  We do not like this trend, and it continues the live hog market could be in deeper trouble that we originally thought in the front of the curve.
How we trade this:
Swine Times believes that the cash market will go under $60. Packers already have their slaughter needs covered for next week. This will drag the cash and the CME cash index down. The December futures are $4.00 above the index.  In our opinion you can sell LHZ over $65 and cover them under $62.  Technically there is a gap at 61.75 and the December hogs could fill that gap on the chart.
We still like the LHG/LHJ spread and look to put these spreads on, on corrections of $7.00 or more. We like this as a proxy for being long Chinese demand ahead of the Chinese New Year purchases
If you want to be bearish longer term, look at selling J vs M or N.  That closed at 12.50 on Friday, it could go to 20 if the trade war isn't solved by the spring.
We think that the butterfly spread of long LHG short LHJ and long LHM is definitely worth considering. More about that in later editions.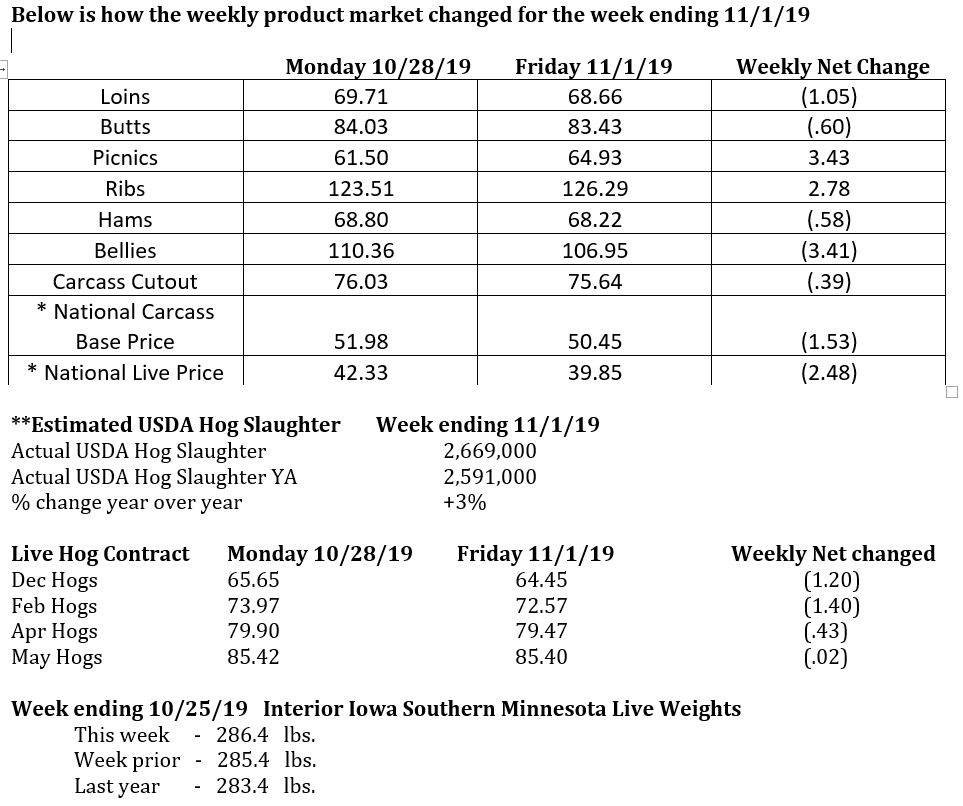 *USDA   National Hog and Pork summary
** Expressed in thousand head
Subscribe to The Swine Times
The Swine Times - The Swine Times newsletter is designed to help participants in the pork complex understand and trade the futures markets. Our intention is to fundamentally inform and trade based off the information we have.
Risk Disclosure
The StoneX Group Inc. group of companies provides financial services worldwide through its subsidiaries, including physical commodities, securities, exchange-traded and over-the-counter derivatives, risk management, global payments and foreign exchange products in accordance with applicable law in the jurisdictions where services are provided. References to over-the-counter ("OTC") products or swaps are made on behalf of StoneX Markets LLC ("SXM"), a member of the National Futures Association ("NFA") and provisionally registered with the U.S. Commodity Futures Trading Commission ("CFTC") as a swap dealer. SXM's products are designed only for individuals or firms who qualify under CFTC rules as an 'Eligible Contract Participant' ("ECP") and who have been accepted as customers of SXM. StoneX Financial Inc. ("SFI") is a member of FINRA/NFA/SIPC and registered with the MSRB. SFI does business as Daniels Trading/Top Third/Futures Online. SFI is registered with the U.S. Securities and Exchange Commission ("SEC") as a Broker-Dealer and with the CFTC as a Futures Commission Merchant and Commodity Trading Adviser. References to securities trading are made on behalf of the BD Division of SFI and are intended only for an audience of institutional clients as defined by FINRA Rule 4512(c). References to exchange-traded futures and options are made on behalf of the FCM Division of SFI.
Trading swaps and over-the-counter derivatives, exchange-traded derivatives and options and securities involves substantial risk and is not suitable for all investors. The information herein is not a recommendation to trade nor investment research or an offer to buy or sell any derivative or security. It does not take into account your particular investment objectives, financial situation or needs and does not create a binding obligation on any of the StoneX group of companies to enter into any transaction with you. You are advised to perform an independent investigation of any transaction to determine whether any transaction is suitable for you. No part of this material may be copied, photocopied or duplicated in any form by any means or redistributed without the prior written consent of StoneX Group Inc.
© 2021 StoneX Group Inc. All Rights Reserved