Hello hog traders
The theme of the hog market is unchanged, the market remains torn between massive US slaughter and the high global/inflation in Asia that is encouraging use of said production.  Red meat prices are on the bid, all classes of meat are in demand driven bullish markets. The Chinese made comments last week that pork production has bottomed and they expect production to return to normal levels in 2020. We don't doubt the Chinese plan on this and have the data announcements already written and saved, but we find this claim to be highly unlikely given the lack of a vaccine.  We believe they plan to use the US markets as necessary. Regardless, the back of the US hog curve (summer months) took it on the chin last week as speculators took money out.  We believe the M-N-Q contracts are well supported right now, but if the Chinese trade talks would take a dive then watch out.  Friday's announcement that Phase 1 is moving forward is supportive.
The US has the supply to meet the demand.  Producers are ramping production right now,so much so that finding confinement space is nearly impossible right now.  Feeder pig prices are at bare bones levels given no one has any place to put them.  The US is going to put the pedal to the metal when it comes to new production in the months ahead, the fact ractopamine is being shunned tells us the plan is to sell excess to China.  If we cant or dont, the US will have a supply disaster on its hand a year from now.
We look for prices to bottom in the coming week/weeks.  Cold storage shrunk year over the year amidst high production. Demand is stout right now on the export market. We will look to get bull spread next week.
CURRENT POSITIONS:
NONE
We will look to buy Z-J, G-J or Z outright if cash supports.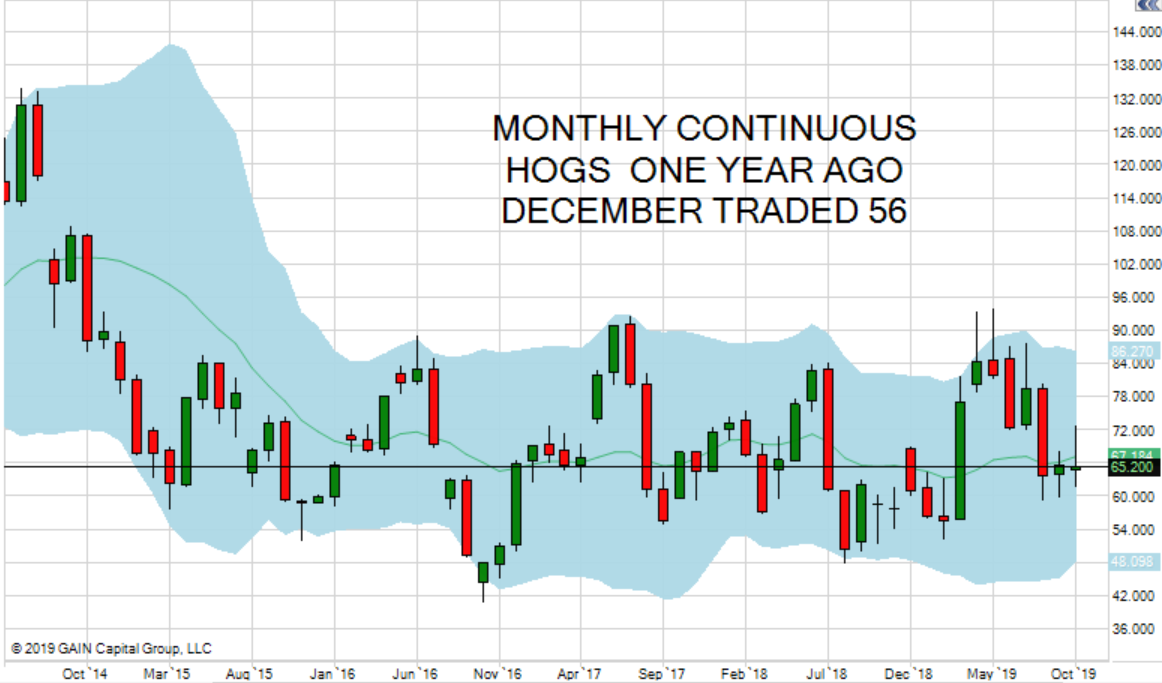 Looking into next week:
The belly market topped a couple of weeks ago, we shorted the highs but bought back in a few dollars too early. As you can see by the data above, the bellies lost another $13.00 last week, and this may not be the end. There has been talk that the bellies are going to $100 and see if there can be any business written at that level. If not, then they could drop another $10.00 to $90.00 to see if that generates any extra bacon business.
We mentioned to our readers last week that the ham market had been very difficult to call. This week has changed that. With the export and holiday business that developed this past week, the ham market could go up another $3-$5 this next week.
Loins and butt prices seemed to have started to turn around this past week and as of Friday 's close, we can see them strengthen as next week unfolds. We don't look for a big move, but we think they can move higher.
The USDA Interior Iowa Southern Minnesota live weight came in at 285.4, up 1.8 lbs. from a week ago, and are now 2.5 lbs. over year ago.  Once again, this is seasonal and a good indication that the producers are keeping their marketing's current.
We expect slaughter to remain high. Pork production will continue to set records in the coming quarters. High spring and summer prices are encouraging production.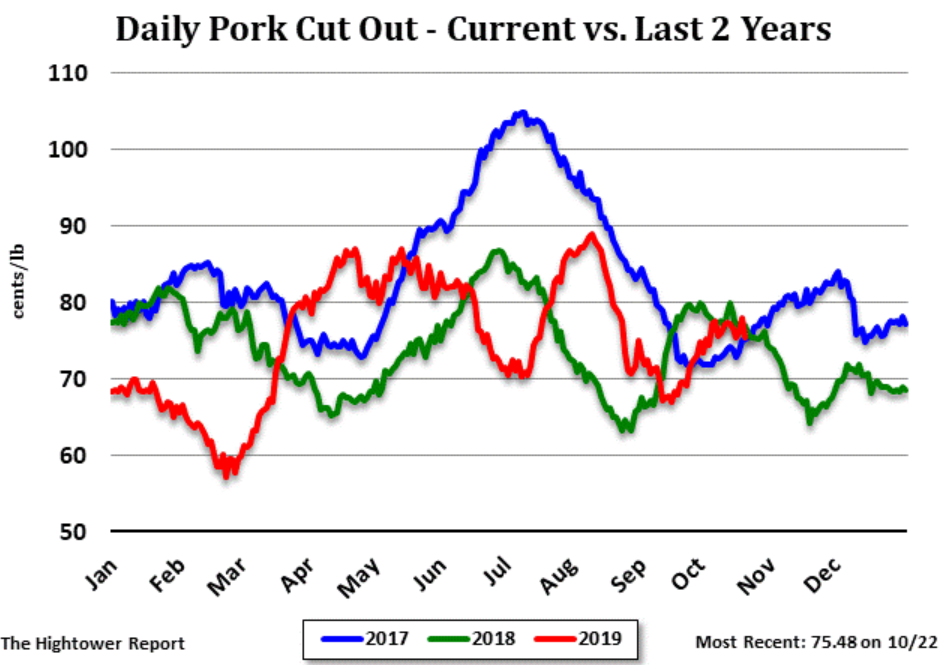 How we trade this:
As anyone who as been trading hogs this past year can attest, live hog futures have been extremely difficult to trade profitably and with consistency. We want to once again caution our readers that these difficult times can be very trying and must be traded particularly conservatively.  We also want our readers to know that it has been challenging for us to give you trading recommendations, given how fast the fundamentals change daily. We caution you because the fundamental information we have at the time this newsletter is written can change by the time you read it.  We get requests to speak with the press every now and then, those requests have picked up drastically over the last few weeks.  This tells us the ASF and China story is well known.
We still like the LHG/LHJ spread and look to put these spreads on, on corrections of $7.00 or more. Look for us to recommend this early this week.
We also like buying LHZ under $62.00, but be careful here, as there are still a lot of hogs left the fourth quarter. You can play the Z-J spread as well.
Bears should look at the J-M or J-N spreads. Sell the April and buy the summer contracts, if things get bearish with China these spreads should perform.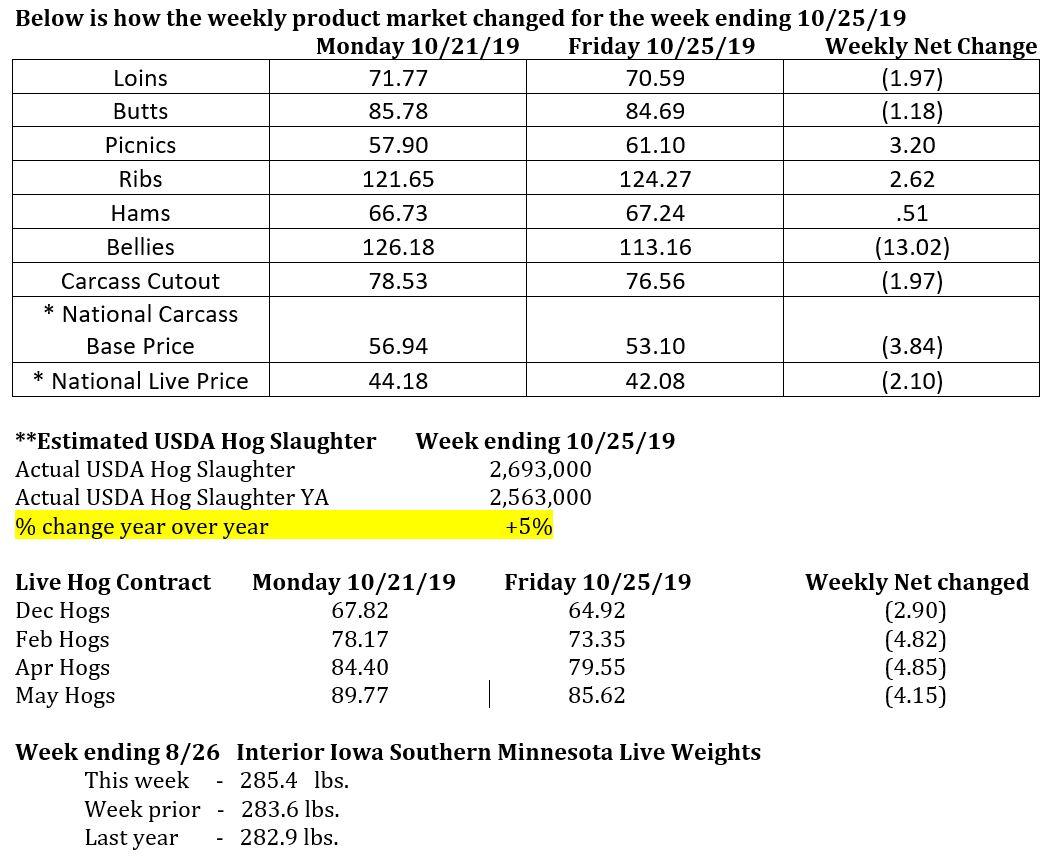 Subscribe to The Swine Times
The Swine Times - The Swine Times newsletter is designed to help participants in the pork complex understand and trade the futures markets. Our intention is to fundamentally inform and trade based off the information we have.
Risk Disclosure
The StoneX Group Inc. group of companies provides financial services worldwide through its subsidiaries, including physical commodities, securities, exchange-traded and over-the-counter derivatives, risk management, global payments and foreign exchange products in accordance with applicable law in the jurisdictions where services are provided. References to over-the-counter ("OTC") products or swaps are made on behalf of StoneX Markets LLC ("SXM"), a member of the National Futures Association ("NFA") and provisionally registered with the U.S. Commodity Futures Trading Commission ("CFTC") as a swap dealer. SXM's products are designed only for individuals or firms who qualify under CFTC rules as an 'Eligible Contract Participant' ("ECP") and who have been accepted as customers of SXM. StoneX Financial Inc. ("SFI") is a member of FINRA/NFA/SIPC and registered with the MSRB. SFI does business as Daniels Trading/Top Third/Futures Online. SFI is registered with the U.S. Securities and Exchange Commission ("SEC") as a Broker-Dealer and with the CFTC as a Futures Commission Merchant and Commodity Trading Adviser. References to securities trading are made on behalf of the BD Division of SFI and are intended only for an audience of institutional clients as defined by FINRA Rule 4512(c). References to exchange-traded futures and options are made on behalf of the FCM Division of SFI.
Trading swaps and over-the-counter derivatives, exchange-traded derivatives and options and securities involves substantial risk and is not suitable for all investors. The information herein is not a recommendation to trade nor investment research or an offer to buy or sell any derivative or security. It does not take into account your particular investment objectives, financial situation or needs and does not create a binding obligation on any of the StoneX group of companies to enter into any transaction with you. You are advised to perform an independent investigation of any transaction to determine whether any transaction is suitable for you. No part of this material may be copied, photocopied or duplicated in any form by any means or redistributed without the prior written consent of StoneX Group Inc.