Good morning friends
This is an example of the morning newsletter I write daily for my clients.  If you would like to follow along, you can do so by clicking here.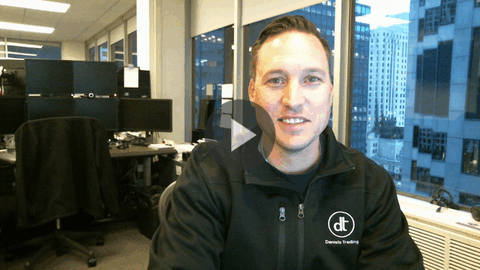 Weather improvements are expected in Brazil and Argentina, while rain out east will keep combines idled this weekend.  Outside of Texas, the harvest weather been fantastic.  Slight precip has fallen in the upper Midwest maybe stalling a few guys and gals, but the majority of the corn/bean belt would have progressed nicely.  The Western belt will have fantastic conditions this weekend while the producers out east in Indiana and Ohio will likely be rained out on Sunday. This could be where a spark comes from, you could see the markets come off lows this week as these forecasts came out.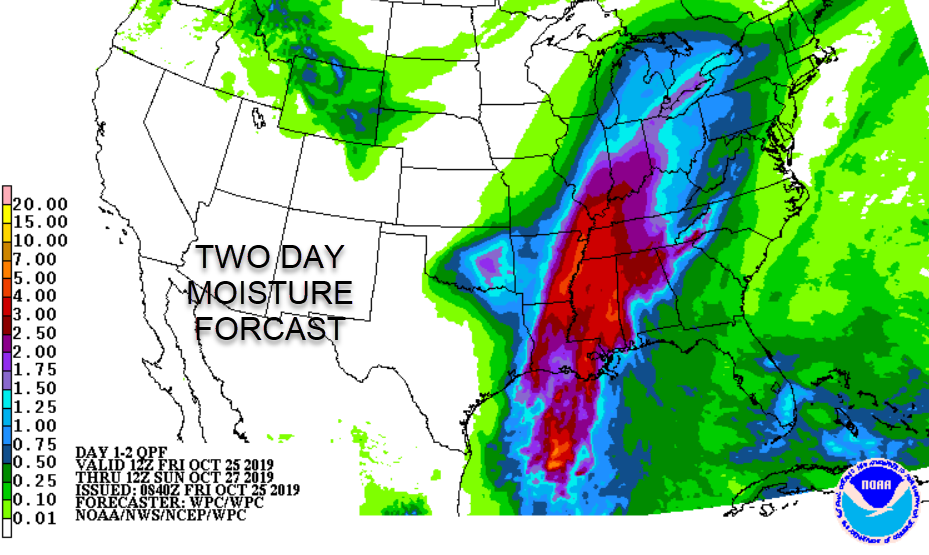 Chinese and US leaders will have a conference call today. The Chinese are continuing their push to get the U.S. to remove tariffs imposed last year and cancel the tariff hike scheduled for December.  Reuters is reporting if the US would drop the tariffs from last year (remember the original tariffs remain up) then they would apparently drop those tariffs. I think the market has priced in a lot of optimism and faith that Phase 1 of this deal is a reality.  After reading the recent reports, I would not be so sure.  This feels like the setup we had before the May meetings. There will be more talks in two weeks, U.S. Trade Representative Bob Lighthizer and Treasury Secretary Steve Mnuchin will travel to China for talks the week of Nov. 3.\
US corn exports stink right now.  Another week of sub 20 million bushel purchases is not going to get the market to believe prices need to move higher.  Mexico is really the only buyer right now.  Someone should ask Trump when the expected Japanese demand he touted two weeks ago will show up. Both forward commitments and export shipments are lagging tremendously right now. I worry that as corn harvest progresses, this strong basis will go away and the December corn contract falls to levels where September went off the board. Basis has been steady in both Central Illinois and Omaha this week.   As of right now, Dec corn trades 40 cents over where Sep went into FND.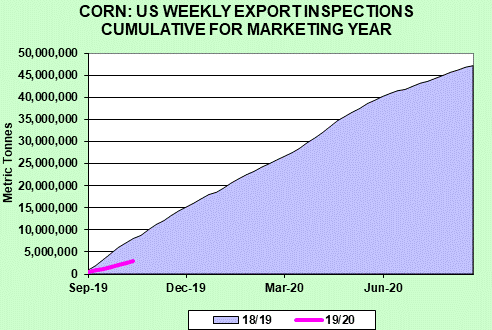 Wheat and cotton sales were disappointing as well.  This comes as both markets trade near 3 month highs and have corrected 10%. USDA reported wheat sales of 262,400 MT for the week ended Oct. 17, which was below the bottom end of pre-report estimates. U.S. wheat continues to face stiff export competition, especially form the Black Sea region and France. Weekly cotton export sales came in at a ho-hum 140k bales for 2019-20.  And China was not in the list of major buyers. Cotton exports are ahead of pace, and the Yuan-USD cross has been stable.  I worry if that goes away the shorting comes back.  I would be pricing March cotton in the 66-68 cent level in the short run, if you catch a move lower then look to buy it back come December.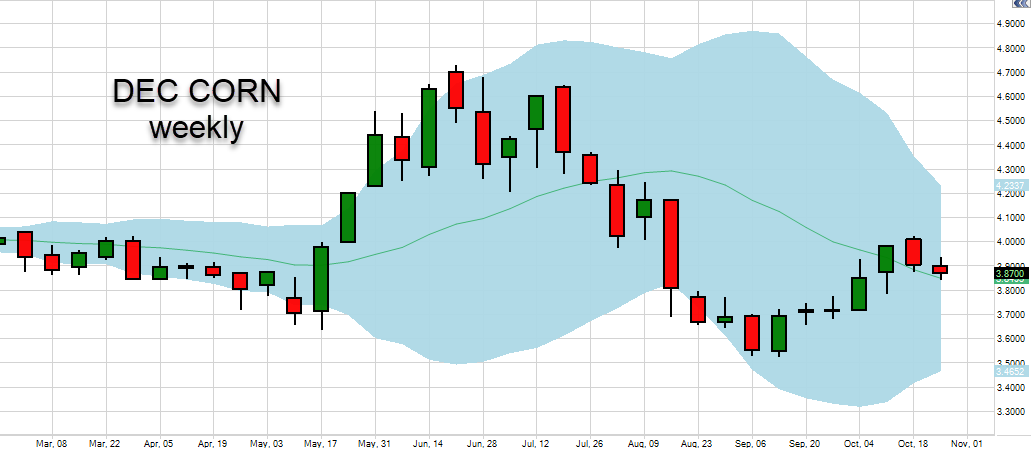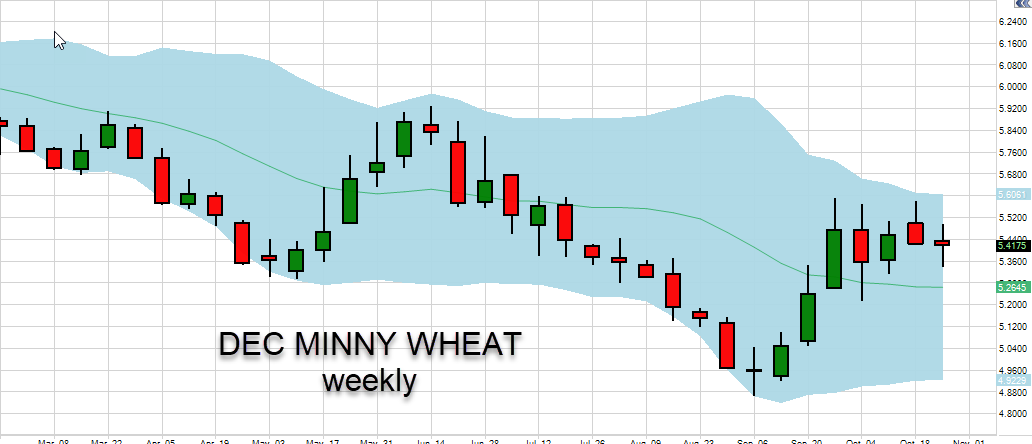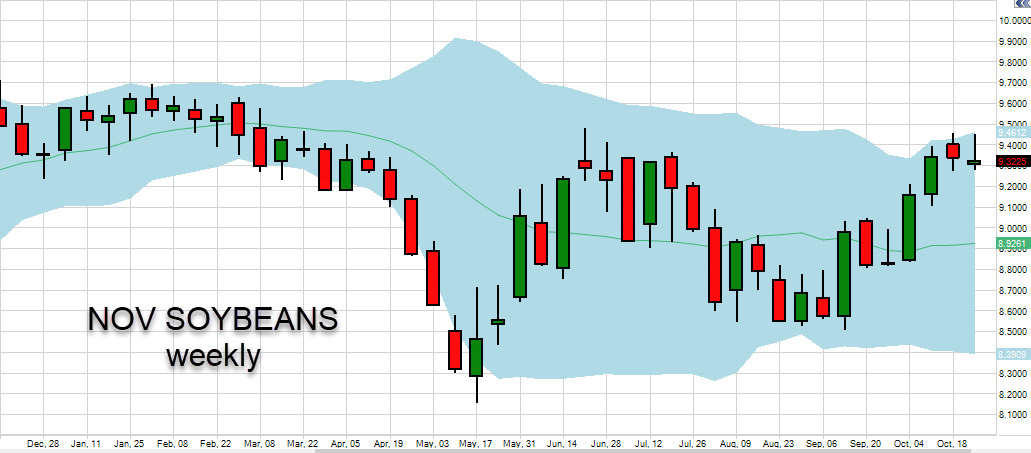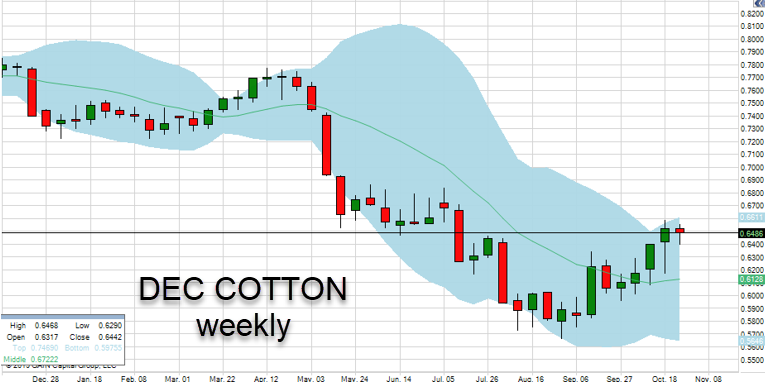 Subscribe to This Week In Grain
This Week In Grain - This Week in Grain (T.W.I.G.) is a weekly grain and oilseed commentary newsletter designed to keep grain market participants on the cutting edge, so they can hedge or speculate with more confidence and precision.
Risk Disclosure
The StoneX Group Inc. group of companies provides financial services worldwide through its subsidiaries, including physical commodities, securities, exchange-traded and over-the-counter derivatives, risk management, global payments and foreign exchange products in accordance with applicable law in the jurisdictions where services are provided. References to over-the-counter ("OTC") products or swaps are made on behalf of StoneX Markets LLC ("SXM"), a member of the National Futures Association ("NFA") and provisionally registered with the U.S. Commodity Futures Trading Commission ("CFTC") as a swap dealer. SXM's products are designed only for individuals or firms who qualify under CFTC rules as an 'Eligible Contract Participant' ("ECP") and who have been accepted as customers of SXM. StoneX Financial Inc. ("SFI") is a member of FINRA/NFA/SIPC and registered with the MSRB. SFI does business as Daniels Trading/Top Third/Futures Online. SFI is registered with the U.S. Securities and Exchange Commission ("SEC") as a Broker-Dealer and with the CFTC as a Futures Commission Merchant and Commodity Trading Adviser. References to securities trading are made on behalf of the BD Division of SFI and are intended only for an audience of institutional clients as defined by FINRA Rule 4512(c). References to exchange-traded futures and options are made on behalf of the FCM Division of SFI.
Trading swaps and over-the-counter derivatives, exchange-traded derivatives and options and securities involves substantial risk and is not suitable for all investors. The information herein is not a recommendation to trade nor investment research or an offer to buy or sell any derivative or security. It does not take into account your particular investment objectives, financial situation or needs and does not create a binding obligation on any of the StoneX group of companies to enter into any transaction with you. You are advised to perform an independent investigation of any transaction to determine whether any transaction is suitable for you. No part of this material may be copied, photocopied or duplicated in any form by any means or redistributed without the prior written consent of StoneX Group Inc.