Hello Hog Traders
Hog futures bounced back on Friday morning after a 5 dollar selloff from Monday's open, but failed to close very well.  This was the theme across the board after Chinese ag ministers made a comment about Chinese hog production returning to normal in 2020.  That spooked the summer contracts which are nearly 30 dollars over the cash index right now on the expectation China will be heavily involved in US hog markets this next year. Cash markets actually rallied on the week, gaining nearly 4.00 from a week ago right now. Export numbers were massive, which is going to keep a bid under deferred hog futures to a certain degree, but the rhetoric wont help rally summer prices already trading at highs from last summer when cash was 25 higher. Unlike the grains, this is a bullish demand market and you have to be careful wanting to go to hog wild (I know…) on the short side, which we are willing to do given the massive slaughter numbers of the last few weeks. The hog volumes on the cash side will be huge this year with exports and production running like they are, we just need to be careful to not get caught exposed to the ASF story here while not missing out on what could be a bullish spring rally.
CURRENT POSITIONS
None
We are currently flat the board, we will be looking to sell rallies this week in the Z if it would get back to 70.  We were tempted to jump back in early on Friday on that move to the low 69's but we decided to stay out of the fray. Be ready to get back in on a surge in Z. Cold storage and livestock slaughter reports are due this week, but we dont expect them to be a trading driver.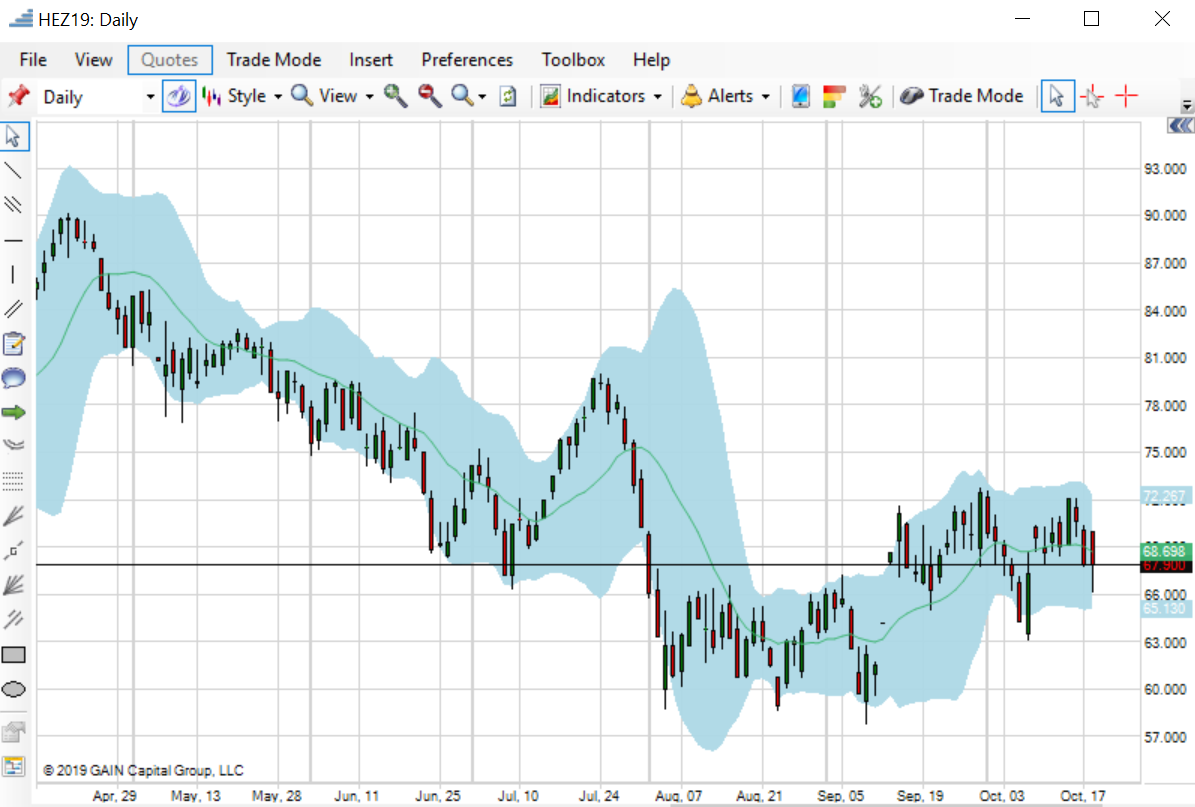 Looking into next week:
Last week we mentioned that we had thought the belly market was starting to put in a top. This week that has proven to be the case as evidenced by the data above. Unfortunately we don't believe Friday's close will be the bottom. The belly market may hold in a $5 to $10 range for the next week to ten days, but we believe the bellies will ultimately take another 'leg' down and move towards the $90 area.  Our reasons behind this is because, the 2.7 million slaughters will continue, along with the fact that retailers as well as processors are more focused on hams than bacon features this time of year.
Speaking of hams, the ham market has been a very difficult market to get a solid sense of direction out of. One day we get indications that the hams are in short supply and the market is going higher with the increase in demand.  The next day a major packer is delisted by Mexico and the prices go down.  This was what happened last week and is making prognostications very difficult to make.  For now we will call the hams steady to firm, because of the seasonal demand as well as a brisk export business.
Loins and butt prices were a disappointment this past week. Talking to our sources there is the interest out front from retail buyers, but that doesn't appear to be coming until the last week of October or the first week of November. This may provide retailers with lower prices for their post-Thanksgiving Day features. We will keep you posted on this as we get closer to November. Call the loins and butts steady to weak going into next week.
The USDA Interior Iowa Southern Minnesota live weight came in at 283.6 up 1.1 lbs. from a week ago, and are now .8 lbs. over year ago.  Once again this is seasonal and a good indication that the producers are keeping their marketing's current.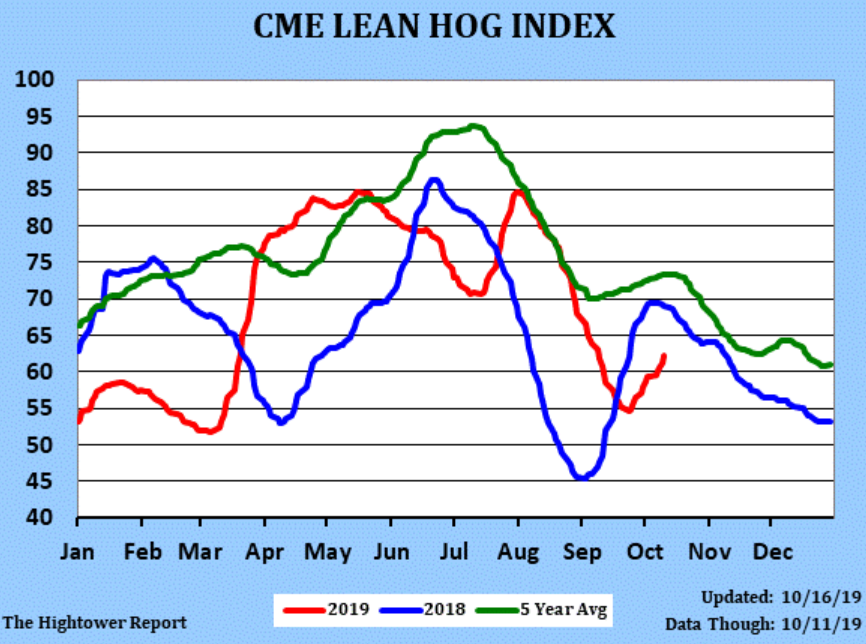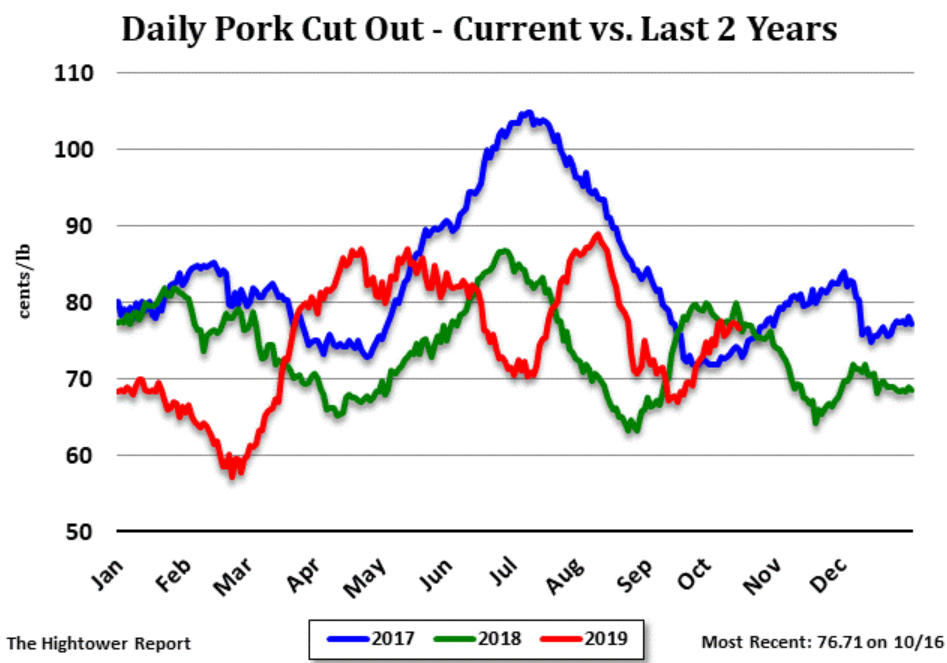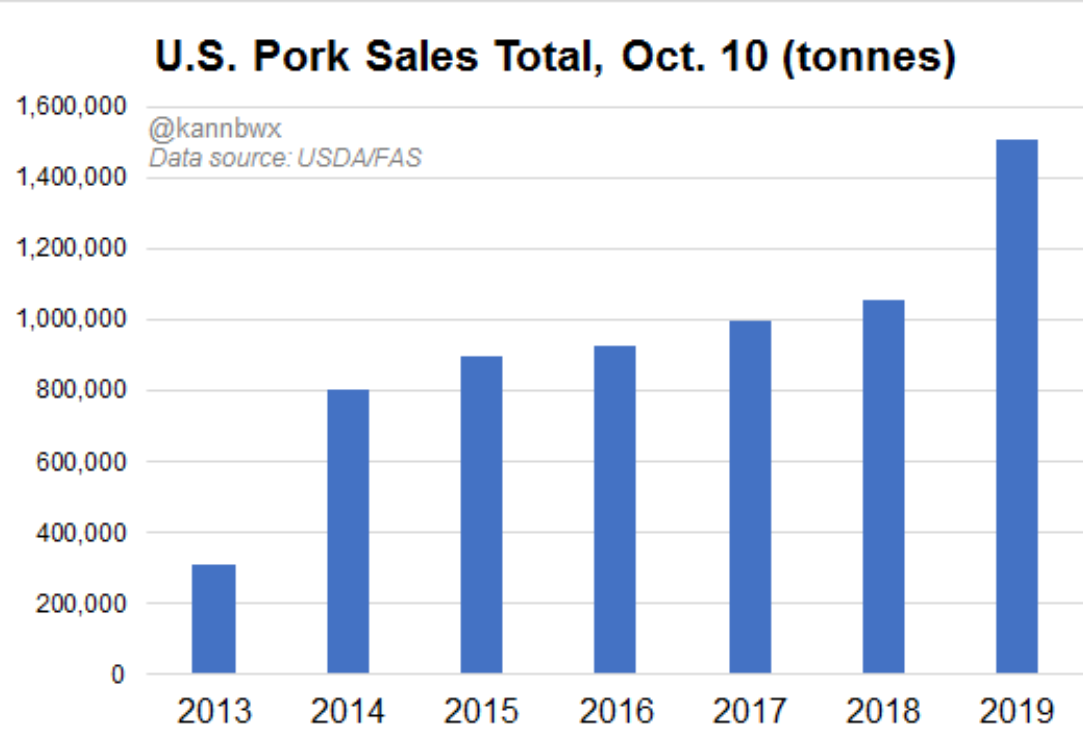 How we trade this:
As we mentioned last week, the Chinese are buying US agricultural products and especially pork. Which is their number one preferred source for protein. This has helped get the surplus pork that was created due to the expansion of the US hog herd out of the country.
We still like the LHG/LHJ spread (see below) and look to put these spreads on, on corrections. We will probably recommend a standing order around 7 under. Standby for that.
We are a little cautious on getting long or bear spreading the deferred hogs (this would have us buy the June and back against April), for 2 reasons.

They are already at an unusually large premium.
If by chance, (heaven forbid), we get ASF here, you will not be able to get out of those deferred hogs. You could be trapped, until the market has washed all of the longs as well as their money, out. This scenario is not being talked about enough.  We heard rumors a couple weeks back that ASF has shown up in South America, but no confirmation has been made.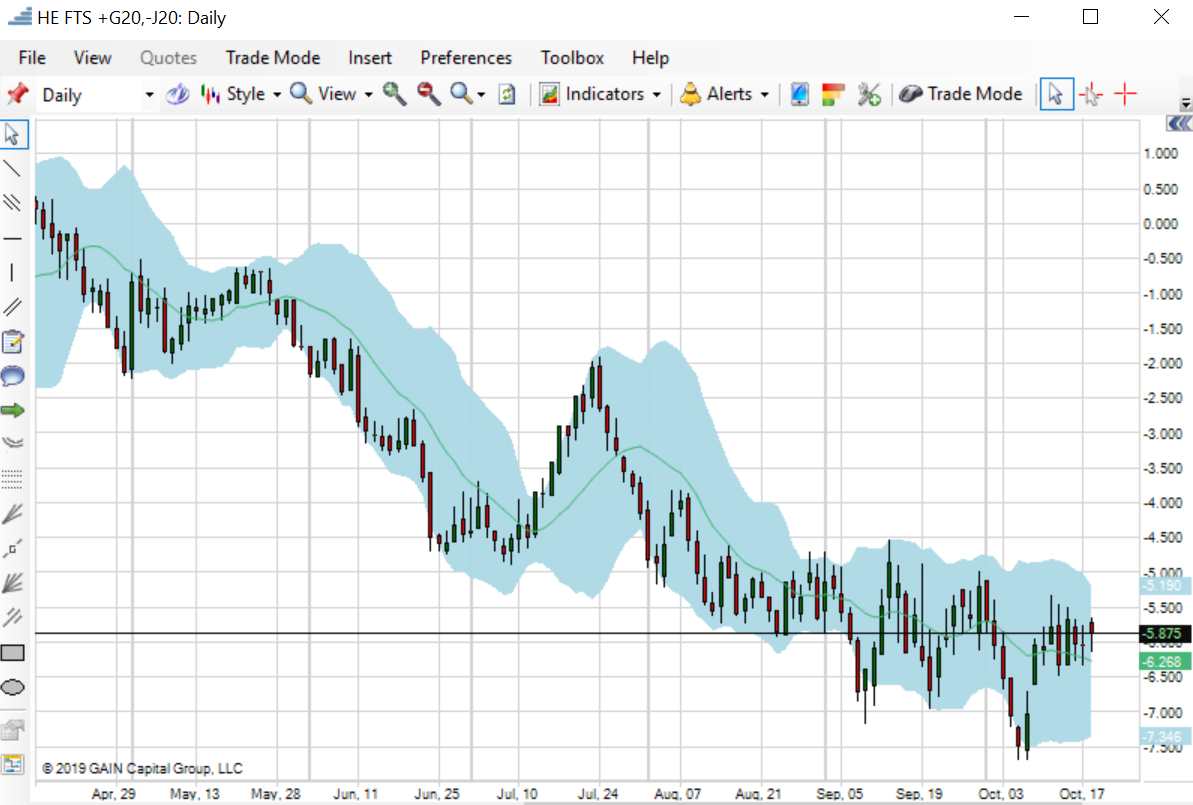 *USDA   National Hog and Pork summary
** Expressed in thousand head
Subscribe to The Swine Times
The Swine Times - The Swine Times newsletter is designed to help participants in the pork complex understand and trade the futures markets. Our intention is to fundamentally inform and trade based off the information we have.
Risk Disclosure
The StoneX Group Inc. group of companies provides financial services worldwide through its subsidiaries, including physical commodities, securities, exchange-traded and over-the-counter derivatives, risk management, global payments and foreign exchange products in accordance with applicable law in the jurisdictions where services are provided. References to over-the-counter ("OTC") products or swaps are made on behalf of StoneX Markets LLC ("SXM"), a member of the National Futures Association ("NFA") and provisionally registered with the U.S. Commodity Futures Trading Commission ("CFTC") as a swap dealer. SXM's products are designed only for individuals or firms who qualify under CFTC rules as an 'Eligible Contract Participant' ("ECP") and who have been accepted as customers of SXM. StoneX Financial Inc. ("SFI") is a member of FINRA/NFA/SIPC and registered with the MSRB. SFI does business as Daniels Trading/Top Third/Futures Online. SFI is registered with the U.S. Securities and Exchange Commission ("SEC") as a Broker-Dealer and with the CFTC as a Futures Commission Merchant and Commodity Trading Adviser. References to securities trading are made on behalf of the BD Division of SFI and are intended only for an audience of institutional clients as defined by FINRA Rule 4512(c). References to exchange-traded futures and options are made on behalf of the FCM Division of SFI.
Trading swaps and over-the-counter derivatives, exchange-traded derivatives and options and securities involves substantial risk and is not suitable for all investors. The information herein is not a recommendation to trade nor investment research or an offer to buy or sell any derivative or security. It does not take into account your particular investment objectives, financial situation or needs and does not create a binding obligation on any of the StoneX group of companies to enter into any transaction with you. You are advised to perform an independent investigation of any transaction to determine whether any transaction is suitable for you. No part of this material may be copied, photocopied or duplicated in any form by any means or redistributed without the prior written consent of StoneX Group Inc.