Good morning friends
This is an example of the morning newsletter I write daily for my clients.  If you would like to follow along, you can do so by clicking here.
China remains in the news as the game of bullish/bearish ping pong is now back on the bear side following the House vote of support for Hong Kong yesterday.  China threatened to retaliate against the US if it passes the House's Hong Kong Bill. The House of Representatives passed a Bill late Tuesday supporting the Hong Kong protesters. This is all symbolic, but Chinese buying is not. Corn, cotton, and bean bulls need news to keep the recent rally going and confirm Trump's late Sunday tweet that China is securing a significant amount of US ag commodities. While we wait, the market faces harvest pressure.
US weather patterns show variable temperatures and below normal rainfall for the Plains and the KC wheat region for the next week. This will allow the harvest to kick into a higher gear.  The Brazilian weather forecast is wetter with the rainy season arriving some 10 days late across the north. Rains will fall across S Argentina, which is ideal with the north drying out. The South American forecast is improved, all of this will limit CBOT gains without better rains
CORN
US corn conditions fell 1% to 55%, a number we have seen many times.  US crop condition ratings right now really dont matter much in my opinion. The real concern is harvest pace, we have harvested 22% of the corn crop as of last week vs 38% last year.  We are only fractionally ahead of the disaster that was the 2009 harvest. Only 73% of the US corn crop is considered mature, with only 42% mature in ND, 53% in SD and 66% in Minnesota.  This is a bullish factor that combined with strong mid-western basis should keep a floor under prices for another month given the distance to Dec FND.  Thats the bullish case for corn.
The bearish case continues to be export shipments. Weekly US export shipments totaled just 19 Mil Bu or 500 KMT. An average of 37 Mil Bu/week is needed to stay on pace with USDA estimates near 1.9 billion. Argentina corn is nearly 55 cents cheaper than the US through Dec, with Black Sea corn offered at a 25 cent discount through March delivery.
Farmers are going to hesitate to sell until they must in this market.  "Must" is defined by the need of money or the need to put the corn somewhere.  MFP payments have helped keep the farmer somewhat flush in the short run, while free DP and storage through the end of Nov is the norm in the midwest. I look for corn to continue to chop, buy breaks in the low 380's, sell them on runs to 4.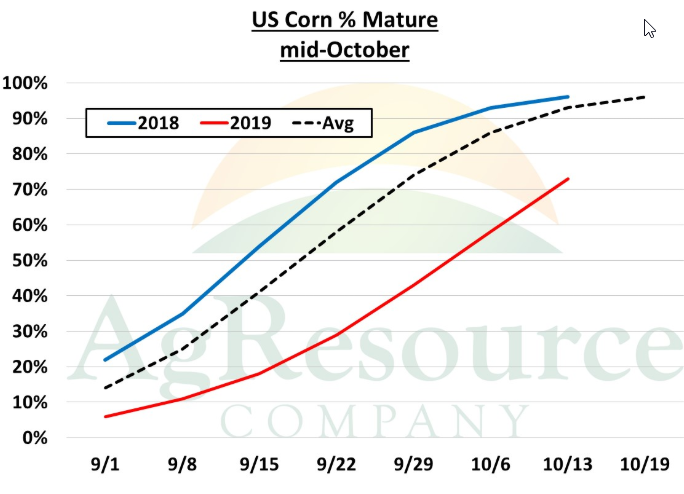 s to 4.
SOYBEANS
The story is similar in soybeans from the supply side.  Soybean harvest is 26% complete vs 50% on average. The conditions didnt change, which is a head scratcher considering the weather in the Dakotas and Minnesota.  Yesterday's NOPA crush number was not bullish, showing a slowdown in demand as prices were beginning to rally. This is concerning for soybean bulls. China news is also bearish, as the US House of Reps taking a stance behind Hong Kong protesters is likely to irritate Chinese leadership.  We know how they shut down the buying when they feel threatened. The soybean export pace keeping with USDA expectations and US harvest pace should keep bulls in the market but delivery pressure will be upon us as FND is two weeks away. January beans at 950 should probably be hedged.


COTTON
Cotton prices show good action following the quick move higher then lower on Sunday. Dec futures trade unchanged in the overnight at 63.50, smack dab between the high on Sunday night at 65.80 and yesterday's low at 61.50. Cotton harvest is progressing on pace, the questions now for the market is what is the quality and size of this crop and what does CHina intend to buy going forward.  China is likely to keep purchases spread out for now, while waiting to see what the US does with current tariff levels. The daily charts have prices in a steady up trend that has held going back to late August.  The weekly charts show to me a top in place at Sunday's high.  I recommend selling March futures in the 6550 area. A retest of the lows is likely if macro conditions would deteriorate. 

WHEAT
GASC tenders this morning came in above the offers from two weeks ago by above 5-10 dollars, Russian and EU offers dominate.  Spring wheat harvest is stuck in the low 90's for the Dakotas and Montana.  One has to assume what the market has is all it will get in the near term. The guess on wheat in the field is around 35 million bushels, carryout is near 300 million. Thankfully for bears, supplies are plenty large. Wheat planting in the South continues, I am hearing acreage out east will be much larger than a year ago.  Double cropping near 10.00 board soybeans behind 5.00 Chicago wheat will work for most.  I look for wheat to follow corn, while also limiting upside. Traders are highly encouraged to establish short positions soon to sell and hold into December delivery which will likely take place near 400, in my opinion.


Subscribe to This Week In Grain
This Week In Grain - This Week in Grain (T.W.I.G.) is a weekly grain and oilseed commentary newsletter designed to keep grain market participants on the cutting edge, so they can hedge or speculate with more confidence and precision.
Risk Disclosure
This material is conveyed as a solicitation for entering into a derivatives transaction.
This material has been prepared by a Daniels Trading broker who provides research market commentary and trade recommendations as part of his or her solicitation for accounts and solicitation for trades; however, Daniels Trading does not maintain a research department as defined in CFTC Rule 1.71. Daniels Trading, its principals, brokers and employees may trade in derivatives for their own accounts or for the accounts of others. Due to various factors (such as risk tolerance, margin requirements, trading objectives, short term vs. long term strategies, technical vs. fundamental market analysis, and other factors) such trading may result in the initiation or liquidation of positions that are different from or contrary to the opinions and recommendations contained therein.
Past performance is not necessarily indicative of future performance. The risk of loss in trading futures contracts or commodity options can be substantial, and therefore investors should understand the risks involved in taking leveraged positions and must assume responsibility for the risks associated with such investments and for their results.
Trade recommendations and profit/loss calculations may not include commissions and fees. Please consult your broker for details based on your trading arrangement and commission setup.
You should carefully consider whether such trading is suitable for you in light of your circumstances and financial resources. You should read the "risk disclosure" webpage accessed at www.DanielsTrading.com at the bottom of the homepage. Daniels Trading is not affiliated with nor does it endorse any third-party trading system, newsletter or other similar service. Daniels Trading does not guarantee or verify any performance claims made by such systems or service.