Hello Hog Traders
President Trump with Vice Premier He in the Oval office of the White House announced a what I would call a pause to the trade war. China came to the US with a proposal that it would secure additional US ag goods and partially open some of its financial markets for a de-escalation of the US/China trade tensions.  This is not the final deal, this is just the initial agreements necessary to calm waters enough to get everyone pushing in the same direction for a deal.  The headlines are fantastic.  40-50 billion of ag purchases, agreements on tech transfers and a currency pact.  However, the Chinese government via their PR newspapers or social media within China made no comment on the amount of ag goods it would secure or even that a Phase 1 deal was reached.
China's state media called the talks constructive but stated that Beijing has defended its core interests & would never trade its principles. Weeks will be needed to negotiate the details of the Phase 1 Truce including having the Chinese sign off on enforcement.Also, it sounds like the $40-50 Bil in annual ag demand will not need to be reached until 2022. Until the US/China drop their retaliatory ag tariffs, Friday's headlines are nothing more than a PR grab.  This is good news for hog markets, China needs supply and we have supply.  But I dont know if China is going to go hog wild (sorry for the pun) in other markets where it offers them no edge to do so. Remember, the tariffs that went up a year ago will remain in place. Only the new tariffs announced last month will be postponed.
ON CHINA: Now that more and more of U.S pork is actually being purchased by China, need to reassess our trading strategy.   The deferred hog contracts, specifically the summer contracts have a massive amount of premium built in.  As more and more facts come out on how much the Chinese are purchasing, these deferred hog futures prices will begin to look out of line.  For this reason, we believe we are fast approaching a time where the bull spreads will work.  Our strategy behind this is based on the fact that packers have a margin. Not as much margin at the end of this week as they did at the beginning of this week, but they are still making money. They will want to keep their slaughters schedules full in order to maximize profits and to fill export orders. If they have to pay up for hogs to do this, they will, until cutouts turn negative, or if they cannot clear all of the product.   It is important to point out this fact, China is only buying the surplus we have, that has been caused by the expansion of the U.S. hog herd.  Nothing more. If packers' cutouts get negative and they can't clear the product at a level that will keep their cutouts in the black, they will pull the kills back China or no China.  Another fact to keep in mind is that the USDA is still buying surplus pork to help producers maintain live hog prices.  Without these 2 factors, China and U.S. government purchases, the hog market would most likely be in serious trouble.
CURRENT POSITIONS:
Flat, we will be looking to bull spread using the April as the short leg.
Looking into next week:
Details on this China "deal". Keep in mind only one side is calling it a deal. The Chinese have not published with the same enthusiasm as the US government.
We hate to be the bearer of a bearish opinion given the headlines, but we believe the belly market is getting close to a top. Now, given the news we may not see a sharp drop but we think given the slaughters and available supply bellies will have a tough time leading, which is what has happened as cash rallied recently.
Hams took a dip early in the week because there has been at least on major packer get delisted by Mexico. Late week we had a run up in the ham price and closed out the week strong at $58.88.  We will call the hams steady to weak going into next week and they may lose  $2 to $3.
Loins and butt prices were a disappointment this past week, but talking to our sources there is decent interest out front from retail buyers. Call the loins plus $3-$5 and butts steady.
The USDA Interior Iowa Southern Minnesota live weight came in at 282.5 up 1.4 lbs. from a week ago, and are now 2.5 lbs. over year ago. Once again this is seasonal.  The encouraging thing about this, is the fact that producers are doing a good job of keeping their market hogs current.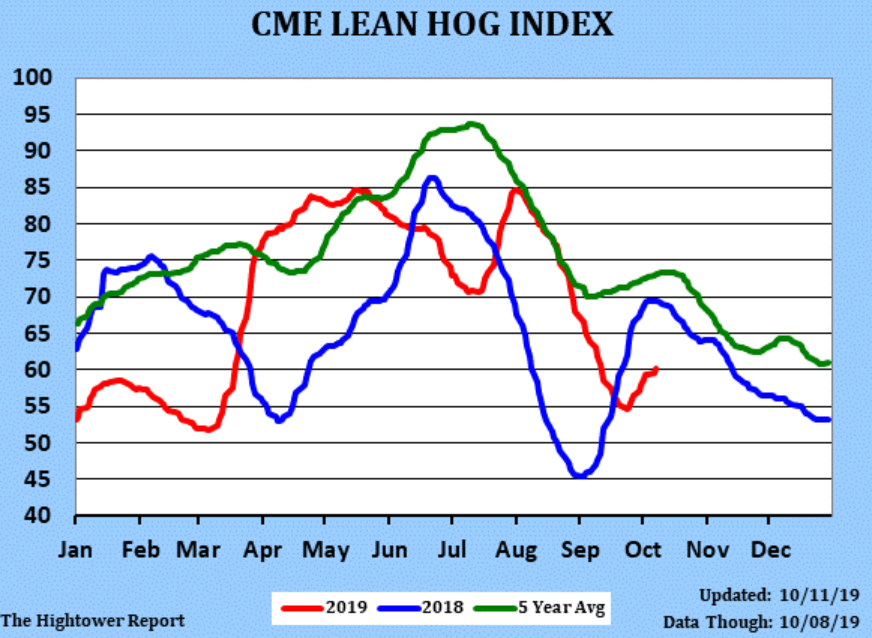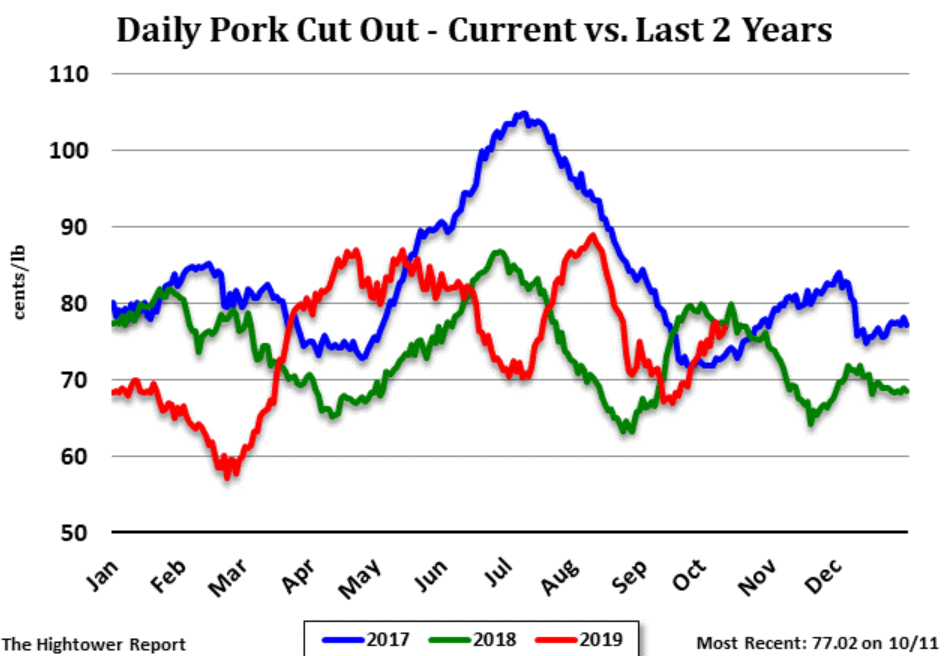 How we trade this:
It is clear now to anyone paying attention, that the Chinese are here and are buying pork. It is not news. Keep in mind they have already bought a massive sum already, and we will give the Chinese credit in that they know how to front run themselves. We still have tariffs on US imports though, until those go away we need to be careful pushing the long envelope too much.
It is our opinion that this will change the dynamic of spread strategies.  Our reasoning behind this is three old.

Bear spreads worked, because of the Chinese unknown.
When were they going to have to buy U.S. pork?
And how much are they going to buy?

With that said we like the LHZ/LHJ spreads and the LHG/LHJ spread. We look to do those on corrections.
The one bear spread that is usually a good seasonal trade this time of year is the LHM/LHJ spread. As we mentioned last week this spread has gone to $20.00 in recent years.
Markets are still extremely volatile so caution should be used when putting on.
DEC VS APRIL HOGS- weekly
FEB VS APRIL HOGS- weekly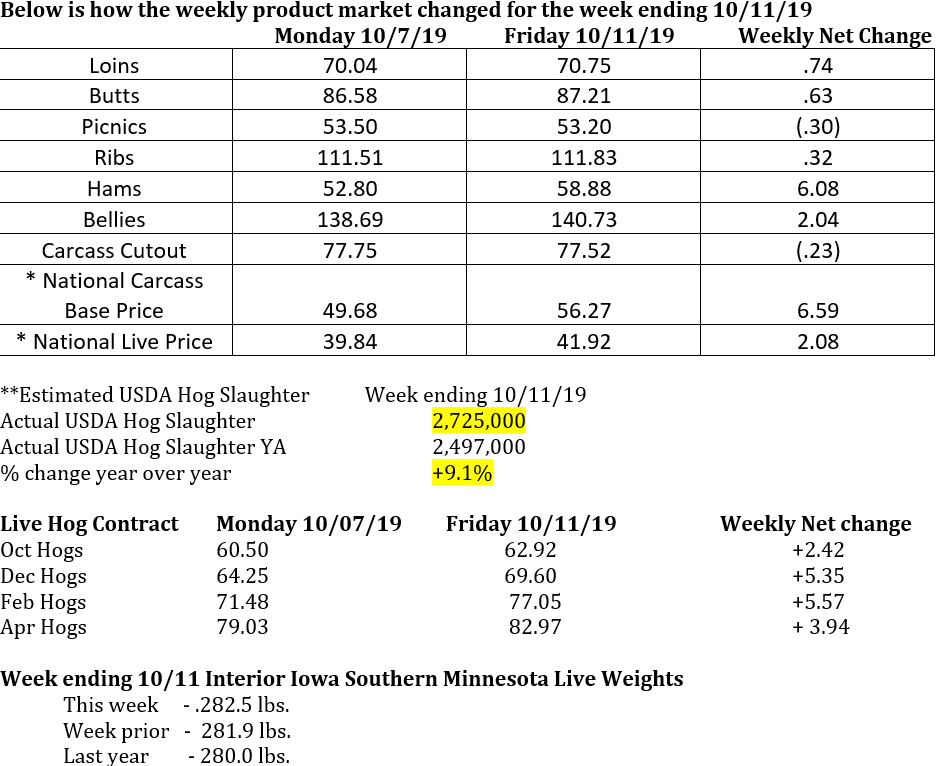 *USDA   National Hog and Pork summary
** Expressed in thousand head
Subscribe to The Swine Times
The Swine Times - The Swine Times newsletter is designed to help participants in the pork complex understand and trade the futures markets. Our intention is to fundamentally inform and trade based off the information we have.
Risk Disclosure
The StoneX Group Inc. group of companies provides financial services worldwide through its subsidiaries, including physical commodities, securities, exchange-traded and over-the-counter derivatives, risk management, global payments and foreign exchange products in accordance with applicable law in the jurisdictions where services are provided. References to over-the-counter ("OTC") products or swaps are made on behalf of StoneX Markets LLC ("SXM"), a member of the National Futures Association ("NFA") and provisionally registered with the U.S. Commodity Futures Trading Commission ("CFTC") as a swap dealer. SXM's products are designed only for individuals or firms who qualify under CFTC rules as an 'Eligible Contract Participant' ("ECP") and who have been accepted as customers of SXM. StoneX Financial Inc. ("SFI") is a member of FINRA/NFA/SIPC and registered with the MSRB. SFI does business as Daniels Trading/Top Third/Futures Online. SFI is registered with the U.S. Securities and Exchange Commission ("SEC") as a Broker-Dealer and with the CFTC as a Futures Commission Merchant and Commodity Trading Adviser. References to securities trading are made on behalf of the BD Division of SFI and are intended only for an audience of institutional clients as defined by FINRA Rule 4512(c). References to exchange-traded futures and options are made on behalf of the FCM Division of SFI.
Trading swaps and over-the-counter derivatives, exchange-traded derivatives and options and securities involves substantial risk and is not suitable for all investors. The information herein is not a recommendation to trade nor investment research or an offer to buy or sell any derivative or security. It does not take into account your particular investment objectives, financial situation or needs and does not create a binding obligation on any of the StoneX group of companies to enter into any transaction with you. You are advised to perform an independent investigation of any transaction to determine whether any transaction is suitable for you. No part of this material may be copied, photocopied or duplicated in any form by any means or redistributed without the prior written consent of StoneX Group Inc.