Good morning friends
This is an example of the morning newsletter I write daily for my clients.  If you would like to follow along, you can do so by clicking here.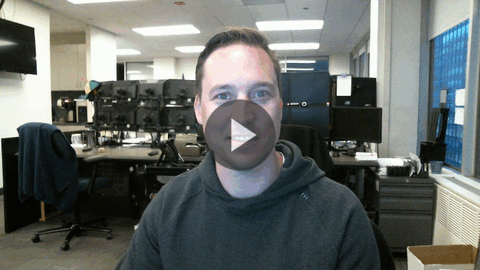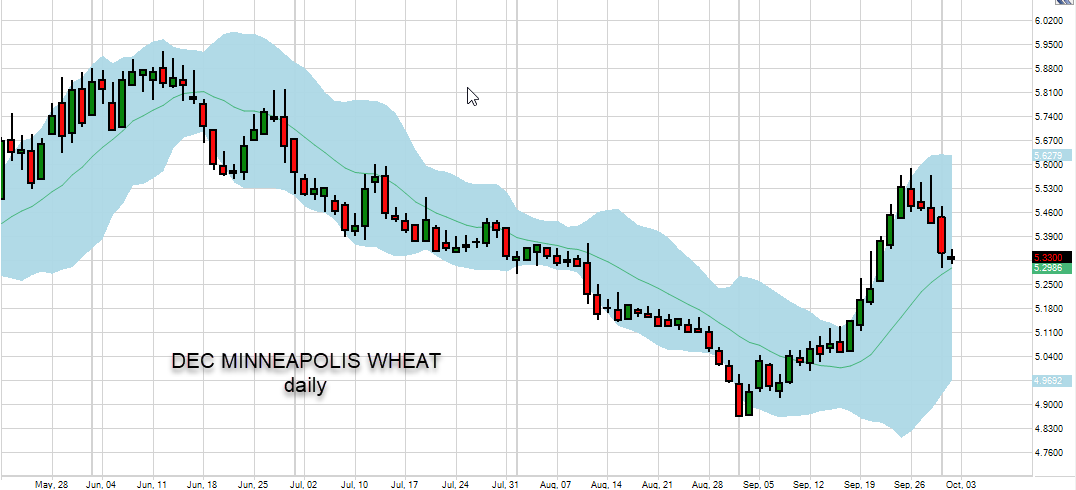 WEATHER MODELS IMPROVE. HOT AND DRY CONDITIONS WILL BE OBSERVED THROUGH OCT 15. NO FROST RISK EXISTS RIGHT NOW
Rain will continue to delay harvest across much of the Midwest.  We are in the midst of a weather pattern change here in the Western Great Lakes region. It was 80 degrees when I went to bed, rain is expected with temps in the upper 50's by Friday.  Then things will warm up again.  The models going forward are very friendly to this crop. Below average chances of rainfall and above average temps are just what the agronomists are calling for.  Down in Texas, the story is not so rosy.  The last thing panhandle cotton needs right now is moisture like we saw yesterday. Because cotton demand is such a dumpster fire and the acreage was so high, folks are sleeping on this cotton crop being nearly a disaster in some areas.  I think we would be in the mid-50's without it. If a trade deal would be signed, watch out.  Lottery ticket buyers may want to look at some cheap OTM March or May calls just in case Trump can find a buyer for a couple million bales of cotton.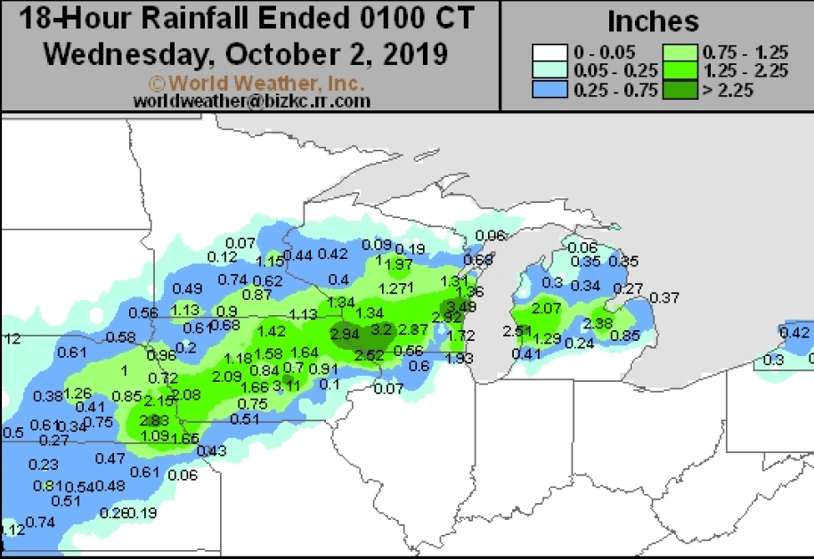 YIELD GUESSES REMAIN NEAR USDA FOR MOST HUMAN ANALYSTS, SATELLITES ARE MUCH LOWER
Yield guess for this crop year continue to roll in, FC stone raised corn yields yesterday to 169.3 while dropping bean yields to 48.1. Indigo ag, one of the few private satellite forecasters who publish publicly remains in the low 160's and 47's.   Folks I know who have been doing this a while and have insight into the USDA think no yield cut will come in the next report.  I think you have to do some hedging here. Look at spring wheat, look at Crude!  These markets give you chances like this only so often.  If you are looking to deliver corn before the end of the year, take advantage of the carry and use Jan options.  The USDA gives and can take away in a NY minute.  Doing nothing is a decision. Keep in mind these are Jan options, trading off March corn and Jan bean futures.  These are not your only choices. Between the US/China meeting and the WASDE, there is a lot that can change.
Subscribe to This Week In Grain
This Week In Grain - This Week in Grain (T.W.I.G.) is a weekly grain and oilseed commentary newsletter designed to keep grain market participants on the cutting edge, so they can hedge or speculate with more confidence and precision.
Risk Disclosure
THIS MATERIAL IS CONVEYED AS A SOLICITATION FOR ENTERING INTO A DERIVATIVES TRANSACTION.
THIS MATERIAL HAS BEEN PREPARED BY A DANIELS TRADING BROKER WHO PROVIDES RESEARCH MARKET COMMENTARY AND TRADE RECOMMENDATIONS AS PART OF HIS OR HER SOLICITATION FOR ACCOUNTS AND SOLICITATION FOR TRADES; HOWEVER, DANIELS TRADING DOES NOT MAINTAIN A RESEARCH DEPARTMENT AS DEFINED IN CFTC RULE 1.71. DANIELS TRADING, ITS PRINCIPALS, BROKERS AND EMPLOYEES MAY TRADE IN DERIVATIVES FOR THEIR OWN ACCOUNTS OR FOR THE ACCOUNTS OF OTHERS. DUE TO VARIOUS FACTORS (SUCH AS RISK TOLERANCE, MARGIN REQUIREMENTS, TRADING OBJECTIVES, SHORT TERM VS. LONG TERM STRATEGIES, TECHNICAL VS. FUNDAMENTAL MARKET ANALYSIS, AND OTHER FACTORS) SUCH TRADING MAY RESULT IN THE INITIATION OR LIQUIDATION OF POSITIONS THAT ARE DIFFERENT FROM OR CONTRARY TO THE OPINIONS AND RECOMMENDATIONS CONTAINED THEREIN.
PAST PERFORMANCE IS NOT NECESSARILY INDICATIVE OF FUTURE PERFORMANCE. THE RISK OF LOSS IN TRADING FUTURES CONTRACTS OR COMMODITY OPTIONS CAN BE SUBSTANTIAL, AND THEREFORE INVESTORS SHOULD UNDERSTAND THE RISKS INVOLVED IN TAKING LEVERAGED POSITIONS AND MUST ASSUME RESPONSIBILITY FOR THE RISKS ASSOCIATED WITH SUCH INVESTMENTS AND FOR THEIR RESULTS.
TRADE RECOMMENDATIONS AND PROFIT/LOSS CALCULATIONS MAY NOT INCLUDE COMMISSIONS AND FEES. PLEASE CONSULT YOUR BROKER FOR DETAILS BASED ON YOUR TRADING ARRANGEMENT AND COMMISSION SETUP.
YOU SHOULD CAREFULLY CONSIDER WHETHER SUCH TRADING IS SUITABLE FOR YOU IN LIGHT OF YOUR CIRCUMSTANCES AND FINANCIAL RESOURCES. YOU SHOULD READ THE "RISK DISCLOSURE" WEBPAGE ACCESSED AT WWW.DANIELSTRADING.COM AT THE BOTTOM OF THE HOMEPAGE. DANIELS TRADING IS NOT AFFILIATED WITH NOR DOES IT ENDORSE ANY TRADING SYSTEM, NEWSLETTER OR OTHER SIMILAR SERVICE. DANIELS TRADING DOES NOT GUARANTEE OR VERIFY ANY PERFORMANCE CLAIMS MADE BY SUCH SYSTEMS OR SERVICE.
GLOBAL ASSET ADVISORS, LLC ("GAA") (DBA: DANIELS TRADING, TOP THIRD AG MARKETING AND FUTURES ONLINE) IS AN INTRODUCING BROKER TO GAIN CAPITAL GROUP, LLC (GCG) A FUTURES COMMISSION MERCHANT AND RETAIL FOREIGN EXCHANGE DEALER. GAA AND GCG ARE WHOLLY OWNED SUBSIDIARIES OF STONEX GROUP INC. (NASDAQ:SNEX) THE ULTIMATE PARENT COMPANY.