Hello hog traders
Futures markets surged last week as Dec futures broke and closed above 70 cents on Asian demand optimism, the continued breakout of ASF in Korea and bullish livestock winds.  Markets closed near weekly highs before the USDA released the hogs and pigs report showing a record large (and growing) US hog herd. Trading this market profitably has required luck and rapid execution.  Both bears and bulls have had their chances in recent weeks, we expect that will remain the theme going forward.  Cash lows are probably in from the post summer break, but the massive slaughters would argue against really sharp product rallies.   Asia's ASF problem is not going away anytime soon, and we expect the CME will maintain premiums well into 2020 on hopes of Chinese import demand and possible increases in Japanese purchases.  Be careful being long here, one bad trade rumor will send Dec, Feb and April hogs in a tail spin.  We expect specs long the summer contracts will stay in while liquidation in those months take place.
CURRENT POSITIONS
SHORT 2 UNITS OF DEC HOGS
LONG 2 UNITS OF FEB HOGS
WEEKLY Z-G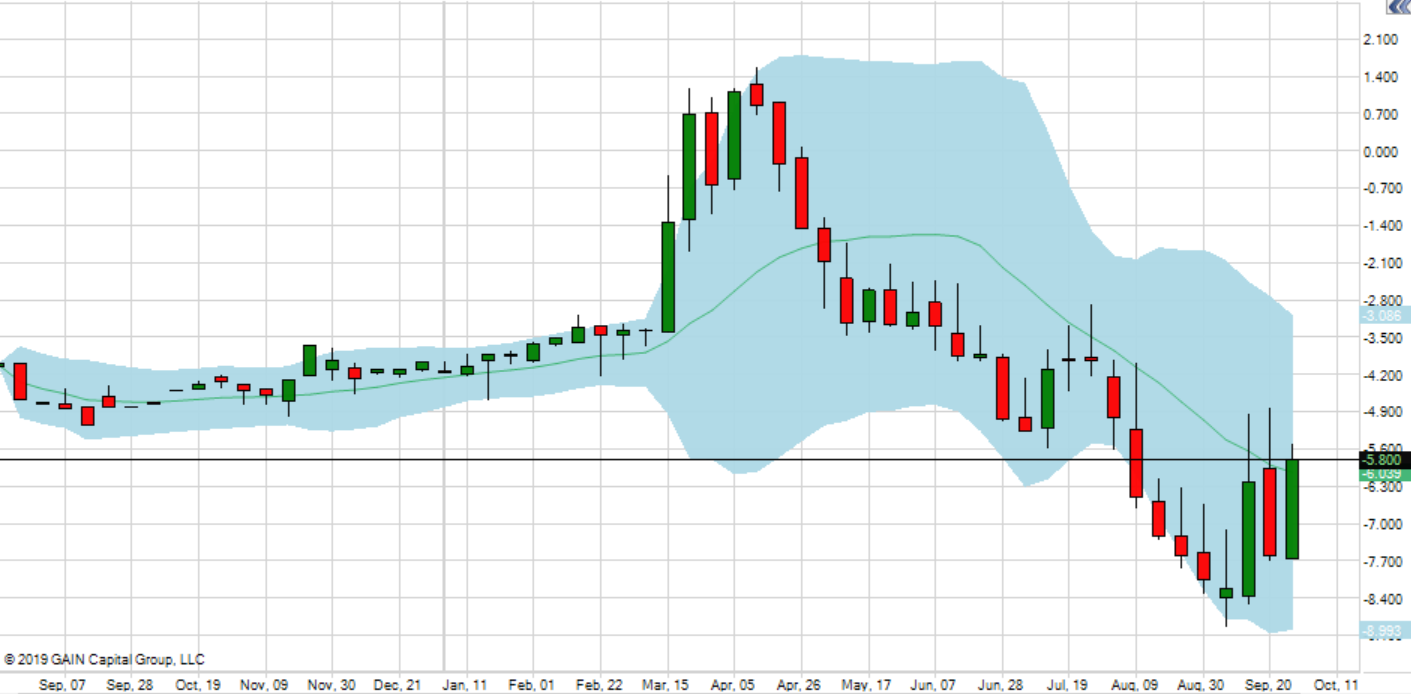 Looking into next week:
We said last week we were cautiously optimistic the belly market. You can see by the chart above that the bellies appreciated in price considerably. We don't think they are done yet.  For the last several weeks, the bellies hovered around $90 to $97.  At these levels, processors were, and still are, booking business with retail outlets as well as food service accounts. This, we believe, could be the start of a pretty good fourth quarter for belly prices.
While the hams may not have appreciated as much in price as bellies in the fourth quarter, the ham prices should go higher as processors and retailers book hams for the holidays.
Loins and butts are still in a trading range, but could take off as we approach October as it is pork month. We look for loins and butts to go up $8-$10.
Let us re-emphasize that while the news is better than we had anticipated a week ago, we need to keep in mind the reasons for this. Part of it is seasonal, and this is a good thing. However, what is unsettling in our opinion is how much of the price appreciation is the result of the export of hog carcasses to China, and how much of it is the USDA mitigation program, in which the government is buying pork to help support producer live hog prices. We believe, and have for some time, that a deal will ultimately be reached with China. The administration has just completed a trade deal with Japan this past week, and the Chinese most likely have taken notice.  If it weren't for the politics distracting the administrations in both countries, a deal could be reached sooner than later. However, until an agreement is reached, volatility will most likely remain in the market.
We won't repeat the ractopamine factor that inhibits how much the U.S. can ship to China, but remain aware of this fact and watch for any news concerning the 'racto' free requirement imposed by China.
The USDA Interior Iowa Southern Minnesota live weight came in at 280.5 down .8 lbs from a week ago, but still 2.0 lbs. over a year ago. This is seasonal.
Finally, we would like to pass along a word of caution to our readers. While it hasn't happened, or even been mentioned much, Swine Times readers need to consider what might occur if ASF does find its way into our country.  The impact would be devastating. While we do have the means to isolate and contain it fairly quickly, the impact of it on our pork customers across the globe would be serious.  The economic losses to the farm economy would be disastrous.   We just want to get this in front of our readers, so that they can assess the risk and factor it in to their trading decisions.  Caution is the order of the day.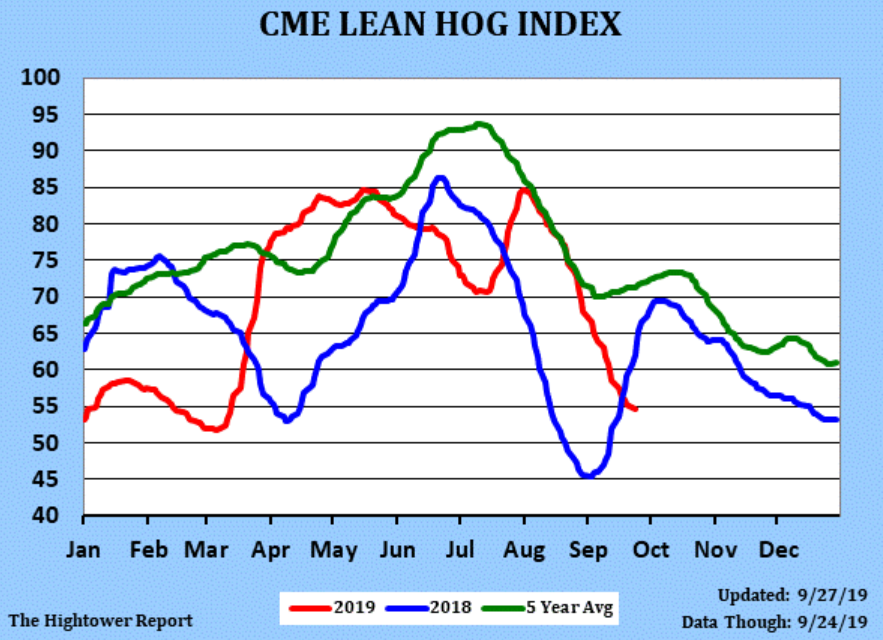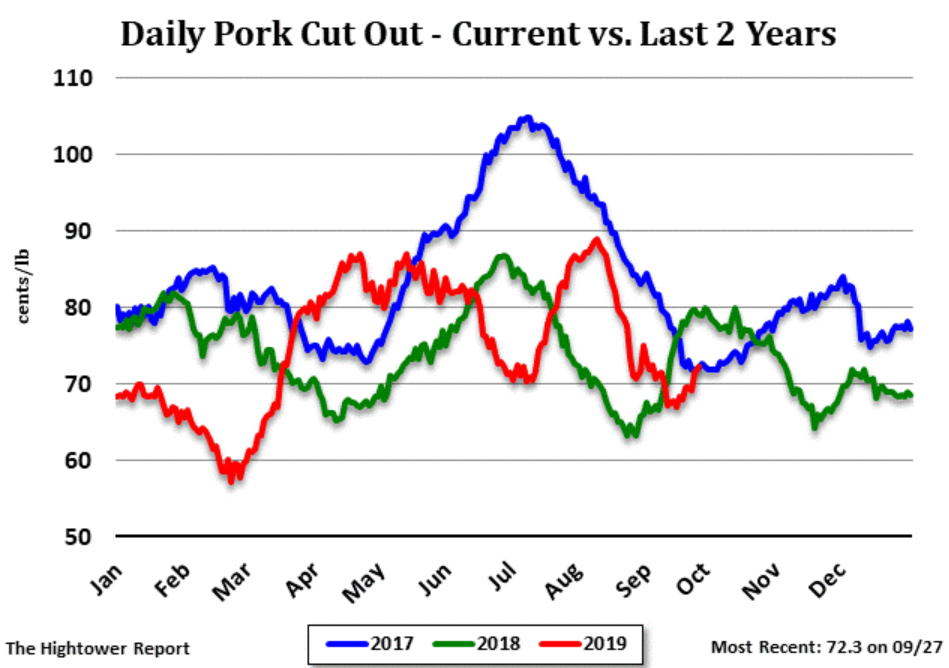 How we trade this:
Lightly…everyone with whom we speak is very uncertain on this market. The ASF story is hard enough but mix in the changing terms of trade between both Japan, Mexico and China in recent months makes harder. We haven't even mentioned the massive US supply that counters all of the global bullishness.
The September USDA Quarterly Hog and Pig report breakdown is as follows: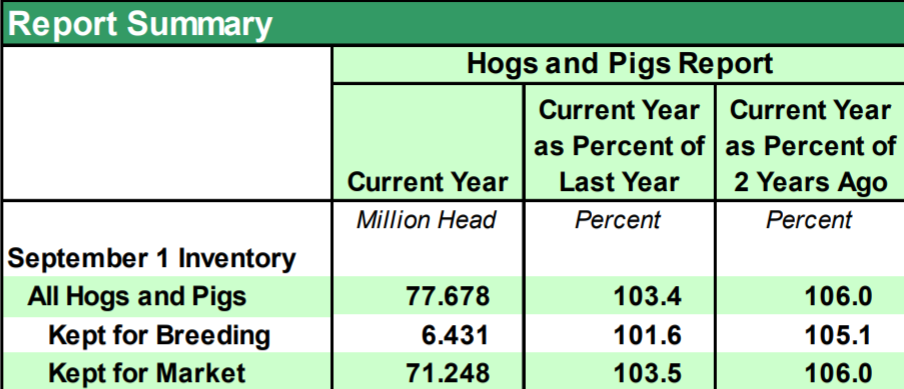 Approximate Slaughter Dates
180 lbs. and over   105%                                     9/1   –  10/5
120-179 lbs.           103%                                       10/6  –  11/21
50- 119 lbs.           103%                                       11/22 – 1/21
Under 50 lbs.        102%                                        1/22  –   3/30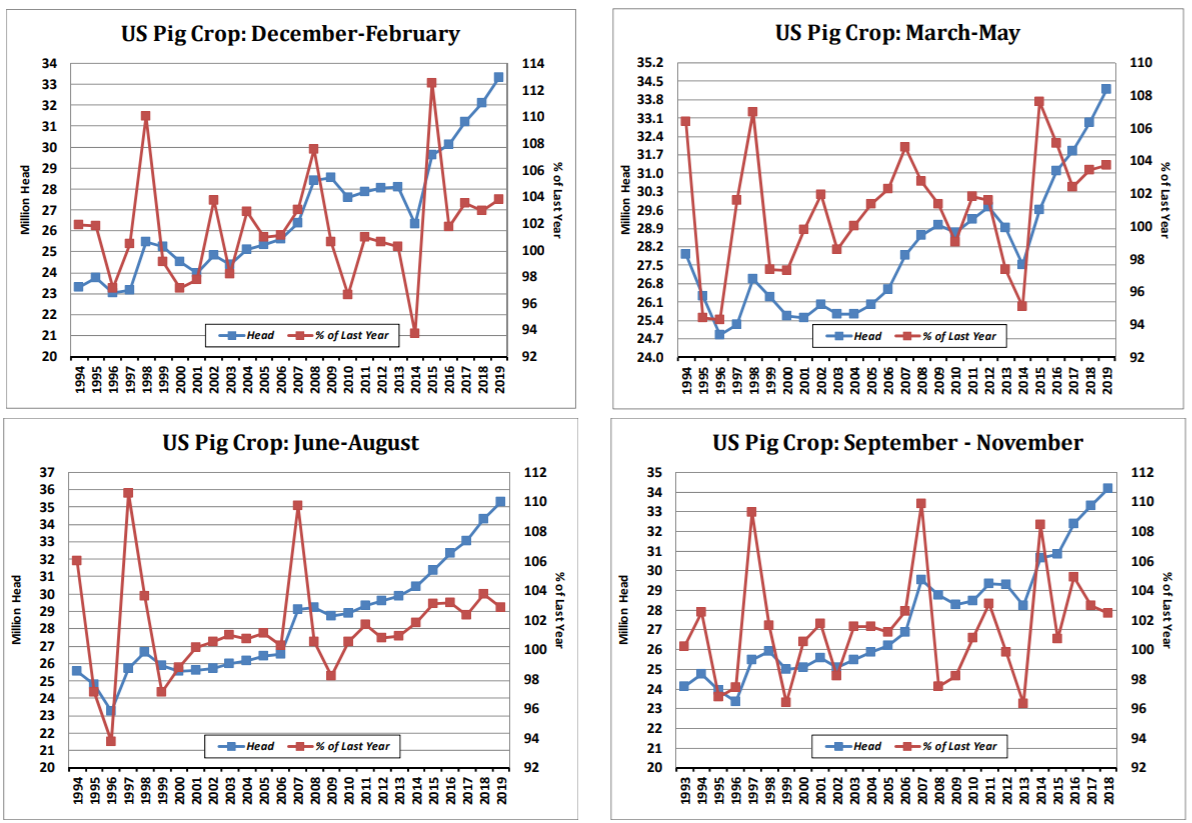 All of these categories are within the average pre-report estimates. While the numbers are large and several are records, the market will most likely shake this off and let the export interest, or anticipated export interest, determine the direction of hog futures prices.   There will come a point in which the fundamentals will rule the day, and the market will start to trade in a more "normal" fashion.  We just doubt that it will happen next week.
In the short run, the hog futures are still bearish because of A) The fact we still have the 2,600,000 plus weekly slaughters in front of us and B) the price premiums that are already built into the futures prices. Any negative news like we had Friday, and the live hogs futures can drop sharply.
Given Friday's September USDA Hog and Pig report, we expect that the October hogs will hold their value relative to the deferred contracts. We believe that bull spreads will work, at least for the short term. In other words, as long as the product market is going higher, packers will be aggressive in buying their weekly slaughter needs.
We think October hogs gain on December and February hogs will gain on April Hogs. We like these spreads and are advising our readers to consider doing these, but exercise caution when doing so.
We will likely try to make the Z-G a butterfly this week, that spread is negative. If you recall, we got out when it was 9 to the positive.
If you like shorting J-M or J-N, we feel this is a decent spot. Those spreads will work bullishly when China news is optimistic, bearish when not. We would probably support the "fade" side at this point given the unlikelyhood a deal takes place anytime soon. We feel this is the better mentality to trade with.
*USDA   National Hog and Pork summary
** Expressed in thousand head
Subscribe to The Swine Times
The Swine Times - The Swine Times newsletter is designed to help participants in the pork complex understand and trade the futures markets. Our intention is to fundamentally inform and trade based off the information we have.
Risk Disclosure
This material is conveyed as a solicitation for entering into a derivatives transaction.
This material has been prepared by a Daniels Trading broker who provides research market commentary and trade recommendations as part of his or her solicitation for accounts and solicitation for trades; however, Daniels Trading does not maintain a research department as defined in CFTC Rule 1.71. Daniels Trading, its principals, brokers and employees may trade in derivatives for their own accounts or for the accounts of others. Due to various factors (such as risk tolerance, margin requirements, trading objectives, short term vs. long term strategies, technical vs. fundamental market analysis, and other factors) such trading may result in the initiation or liquidation of positions that are different from or contrary to the opinions and recommendations contained therein.
Past performance is not necessarily indicative of future performance. The risk of loss in trading futures contracts or commodity options can be substantial, and therefore investors should understand the risks involved in taking leveraged positions and must assume responsibility for the risks associated with such investments and for their results.
Trade recommendations and profit/loss calculations may not include commissions and fees. Please consult your broker for details based on your trading arrangement and commission setup.
You should carefully consider whether such trading is suitable for you in light of your circumstances and financial resources. You should read the "risk disclosure" webpage accessed at www.DanielsTrading.com at the bottom of the homepage. Daniels Trading is not affiliated with nor does it endorse any third-party trading system, newsletter or other similar service. Daniels Trading does not guarantee or verify any performance claims made by such systems or service.