This is an example of the morning newsletter I write daily for my clients.  If you would like to follow along, you can do so by clicking here.
The macro-market issues driven from leadership uncertainty will certainly hold sway, but the northern crops have bigger concerns right now and that is a weather pattern change.  Models have been inching the cold and wet weather east over the last few days, the latest patterns have the entire state of Iowa looking at cooler than average weather along with above average chances for moisture. This is not the harvest forecast folks are looking for.  If/when there will be a frost is going to be debated over the coming days, but as of right now the 8-14 is calling for a much better chance at this than at any point over the last month.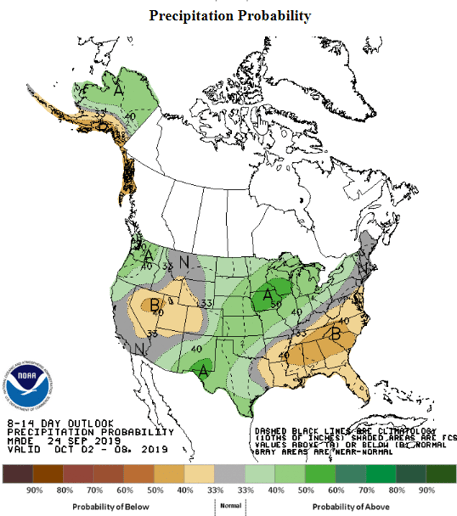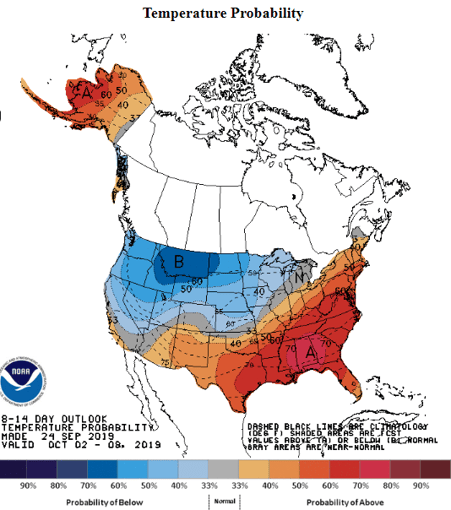 CORN
The result of the weather has taken corn markets to test recent highs and somewhat critical resistance levels.  December futures and December 19-20 spreads are traded at one month highs last night while July futures are testing 400.  The harvest delay story is well underway, this is not news to traders. That said, spec funds remain very short and have the fuel to buy back contracts to get prices higher.  The question going forward is will this delay have producers doing the same?  The big push from the late spring was party speculative driven, but the big push came when producers began to re-evaluate forward contracts after planting little in the month of May.  I have a hard time believing that kind of uncertainty will exist, I do not expect similar price action unless significant bushels are under stress.  I would be keeping eyes on the July contract here, I think this is a good tell as to what the market is concerned about.  If it is simply delays, Dec 19 will converge on Dec 20 but the deferred contracts should hold resistance.  If this is truly a major issue, I expect July to break through 4 and the gap around 390 December could be in the cards. Cheap put options are a fantastic way to put in an easy floor on these rallies, volatility is very cheap.  Aggressive traders should look at the trade I mentioned yesterday. Don't be scared to put something like this on, go in with proper expectations. It will make moves against you so much easier to handle, that's what Im here for.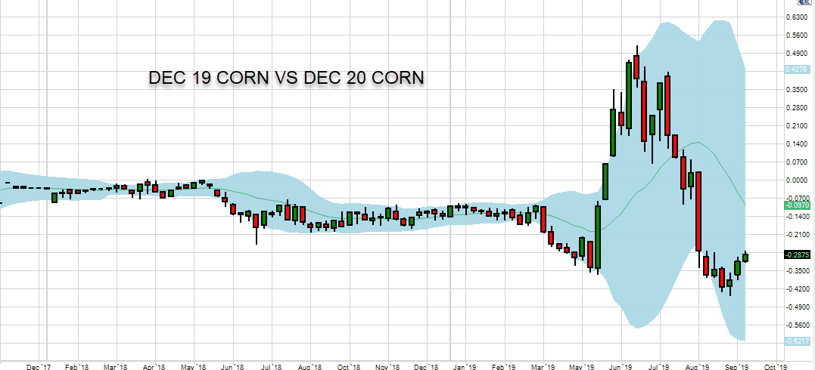 SOYBEANS
I would be skeptical on a big rally for a couple of reasons, one of which being the fact soybeans can't muster a move above 900.  Soybean basis across the Midwest is weak, but well above where it was last year at this time.at $.63 under. This is usually a time when basis lows are made with new crop export demand picking up.  It will be interesting how that trades given export demand at the Gulf is significantly less than last year, as export inspections are down. Sharp rallies into the 910-920 are in the cards, but I think you have to shoot while those ducks are in the air.  Weather is going to provide bullish fodder but how much damage can it provide? If is not much more than a delay then prices should do what they normally do and retreat into the back end of October ahead of delivery.
WHEAT
Minneapolis wheat is jumping on spring wheat weather problems.  We have seen Dec futures rally nearly 60 cents in the last two weeks, all the while KC wheat can't even get a sniff of upside.  Chicago wheat technical look very weak as the Dec futures have seen 5 straight down closes as prices look like they are rolling over. GASC(Egypt) was in the market this morning for Oct delivery, it was offered wheat between 194 per MT and 200 per MT.  The US does not even try any more, our offers are so much higher even without freight that they are not even considered a competitor for the demand. The lack of rally in KC wheat is concerning, low KC prices will be a limiting factor for upside in corn.  Grain stocks next week will come in near 5 year highs when combining corn and wheat. When front month corn futures were trading 450 this summer, KC was in the 480's.  KC sits at 403 this morning.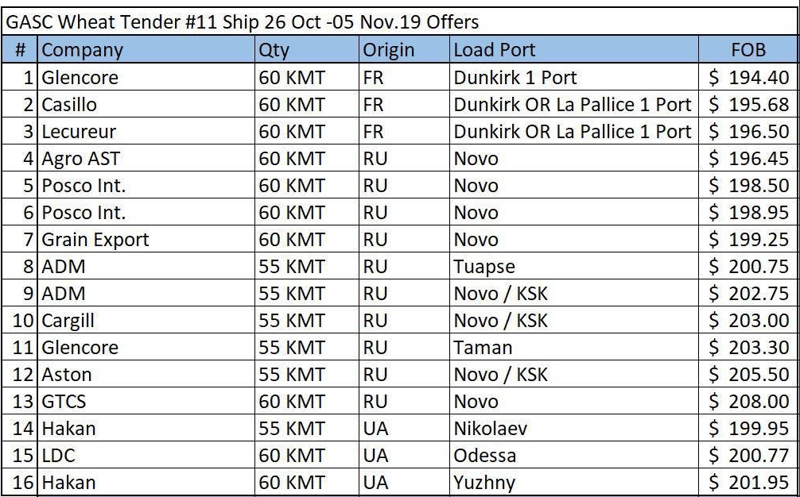 COTTON
Cotton fell below 60 cents yesterday but regained its footing by the close. Weak action in equities is going to weigh on cotton futures.  Spec funds are no longer record short, but still hold a massive short position.  Commercial selling has not picked up yet from what I see.  This market is sick right now, the break in conditions on Monday with no upside action has me worried prices are simply going to slide into the delivery at FND in November.  Short term seasonals bottom at the end of Sep, longer run seasonals bottom in Nov.  Last year we didn't bottom until January, but the funds were still long at this time a year ago. I look for a retest of lows sometime around Halloween.
Subscribe to This Week In Grain
This Week In Grain - This Week in Grain (T.W.I.G.) is a weekly grain and oilseed commentary newsletter designed to keep grain market participants on the cutting edge, so they can hedge or speculate with more confidence and precision.
Risk Disclosure
THIS MATERIAL IS CONVEYED AS A SOLICITATION FOR ENTERING INTO A DERIVATIVES TRANSACTION.
THIS MATERIAL HAS BEEN PREPARED BY A DANIELS TRADING BROKER WHO PROVIDES RESEARCH MARKET COMMENTARY AND TRADE RECOMMENDATIONS AS PART OF HIS OR HER SOLICITATION FOR ACCOUNTS AND SOLICITATION FOR TRADES; HOWEVER, DANIELS TRADING DOES NOT MAINTAIN A RESEARCH DEPARTMENT AS DEFINED IN CFTC RULE 1.71. DANIELS TRADING, ITS PRINCIPALS, BROKERS AND EMPLOYEES MAY TRADE IN DERIVATIVES FOR THEIR OWN ACCOUNTS OR FOR THE ACCOUNTS OF OTHERS. DUE TO VARIOUS FACTORS (SUCH AS RISK TOLERANCE, MARGIN REQUIREMENTS, TRADING OBJECTIVES, SHORT TERM VS. LONG TERM STRATEGIES, TECHNICAL VS. FUNDAMENTAL MARKET ANALYSIS, AND OTHER FACTORS) SUCH TRADING MAY RESULT IN THE INITIATION OR LIQUIDATION OF POSITIONS THAT ARE DIFFERENT FROM OR CONTRARY TO THE OPINIONS AND RECOMMENDATIONS CONTAINED THEREIN.
PAST PERFORMANCE IS NOT NECESSARILY INDICATIVE OF FUTURE PERFORMANCE. THE RISK OF LOSS IN TRADING FUTURES CONTRACTS OR COMMODITY OPTIONS CAN BE SUBSTANTIAL, AND THEREFORE INVESTORS SHOULD UNDERSTAND THE RISKS INVOLVED IN TAKING LEVERAGED POSITIONS AND MUST ASSUME RESPONSIBILITY FOR THE RISKS ASSOCIATED WITH SUCH INVESTMENTS AND FOR THEIR RESULTS.
TRADE RECOMMENDATIONS AND PROFIT/LOSS CALCULATIONS MAY NOT INCLUDE COMMISSIONS AND FEES. PLEASE CONSULT YOUR BROKER FOR DETAILS BASED ON YOUR TRADING ARRANGEMENT AND COMMISSION SETUP.
YOU SHOULD CAREFULLY CONSIDER WHETHER SUCH TRADING IS SUITABLE FOR YOU IN LIGHT OF YOUR CIRCUMSTANCES AND FINANCIAL RESOURCES. YOU SHOULD READ THE "RISK DISCLOSURE" WEBPAGE ACCESSED AT WWW.DANIELSTRADING.COM AT THE BOTTOM OF THE HOMEPAGE. DANIELS TRADING IS NOT AFFILIATED WITH NOR DOES IT ENDORSE ANY TRADING SYSTEM, NEWSLETTER OR OTHER SIMILAR SERVICE. DANIELS TRADING DOES NOT GUARANTEE OR VERIFY ANY PERFORMANCE CLAIMS MADE BY SUCH SYSTEMS OR SERVICE.
GLOBAL ASSET ADVISORS, LLC ("GAA") (DBA: DANIELS TRADING, TOP THIRD AG MARKETING AND FUTURES ONLINE) IS AN INTRODUCING BROKER TO GAIN CAPITAL GROUP, LLC (GCG) A FUTURES COMMISSION MERCHANT AND RETAIL FOREIGN EXCHANGE DEALER. GAA AND GCG ARE WHOLLY OWNED SUBSIDIARIES OF STONEX GROUP INC. (NASDAQ:SNEX) THE ULTIMATE PARENT COMPANY.