Good afternoon friends
Corn markets closed at a one month high today, we are trading in Dec futures at the highest price we have seen in any Dec current year contract going back to 2014. Naturally, my mind goes to figuring out different ways to hedge it.  Below is a video I made explaining a trade idea that will look to protect some grain you may be sitting on that is un priced, while keeping some upside in the market. I hope this doesn't confuse too much, please let me know if you have questions.
VIDEO EXPLANATION-CLICK ON VIDEO OR LINK BELOW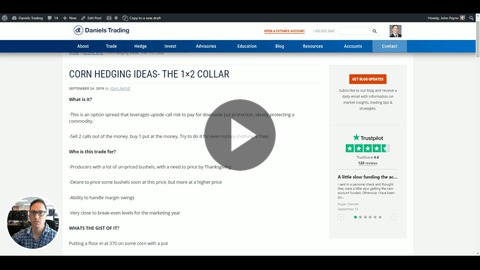 SELL 2 DEC 400 CALLS/BUY 1 DEC 370 PUT- EVEN MONEY – for clarity, I priced this on the close of biz today at 375-4 Dec corn futures
What is it?
-This is an option spread that leverages upside call risk to pay for downside put protection, ideally protecting a commodity close to the money while giving you some room to the upside to sell.
-Sell 2 calls out of the money, buy 1 put at the money. Try to do it for even money (nothing is free)
Who is this trade for?
-Producers with a lot of un-priced bushels, with a need to price by Thanksgiving
-Desire to price some bushels soon at this price, but more at a higher price
-Ability to handle margin swings
-Very close to break-even levels for the marketing year
WHATS THE GIST OF IT?
Putting a floor in at 370 on some corn with a put
Putting a ceiling on double that amount at 400 with a call
(click on images for larger view)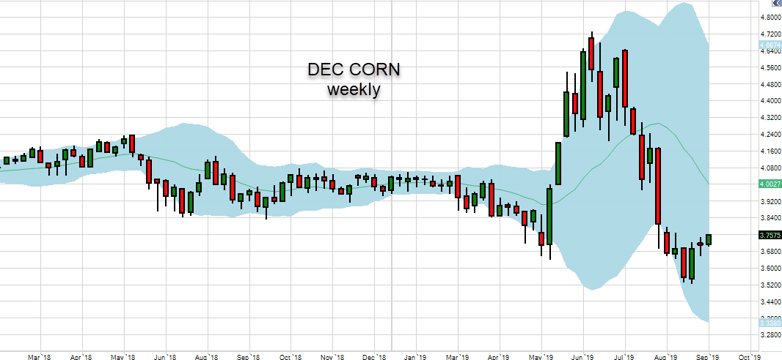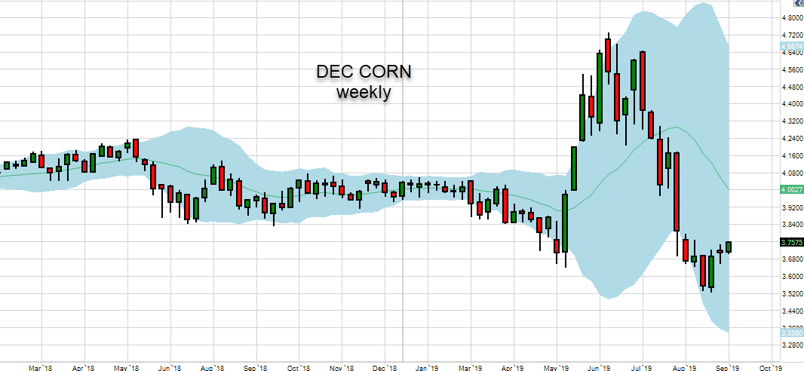 EXAMPLE- SELLING 2 DECEMBER 2018 400 CALLS/ BUYING 370 PUT FOR EVEN
Subscribe to This Week In Grain
This Week In Grain - This Week in Grain (T.W.I.G.) is a weekly grain and oilseed commentary newsletter designed to keep grain market participants on the cutting edge, so they can hedge or speculate with more confidence and precision.
Risk Disclosure
The StoneX Group Inc. group of companies provides financial services worldwide through its subsidiaries, including physical commodities, securities, exchange-traded and over-the-counter derivatives, risk management, global payments and foreign exchange products in accordance with applicable law in the jurisdictions where services are provided. References to over-the-counter ("OTC") products or swaps are made on behalf of StoneX Markets LLC ("SXM"), a member of the National Futures Association ("NFA") and provisionally registered with the U.S. Commodity Futures Trading Commission ("CFTC") as a swap dealer. SXM's products are designed only for individuals or firms who qualify under CFTC rules as an 'Eligible Contract Participant' ("ECP") and who have been accepted as customers of SXM. StoneX Financial Inc. ("SFI") is a member of FINRA/NFA/SIPC and registered with the MSRB. SFI does business as Daniels Trading/Top Third/Futures Online. SFI is registered with the U.S. Securities and Exchange Commission ("SEC") as a Broker-Dealer and with the CFTC as a Futures Commission Merchant and Commodity Trading Adviser. References to securities trading are made on behalf of the BD Division of SFI and are intended only for an audience of institutional clients as defined by FINRA Rule 4512(c). References to exchange-traded futures and options are made on behalf of the FCM Division of SFI.
Trading swaps and over-the-counter derivatives, exchange-traded derivatives and options and securities involves substantial risk and is not suitable for all investors. The information herein is not a recommendation to trade nor investment research or an offer to buy or sell any derivative or security. It does not take into account your particular investment objectives, financial situation or needs and does not create a binding obligation on any of the StoneX group of companies to enter into any transaction with you. You are advised to perform an independent investigation of any transaction to determine whether any transaction is suitable for you. No part of this material may be copied, photocopied or duplicated in any form by any means or redistributed without the prior written consent of StoneX Group Inc.
© 2021 StoneX Group Inc. All Rights Reserved