Good morning friends
The overnight trade was incredibly slow, markets are trading within a penny of unchanged across the board.  Dec Corn trades 370, Nov beans 888 and Dec cotton trade 60.72.  KC, Minny and Chicago wheat futures had a slow overnight as well, but all three contracts sit on monthly highs this morning as Dec KC trades 410, Chicago 490 and Minneapolis wheat 513.  Remember this as we enter December.  If March futures would fall into delivery, be ready to buy as the end of Nov approaches.
Rumors of an interim trade deal? It must be Thursday
The South China Morning post is predicting an interim trade deal taking place over the next month. The article points toward increased Ag purchases and the idea that the US was going to push tariffs back past Oct 15.  The article made no mention of IP nor Huawei, maybe this time is it.  I doubt it, but as someone who is skeptical this thing will end anytime soon there is a risk to being wrong.  I have a hard time believing this deal is going to be secured without any added pressure from the markets.  Look back in this history of the world, how many world changing agreements have been signed by world leaders without some sort of outside pressure, either from bloodshed or from financial loss?  I see this as a move on the chess board and nothing more. That does not mean I don't expect China to buy more US ag products, they did yesterday. Meetings take place this week in Washington between the minor league negotiators. I imagine this is where China tries opens the wallet to grease the skids. Be ready for some demand announcements. Maybe cotton can get some love?
Dem's clear the way for more future ag bailouts…
House Democrats have worked out last-minute disagreements about payments to farmers via the Commodity Credit Corporation. This is the facility that allows the US to pay money directly to US producers without congressional approval.  The measure would reimburse the CCC for trade relief and other payments as of Sept. 17, so the agency doesn't breach its $30 billion borrowing cap as it continues to send checks to farmers and ranchers. Ill be interested to see what the plans are for next year.  Do they add another 30 billion to hand out? The Democrats know they can't block this, as it will be seen as against agriculture states.  But they also know it is a liquidity spicket that Trump can basically use to buy votes in their mind. If I am right that that this is far from over, Trump will need that money to bail out producers.  Those checks are keeping folks in business.
FED CUTS RATES
The FOMC cut rates again.  The fed funds rate will now be in a range between 1.75-2%. The US remains the only of the big 3 economies (Europe, Japan, US) with positive interest rates.  The trade expects one more rate cut this year.  This should be supportive long term for markets, we have seen some volatility surrounding these changes in the past few years.  Long run this is really bullish for commodity prices, but as long as the US dollar remains the cleanest shirt in the dirty laundry, US exporters won't see much of an advantage.  I do look for some inflation to pick up though.
USDA export sales- Corn and beans fantastic, cotton pathetic again.
BIG corn sales were reported this morning. 1.46 MMT of corn sales were made last week, mostly to Mexico.  The market was expecting a large number as these sales were known, but to see a number this big is comforting to the bulls.  We haven't seen corn sales top ½ that number for some time. Soybean sales were massive as well, with nearly 600 KMT headed to China. Like corn, this is a supportive figure.  Unfortunately, wheat sales fell off.  Sales were down about 50% week over week to 286kmt.  Cotton sales were downright brutal at 85K bales.  This is normally a slow time for exports, but not this slow.
Wheat crops is growing in Europe, more acreage expansion in Russia next year
Grain production forecasts in Europe continue to grow, Strategie Grains increased their production numbers in the overnight.  The QE going on in Europe and the weak Russian Ruble are only going to keep producers in the field.  I heard yesterday from a few folks that Russian wheat production is expected to grow by 5% due to increased acreage.  This is bad news for US producers who cannot compete at these prices. Below is production of the last 20 years in Russia.  Some expect a crop above 80 MMT next year with decent weather.  To see acreage expanding overseas at a time when prices in the US are well below the cost of production is a real problem.  US deferred contracts in SRW are at higher levels so you can expect some increased acreage here, but spring and summer HRW producers are behind the 8 ball. Weather in the black sea region is really dry right now, we could see some weather rallies but US producers should get a plan ready should the July 20 contracts rally.  US market share is gone and unlikely to come back in this environment.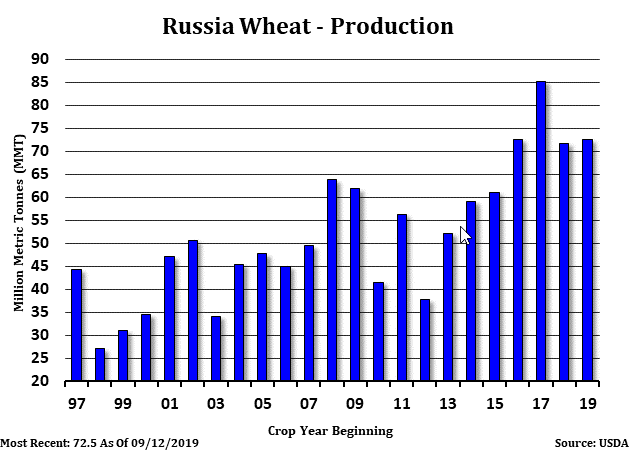 WEATHER MODELS UNCHANGED
There remains indication of freeze risk for the Central US into the first week of October. An extended growing season is a strong bet for 2019 and should save this crop to a certain degree.  Yield losses are going to be talked about, early harvest in Illinois is not going as well as some had hoped.  Good fields are running 5-10% below last year. Precipitation may be a concern though, wet weather is called for across the western corn belt.  This is where the good crops are, harvest will be delayed in some areas.  Ill be keeping an eye on NW Iowa.