Good morning friends
Grain and oilseed markets are mixed this morning, trading just above or below yesterday's closes in a low volume overnight trade.  Dec corn futures traded above 370 for a short while, but have pulled back to 368.  November beans continue to shy away from 900, trading slightly lower to 893.  KC wheat futures trade up two to 404 as does Chicago to 484.  December cotton futures have seen the best of their correction in my opinion and are back testing the 60 cent level after trying to get over the 63 cent area last week.  The fear trade in crude oil has subsided, ethanol and other bio fuels are pulling back.  Cutting through all of the fear in the headlines, Crude oil prices find themselves where they traded about 3 weeks ago.
WEATHER PATTERNS LOOK TO HOLD
The market has the feeling of a two sided, choppy trade for a while in corn and soybeans.  Only one year (2014) out of the past 6 have we seen more than a 15% rally in corn or beans between Sep and Nov/Dec deliveries.  There is a threat of South American drought, but it is still a little early for the market to get too worked up about it. I have been hearing a lot of mixed yields, some better than they thought they would be two months ago- some worse.  I am not hearing talk of total disaster anywhere outside of the flooded areas in SE SD.  The September warmth has really helped push June and July planted crops. The two week model runs are calling for continued warmth across the Corn Belt through October.  We are getting close to that point in the year when frost will no longer be that big of a deal.  We are not there yet.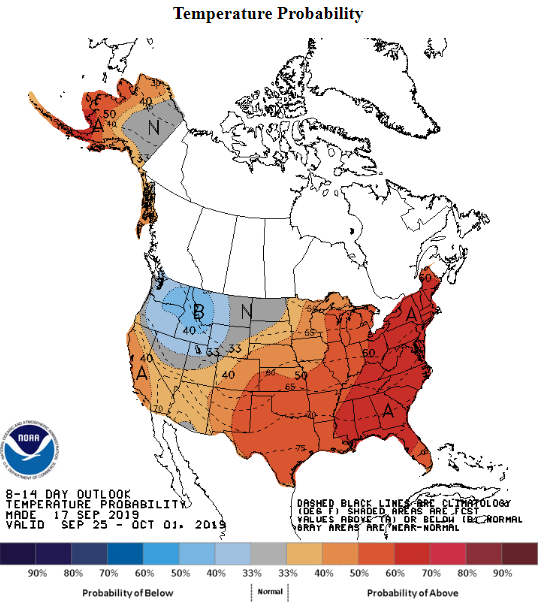 FEED GRAIN LOSSES FROM ASF MOUNT WITH S. KOREA FINALLY HIT
Adding fuel to more negative fuel to feed grain demand, South Korea confirmed another case of ASF in hogs overnight. This 2nd ASF case in as many days has dramatically raised concern that the disease will spread unfettered through South Korea like it has through the rest of SE Asia. Right now the only country in the Asian sphere without a case is Japan. It extends into Russia and some of Europe. There is no known vaccine right now. In the short run, this will create negative pressure on nearby hogs given a drop in consumption and an increase of supply due to culling. In the long run, this should create major price spikes. Korea is one of the largest importers of both corn and pork. The grain stocks report at the end of this month will likely provide the trade more news of bearish feed demand. I expect the carry-in for corn markets to jump which will offset some of the expected yield losses in the Oct report. I think it is more likely than not US Corn carryout for 19-20 will remain above 2 billion. Producers should be more aggressive in pricing both 2020 corn and soybeans.
FED MEETING TODAY
The US FOMC will meet today, it is just over 50/50 according to CME fed watch that we will see a rate cut today.  Fed Chairman Jerome "Jay" Powell's post-meeting press conference will be focused on, especially any hints on future rate moves. The dollar should weaken on this, but what we have seen in the past is other countries taking it as a que to cut rates. It will be very interesting to watch the Chinese Yuan.  The Yuan strengthened the last couple of days, it is not a shock cotton markets are weaker. One thing I have noticed going back a few years, when the fed makes an interest rate change, we see volatility in the stock market.
COTTON CORRECTION OVER?
Cotton futures are pulling back away from the weekly Bollinger band levels that sit in the 63 area (and falling).  The market simply does not have the demand to overcome the thought of 3 million more bales of additional carryout without a change in trade flow.  The market saw a 12% jump from the last week in August through last Friday, much of that came following a bearish USDA report.  Short covering has subsided, cotton has the feel of a market that is going to grind back into the mid 50's by the time harvest rolls around. The crop conditions update late Monday was bullish and showed further deterioration for the crop, but the sharply lower close yesterday is a sign that the market is less concerned with a little smaller crop and more concerned with the global demand trends.
Subscribe to This Week In Grain
This Week In Grain - This Week in Grain (T.W.I.G.) is a weekly grain and oilseed commentary newsletter designed to keep grain market participants on the cutting edge, so they can hedge or speculate with more confidence and precision.
Risk Disclosure
The StoneX Group Inc. group of companies provides financial services worldwide through its subsidiaries, including physical commodities, securities, exchange-traded and over-the-counter derivatives, risk management, global payments and foreign exchange products in accordance with applicable law in the jurisdictions where services are provided. References to over-the-counter ("OTC") products or swaps are made on behalf of StoneX Markets LLC ("SXM"), a member of the National Futures Association ("NFA") and provisionally registered with the U.S. Commodity Futures Trading Commission ("CFTC") as a swap dealer. SXM's products are designed only for individuals or firms who qualify under CFTC rules as an 'Eligible Contract Participant' ("ECP") and who have been accepted as customers of SXM. StoneX Financial Inc. ("SFI") is a member of FINRA/NFA/SIPC and registered with the MSRB. SFI does business as Daniels Trading/Top Third/Futures Online. SFI is registered with the U.S. Securities and Exchange Commission ("SEC") as a Broker-Dealer and with the CFTC as a Futures Commission Merchant and Commodity Trading Adviser. References to securities trading are made on behalf of the BD Division of SFI and are intended only for an audience of institutional clients as defined by FINRA Rule 4512(c). References to exchange-traded futures and options are made on behalf of the FCM Division of SFI.
Trading swaps and over-the-counter derivatives, exchange-traded derivatives and options and securities involves substantial risk and is not suitable for all investors. The information herein is not a recommendation to trade nor investment research or an offer to buy or sell any derivative or security. It does not take into account your particular investment objectives, financial situation or needs and does not create a binding obligation on any of the StoneX group of companies to enter into any transaction with you. You are advised to perform an independent investigation of any transaction to determine whether any transaction is suitable for you. No part of this material may be copied, photocopied or duplicated in any form by any means or redistributed without the prior written consent of StoneX Group Inc.
© 2021 StoneX Group Inc. All Rights Reserved