Hello hog traders
What a week. It feels like we have written that a lot lately.  As we mentioned in the last report, the nightmare scenario of being short in the face of Chinese data is upon us. We are so thankful our luck had us bear spread instead of outright short.  We certainly felt the effect of the rally but it would have been much worse had we been pressing the action in the low 60's for December.  Dec futures saw an 8 dollar up swing from Tuesday morning through the Friday close. Trade tensions seemed to ease as President Trump announced a delay for the next round of tariffs, while China announced that it would cut pork tariffs for an unspecified tonnage. China also indicated that it would also offer a temporary relief on tariffs against several other US ag commodities. One thing we noticed (and touched on below) is there was no mention of ractopene in the comments. Meanwhile, cash prices fell and probably look to continue to stay soft given the massive increase in slaughter.  This cannot be forgotten. Larger slaughter of heavier than normal hogs will be taking place in the near term. This should limit gains and help our bear spread come back in our favor.  Markets will be very focused on energy early in the week, we do not think it will bleed into ag but who knows as I write this before the crude open on Sunday.
Current positions:
We had a sell order in on Oct hogs at 67 cent Friday, which was not hit and has died. We are not intending to work that order on Monday am, we would rather wait and see how it opens but be ready for another recommendation. Dec vs Feb rallied all week, but gave back gains on Friday.
SHORT 2 UNITS OF DEC HOGS
LONG 2 UNITS OF FEB HOGS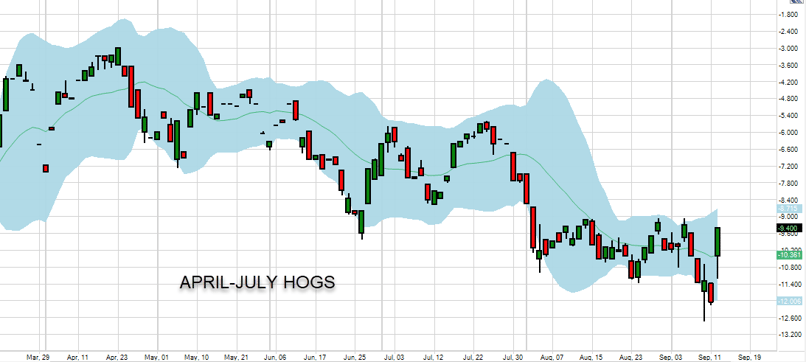 Looking into next week:
We indicated in the last report that bellies were not done going down, it did fall last week again. The USDA composite price on bellies Friday was 89.83, down 15.33.
For the first time since last winter, the USDA Weekly Interior Iowa Live Weights are now 2.4 lbs. heavier than this same time a year ago. They came in at 281.5 lbs. versus 278.3 lbs. the week prior and 279.1 a year ago.  This will add to the amount of meat coming in to the market.  As a result, this will depress prices and erode packer cutouts.
The retail cuts- loins, butts, and ribs- are vulnerable to lower prices as the weekly Federally Inspected Slaughters are expected to increase. The FIS this past week was 2,610,000 head and will grow from here.
Hams may have bottomed, but they gained in price only modestly. Our sources tell us the hams can hold around the $55 – $60 where they closed Friday. They may be able to hold their values for a week. Ham prices will be under pressure as the weekly kill levels increase.
The USDA has been buying pork cuts in an effort to help hog producers by supporting the product values. This product is going to be used in school lunch programs and government aid programs, food banks, etc. The problem with this is that when the government is buying this product, it artificially supports prices. When this buying comes to an end, there is very little left to support the artificially inflated prices, and then they will in all likelihood go lower.
This brings us to China. The industry is going to need all of the exports to China and other countries it can get in order to clear the surplus product these large slaughters produce. I know the popular story is that hogs are going to the moon as China buys pigs from us, but we would pump the breaks a little.
The Chinese government did make an announcement stating that they would allow processors and retailers to buy soybeans and pork from the United States without any additional tariffs being added. This is what caused the dramatic increase in hog futures.  Its important to note, the word "additional".  Tariffs will remain on US hog and bean imports, just at the amount we have seen over the last year.  China has had tariffs on US hog imports since 2015.
In lieu of the Chinese government's announcement, it is important to point out to our readers that China will only buy Ractopamine free pork. This is really important to understand. Ractopamine is a feed additive that makes the meat leaner. It is prohibited in many countries, and China is one of them. Most of the hogs raised in the US are fed Ractopamine in their feed. While being able to export more pork to China is good news, the amount of pork that will be eligible for shipping to China is limited due to the Ractopamine ban. Until China either lifts their prohibition on Ractopamine or more producers quit using it, the benefit of shipping more pork to China is going to be restricted.
The quarterly hogs and pigs report will be out in a couple of weeks, just letting everyone know we will be talking high US supplies soon.
How we trade this:
We are not saying hogs wont rally, the back of the curve faces tremendous upside pressure, but the front of the curve (Oct) is likely to miss the party.
We are still bearish October hogs, simply because they are running out of time relative to when a China deal may get done. Trade negotiations resume in October 15, but the October Live Hog contract expires October 14.
October hogs closed Friday at 66.47. Look for us to short Oct on a rally, Monday. The 67 order died, it was not GTC.
We also believe that eventually the December hogs will ultimately come to the same end as the October. There are big premiums factored into the market, and it is doubtful that the cash hogs can catch up and narrow the basis that much, but time will tell.
We like the LHG/LHV bear spread and believe this spread can go to $10 – $12.00. As of Friday's close, the spread was at $8.63. We will remain short the Z-G, we feel the move has been made for that market as well. We may roll the Z forward, but keep in mind that spread (a bullish seasonal) saw significant pressure Thursday and Friday.
The April vs June/July contracts is good proxy for this trade war.  If the tensions cool and CHina becomes a big buyer, spring contracts should rally on summer contracts which have priced a lot of this in.  If it appears the trade war will be on for a while and China does not buy, J-N or J-M should perform very well as it seasonally does.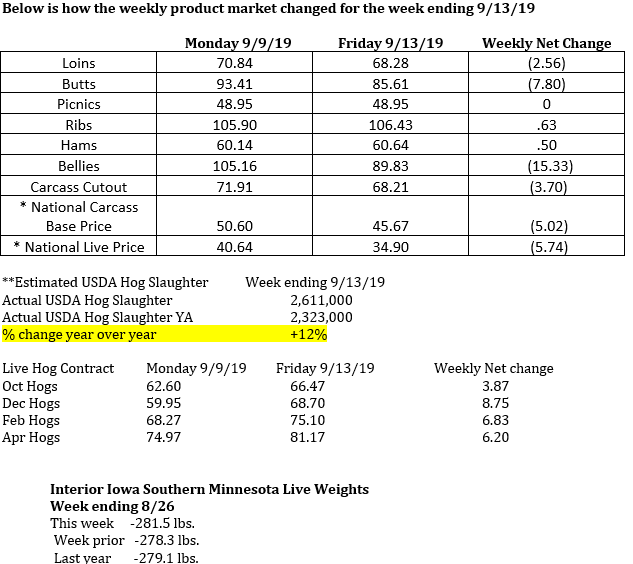 *USDA   National Hog and Pork summary
** Expressed in thousand head
Subscribe to The Swine Times
The Swine Times - The Swine Times newsletter is designed to help participants in the pork complex understand and trade the futures markets. Our intention is to fundamentally inform and trade based off the information we have.
Risk Disclosure
This material is conveyed as a solicitation for entering into a derivatives transaction.
This material has been prepared by a Daniels Trading broker who provides research market commentary and trade recommendations as part of his or her solicitation for accounts and solicitation for trades; however, Daniels Trading does not maintain a research department as defined in CFTC Rule 1.71. Daniels Trading, its principals, brokers and employees may trade in derivatives for their own accounts or for the accounts of others. Due to various factors (such as risk tolerance, margin requirements, trading objectives, short term vs. long term strategies, technical vs. fundamental market analysis, and other factors) such trading may result in the initiation or liquidation of positions that are different from or contrary to the opinions and recommendations contained therein.
Past performance is not necessarily indicative of future performance. The risk of loss in trading futures contracts or commodity options can be substantial, and therefore investors should understand the risks involved in taking leveraged positions and must assume responsibility for the risks associated with such investments and for their results.
Trade recommendations and profit/loss calculations may not include commissions and fees. Please consult your broker for details based on your trading arrangement and commission setup.
You should carefully consider whether such trading is suitable for you in light of your circumstances and financial resources. You should read the "risk disclosure" webpage accessed at www.DanielsTrading.com at the bottom of the homepage. Daniels Trading is not affiliated with nor does it endorse any third-party trading system, newsletter or other similar service. Daniels Trading does not guarantee or verify any performance claims made by such systems or service.