Hello Traders-
Andrew Pawielski (from Market Dimensions Advisory) and I have collaborated for a brand new newsletter focusing on seasonal future spreads.  It is called The Seasonal Spread Trader.  Feel free to sign up for this piping hot new product that is just getting started.  Below is trade #5 so its not too late, let's go!
Click here to join the team today!
Spread Idea: SOYBEAN MEAL December vs May
Seasonal Window: August 20th 2019 to September 25th 2019
Prefer to watch the trade recommendation in video format?
Click image to view the accompanying video or this link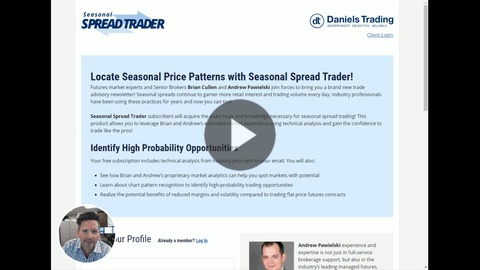 As soybean harvest approaches we normally see premium in the front month contracts discounted to deferred contracts.  Supply is known for the 2019 crop and the "unknowns" are now placed in 2020 crop.
Trades:  SELL December – BUY May
Sell @ -9.00 points
Risk: -12.00 points (3 points or $300) or seasonal window
Target 1: -5.00 points (4 points or $400) or hold through seasonal window
Target 2: 0.00 EVEN (9 points or $900) or hold through seasonal window
Margin: $275 per spread
Contract: $100 per point
(all profits and losses are BEFORE trading fees)
CLICK CHART IMAGES TO ENLARGE
dt Pro – Daily Chart with TAS Tools:
FutureSource – Entry:
sources of this material are MRCI, seasonal algo, dt pro and TAS tools.
Happy Trading,
Andrew Pawielski & Brian Cullen
Creators of Seasonal Spread Trader
Risk Disclosure
THIS MATERIAL IS CONVEYED AS A SOLICITATION FOR ENTERING INTO A DERIVATIVES TRANSACTION.
THIS MATERIAL HAS BEEN PREPARED BY A DANIELS TRADING BROKER WHO PROVIDES RESEARCH MARKET COMMENTARY AND TRADE RECOMMENDATIONS AS PART OF HIS OR HER SOLICITATION FOR ACCOUNTS AND SOLICITATION FOR TRADES; HOWEVER, DANIELS TRADING DOES NOT MAINTAIN A RESEARCH DEPARTMENT AS DEFINED IN CFTC RULE 1.71. DANIELS TRADING, ITS PRINCIPALS, BROKERS AND EMPLOYEES MAY TRADE IN DERIVATIVES FOR THEIR OWN ACCOUNTS OR FOR THE ACCOUNTS OF OTHERS. DUE TO VARIOUS FACTORS (SUCH AS RISK TOLERANCE, MARGIN REQUIREMENTS, TRADING OBJECTIVES, SHORT TERM VS. LONG TERM STRATEGIES, TECHNICAL VS. FUNDAMENTAL MARKET ANALYSIS, AND OTHER FACTORS) SUCH TRADING MAY RESULT IN THE INITIATION OR LIQUIDATION OF POSITIONS THAT ARE DIFFERENT FROM OR CONTRARY TO THE OPINIONS AND RECOMMENDATIONS CONTAINED THEREIN.
PAST PERFORMANCE IS NOT NECESSARILY INDICATIVE OF FUTURE PERFORMANCE. THE RISK OF LOSS IN TRADING FUTURES CONTRACTS OR COMMODITY OPTIONS CAN BE SUBSTANTIAL, AND THEREFORE INVESTORS SHOULD UNDERSTAND THE RISKS INVOLVED IN TAKING LEVERAGED POSITIONS AND MUST ASSUME RESPONSIBILITY FOR THE RISKS ASSOCIATED WITH SUCH INVESTMENTS AND FOR THEIR RESULTS.
TRADE RECOMMENDATIONS AND PROFIT/LOSS CALCULATIONS MAY NOT INCLUDE COMMISSIONS AND FEES. PLEASE CONSULT YOUR BROKER FOR DETAILS BASED ON YOUR TRADING ARRANGEMENT AND COMMISSION SETUP.
YOU SHOULD CAREFULLY CONSIDER WHETHER SUCH TRADING IS SUITABLE FOR YOU IN LIGHT OF YOUR CIRCUMSTANCES AND FINANCIAL RESOURCES. YOU SHOULD READ THE "RISK DISCLOSURE" WEBPAGE ACCESSED AT WWW.DANIELSTRADING.COM AT THE BOTTOM OF THE HOMEPAGE. DANIELS TRADING IS NOT AFFILIATED WITH NOR DOES IT ENDORSE ANY TRADING SYSTEM, NEWSLETTER OR OTHER SIMILAR SERVICE. DANIELS TRADING DOES NOT GUARANTEE OR VERIFY ANY PERFORMANCE CLAIMS MADE BY SUCH SYSTEMS OR SERVICE.
GLOBAL ASSET ADVISORS, LLC ("GAA") (DBA: DANIELS TRADING, TOP THIRD AG MARKETING AND FUTURES ONLINE) IS AN INTRODUCING BROKER TO GAIN CAPITAL GROUP, LLC (GCG) A FUTURES COMMISSION MERCHANT AND RETAIL FOREIGN EXCHANGE DEALER. GAA AND GCG ARE WHOLLY OWNED SUBSIDIARIES OF STONEX GROUP INC. (NASDAQ:SNEX) THE ULTIMATE PARENT COMPANY.