This is a sample entry from Kurt Pfafflin's weekly precious metals market commentary newsletter, The Gold & Silver Speculator, published on October 12, 2012.
For 5 consecutive weeks, despite multiple attempts, the Gold & Silver markets have been unable to break north of the "Concrete Ceilings" that Bears have constructed and furiously defended.
As mentioned previously a number of times, the Bears have successfully laid out and defended extremely critical lines of defense near $1780 – $1790 in Gold and $34.50 – $35.26 in Silver. After all, desperate times for the Bears (FUNDAMENTAL: unprecedented quantitative easing measures being implemented across the globe, TECHNICAL: GOLDEN CROSSES) call for desperate measures; these are levels that absolutely MUST be defended by the Bears in hopes of containing a potentially massive move higher.
JUST CAN'T SEEM TO GET MUCH HIGHER…TIME FOR A BREAK (DOWN)?
After a glorious run launched from Summer Doldrum lows, failure and fear appear to be creeping back into the minds of the weakest Bulls, as evidenced by the pitching of long positions into the softest weekly close since the QE3 announcement.
The current sideways consolidation has seen attempt after attempt to push higher thwarted, but so far, the Bulls have avoided the dreaded bloodbath-type spikes to the downside. Is it only a matter of time before the re-energized Bears exact some measure of revenge by inflicting extreme pain upon those determined to stay long and strong?
In order to avoid getting the Elevator Shaft treatment (ie up the escalator, down the elevator shaft), the precious metals markets really need a new catalyst – and fast – to help propel them through and beyond these Concrete Ceilings.
Should something not arrive soon, expect heavy long liquidation as Bears now sense that weakness and uncertainty have returned to these heavy metals, hard currencies.
Please refer to the charts below for further commentary and analysis.
*Look for email alerts/market updates should conditions warrant or if/when environment allows
DECEMBER GOLD (GCZ2) – WEEKLY CHART
DECEMBER SILVER (SIZ2) – WEEKLY CHART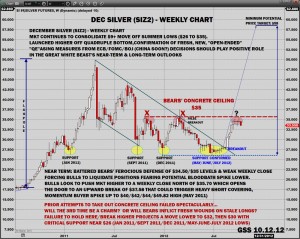 Subscribe to The Gold & Silver Speculator Absolutely Free!
This is a sample of the analysis from my weekly precious metals market commentary newsletter, The Gold & Silver Speculator. Register now to receive the most relevant investment information and trading tools to participate in the gold and silver markets!
The risk of loss in trading futures contracts or commodity options can be substantial. View the
risk disclosures
below.